In the upcoming 101 Essential Rock Records: The Golden Age of Vinyl From the Beatles to the Sex Pistols, out December 6, music stars ranging from David Bowie to Devendra Banhart wax rhapsodic about the joys of vinyl and their favorite LPs. The book, which was edited and compiled by Jeff Gold, is a loving tribute to the long-lasting cultural importance of the vinyl LP.
As someone who has contributed to his share of pre-digital, pre-cassette classics, Johnny Marr can speak with authority about the special charm of gatefolds and needle grooves. And in this exclusive essay taken from 101 Essential Rock Records, the eternally boyish erstwhile Smiths guitarist writes about the effect of the Stooges' 1973 David Bowie-produced napalm blast of an album, Raw Power.

I was pretty young when I bought my first record — nine, I think. I got "Jeepster" by T.Rex on a 45rpm 7″. It was a cool start and the band were my first love, but the truth is I got it because the label had a great photo of Marc Bolan and Mickey Finn on it, so I was snagged by that. I was really into the pop singles of the day, which were all the U.K. glam stuff: Roxy Music, Bowie, the Sweet, everything.
My parents were really into records, still are — my mother made up her own pop chart and compared it with the official one each week. They would have opinions about what I was buying and what was coming out. Records were the main thing in the house. As I got into my teens I checked out the rock bands who were around, but I wasn't crazy about a lot of it. My friends were into Led Zeppelin and Deep Purple and even though it was very guitar-based, I didn't take to it too much. It seemed quite drab.
I got into Raw Power by Iggy and the Stooges because a friend of mine who was a little older, Billy Duffy, now of the Cult, heard me playing a riff I'd written, and he kept saying that it sounded like James Williamson from the Stooges, who I had never heard. There were quite a few guys in my neighborhood who played guitar and hung out together, sort of competitive, but a very healthy scene. I was one of about five or six teenage boys, and we all had our own thing. One guy was really into Neil Young, another was into Nils Lofgren, another Pete Townshend and [Free's] Paul Kossoff, and I was into Rory Gallagher, and then I discovered Johnny Thunders in a big way.
I thought I'd better check this Raw Power record out as it sounded intriguing, just the words "Iggy and the Stooges" and "Raw Power," so I went to find it. I was always looking through the racks in the record shops in Manchester, and when I came across it I got an actual physical jolt from the cover and vibe of it. I went back a week later and bought it for about £3.50. On the bus ride home, I just stared at it in awe.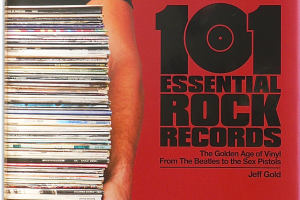 I'd heard "I Wanna Be Your Dog" by the early Stooges lineup and I thought it was great. I knew Raw Power had something else going on because of James Williamson's guitar playing and maybe Bowie's odd production. Even though it had a famously messed-up mix, the rawness of it didn't phase me because the earlier stuff is actually more basic sounding. What first struck me about Raw Power was a beautiful darkness to it, a sophistication almost. It delivered exactly what was on the cover: other-worldly druggy rock'n'roll, sex, violence, but strangely beautiful somehow. From then on, I just climbed into a world with that record.
The David Bowie mix of Raw Power was obviously eccentric and a little "messed up." Things would lurch forward and some other things were too quiet. It was pretty muddy, but even though I could hear it could be better, I just went with it, and got used to it pretty quickly.
It was just all part of it, and it actually added to the strangeness and singularity of it. It was outside of everything, but still had killer singing and guitar playing.
"Gimme Danger" was the riff that Billy thought sounded like my playing, and he was right. When I first heard it, I knew what he meant and more importantly, I knew I was on the right track, in a big way, so that's always been a big track for me. I love the tune too. I spent an entire winter playing guitar along with the album in my bedroom, in the dark, orange streetlights coming through the windows, when I was sixteen. Its influence came out on the Smiths album The Queen Is Dead. I was obsessed with "I Need Somebody" and I ended doing that song live with the Healers in 2002 and 2003. I got into all of it. "Penetration" is one of the best vocal performances I've ever heard, and "Search And Destroy" is pretty much definitive.
I got the first two Stooges albums immediately after I got Raw Power, and I know every note and word on them. I know plenty of people who think the first two albums are the best, or more important and influential, and even though I love them, I love Raw Power more. I've often been asked who my favorite guitar player is, and I always answer "James Williamson." I like different guitar players for different reasons, obviously, but when push comes to shove, James has it all in my book.
I've missed the Stooges reunion shows because our schedules haven't worked out. James and I keep in touch, and we're getting together for the first time next week. I've come across Iggy a couple of times. I had a car crash in '87 and he sent a message to me to see if I was OK, which I found amazing and so nice. I saw him in Brixton around '89. Me and Matt Johnson from The The were in his dressing room. Iggy must have sensed that Matt and I had some chemistry, because he said, "You two should work together," so we did. He was right.
I've picked up a few copies of Raw Power over the years. My friend [British music writer] Jon Savage is also a huge fan, and he and I both treasure our original vinyl versions and we kind of geek out over it. I still play it — on vinyl, on anything.