A source close to Screaming Females exclusively tells SPIN that despite recent health setbacks, the New Jersey shredders will be delivering a brand new EP in spring 2013, only a year after the release of their fleet and fiery Ugly LP. Also, while the trio has been forced to cancel a handful of shows over the past few months, guitar hero Marissa Paternoster and her zomboid bros should make their return to the stage in New York in February.
Yesterday, Paternoster shed some light on the ailment that cut short Screaming Females' time on the road with Garbage. Via the band's Blogger site, she wrote, "Here is a very brief run down of where I stand right now as far as my health is concerned … Even though I'm not in any shape to get back in the van, we've been writing some new songs and I feel confident that I will be ready to get back on the road sooner rather than later."
That "run down," was in fact a comic strip that Paternoster drew detailing the struggles she's faced in attempting to identify the mysterious pain she'd been feeling in her arm and around her shoulder. After trying out acupuncture, massage, and herbal remedies to no avail, she discovered a likely cause: thoracic outlet syndrome, which involves the pinching of a large bundle of nerves that travels through the chest and out under the arm.
The pain not only makes it difficult for Paternoster to crush her notoriously wicked guitar solos, but disturbs her sleep, which, in turn, weakens her immune system. The final panel of the comic concludes, "Nothing to do but wait I guess." We'll keep you posted on her progress. Here's wishing Paternoster a speedy recovery, so she can continue to do awesome things like this: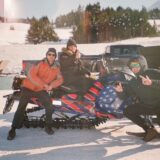 https://youtube.com/watch?v=IKQTHwkT9JU%3Frel%3D0