A bill introduced in Congress in September that would cut the royalty rates that Internet radio providers must pay to artists has led to some unusual bedfellows. Rihanna, Katy Perry, Brian Wilson, Stevie Nicks, Nas, T.I., Blondie, Billy Joel, and more than 100 other artists have signed an open letter opposing the so-called Internet Radio Fairness Act. They say the legislation would unnecessarily slash payments depended on by musicians.
"Pandora's principal asset is the music," says the letter, whose signers also include Robert Plant, Common, Sheryl Crow, Cee Lo Green, George Clinton, Duff McKagan, Missy Elliott, John Fogerty, and Janelle Monáe. "Why is the company asking Congress once again to step in and gut the royalties that thousands of musicians rely upon? That's not fair and that's now how partners work together." The letter, which will appear in Billboard, was first published by groups SoundExchange and the musicFIRST Coalition, which argue the bill could reduce royalties to musicians by 85 percent.
As the New York Times explains, Internet radio provider Pandora Media is a champion of the bill, joined by Clear Channel Communications and a range of technology groups. Supporters of the legislation say it would end an unfair discrepancy between Internet radio royalty requirements and the lower royalties paid by satellite radio services and other digital providers. Pandora pays 4 percent of its revenues in royalties, compared with 1.7 percent for broadcast radio stations, which also enjoy special deductions.
Pandora founder Tim Westergren was not deterred by musicians' opposition. In a statement quoted by the Times, he indicated the Internet radio industry would collapse without a "permanent fix" to keep royalty rates from rising. Pandora successfully obtained a temporary reduction on rates set by a panel of judges in 2007, but the discount ends in 2015. Westergren argues lower rates for Internet radio companies like his will create jobs and lead to more money for musicians.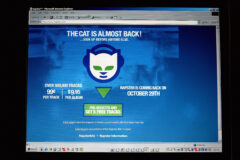 You know how those "job creators" can be, though. Damon Krukowski of the bands Galaxie 500 and Damon and Naomi, who has made his groups' music available for free on Bandcamp sites, recently wrote on Pitchfork that his royalties from Pandora and Spotify basically amount to pocket change. "Pressing 1,000 singles in 1988 gave us the earning potential of more than 13 million streams in 2012," he noted, after providing the numbers to support such a stark statement. He also noted that while these companies continue to lose money, their executives are profiting through stock sales.
To a certain extent, as with the debate early this year over the so-called Stop Online Piracy Act, sorting out the argument over this law means recognizing a corporate generational shift. We're accustomed to complaining about the big, bad record labels, but technology companies have a fiduciariy duty to look out for their own bottom lines, too.
This disconnect between old media companies and new is hilariously illustrated by comments that one of the bill's sponsors, Senator Ron Wyden, a Democrat from Oregon, made recently at the Future of Music Coalition Summit. After some harsh words for the major labels, Wyden said the following, as quoted by Digital Music News: "Now, if it weren't for the disruptive independent record labels — I'm talking about people like I.R.S. and Sub Pop and Tim/Kerr — we might never have known much about bands like R.E.M., and Nirvana and the Replacements … I sure want us to remember their enduring influence on not just rock music, but on their contributions to our culture and an entire generation."
There's only one problem with Wyden's professed support for indie labels. The American Association of Independent Music, which represents many well-known indie labels, including Sub Pop (Tim/Kerr is defunct, and I.R.S. is now part of a major label), has come out against his legislation. In a letter to Congress dated October 1, the organization writes, "We urge you to reject misleading titles of 'fairness' and claims of 'parity' and oppose this bill." Kurt Cobain could not be reached for comment.