Rihanna is in the midst of her 777 Tour, bringing 250 press and fans along with her band and crew on a chartered plane around the world, performing seven shows in seven countries in seven days — all in the name of promoting her November 19 album Unapologetic. Does that sound as insane as it sounds fun? It totally is.
We've traveled through Paris and Berlin, and thanks to extensive delays, haven't seen daylight in days. When we return, our eyes will have shrunken into tiny slots and we will forage on the ground for centipedes and other high-protein foods we can feel with our hands. We will also be chained to Rihanna like Michonne's zombies.
1. We no longer remember our lives "before."
The plane has become a sovereign airborne colony that fluctuates between madness and murderousness. Many have invoked Almost Famous on this tour, but it's nothing like that: even Obama's tagalong press corps is smaller than this one. Also, the troops are starting to get restless; we've had one too many three-hour delays, and no more intercom missives or plane walkthroughs from the Crown Princess, so my prediction is that a) Someone's gonna get punched (probably the Australian dude with the harmonica) which will b) set off a small mutiny that explodes into revolution. Luckily we have no weapons, but there's definitely enough hair product on the plane to maim an army.
2. The Paris venue was swank.
Chuck Bass' masquerade party spot in Sweden still wins, but Le Trianon Theatre, the turn-of-the-20th-century Belle Epoque arts theater, had marbled floors and operatic balconies, and every vantage point was decent.
3. The Paris show was also one of the best so far.
Topped again by Sweden, but the venue was quite small, around 1,000 people who were also among the most enthusiastic of the tour. Ri emerged in an oversized satin T-shirt with a digital print of a person who looked like Aphex Twin's horizontal sister, and over-the-knee leather boots. Hey FYI, her legs are cray cray. The first audience where the males outweighed the women manifested in slightly deeper screams.
4. That afterparty, though…
Once the set closed, the ambitious among us headed to Paris' VIP Club, where I'd been once before with Waka Flocka (and Diddy!) for SPIN's Loud issue. It was less cracking this time, and I realized why my Parisian friends declined to join us: the crowd and music vibe was not dissimilar to the first two hours of a painfully cliché and boring wedding reception, ABBA and early '80s Michael Jackson on the playlist, a disproportionate amount of women in pearls. Barring, of course, the gogo dancers in Eyes Wide Shut chic, the guy wearing a disco ball on his head, and the person in a panda suit. Oh and…
5. The stars!
At some ungodly hour, Ri rolled in looking all gorgeous in her show outfit along with a few friends — you know, Diddy (carrying a bottle of champagne as ever), Cassie, Pharrell, Akon, Omarion, Craig David (!), Bar Rafaeli. They were safely distanced from the commoners, and one unlucky Swedish 777 planegoer was accidentally elbowed by Diddy's bodyman. Even still, gentlemenly Omarion helped my friends find their coats.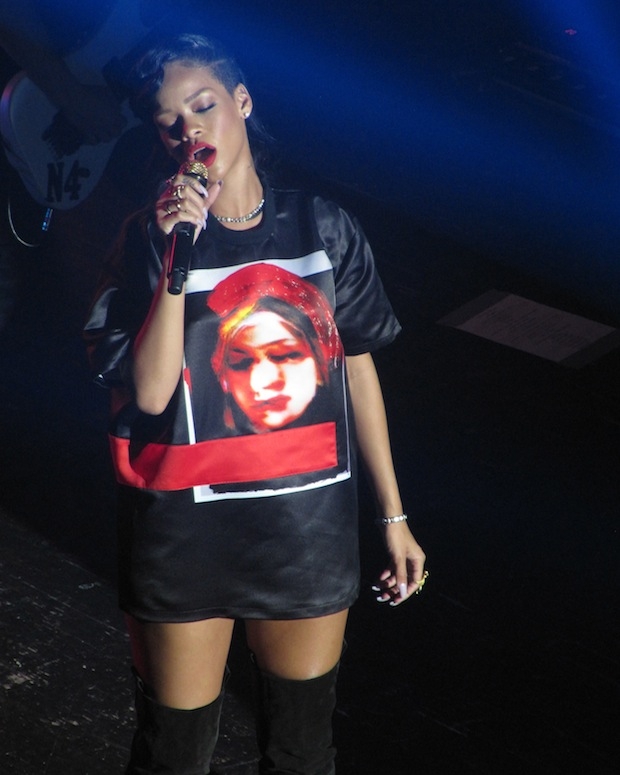 6. An excerpt from the 777 Tour doc has dropped via the internet.
It gives a decent behind-the-scenes look at how the tour was when it first started, when we were all fresh-faced and had lives outside the plane. I am in it, but I barely recognize the person that I used to be. Rihanna, on the other hand, sparkles like the first twinges of an otherworldly dawn. (You thought I was going to make a "Diamonds" joke? Yeah, heard enough Ri song title jokes this week to last several lifetimes. No, Rihannaplane, literally nothing makes me feel like the only girl in the world. NOTHING. #socialism)
7. Who are we again?
Screw "I can't feel my face," I can't feel my entire body. I would say that I now appreciate the difficulties of the (very very famous) rock star life better now but I'm in coach and Rihanna has a personal massage therapist on the plane with her. (Her name is Lama Amin, shout to Lama Amin) I know nothing of this life!
Tonight is Berlin; we're currently perched on wi-fi in the back of the venue, which is called E-Werk, and was super important for raves in the mid-1990s. I imagine rolling on mollies whilst listening to Paul Van Dyk was a slightly saner and more tangible experience than the one we are currently having. Our next stops are London and New York, the first two shows when Unapologetic is actually available to the non-downloading world, so we shall see if they are more cracking — or if we will be permanently cracked.