Yesterday, Memphis rapper Cities Aviv posted a self-serious note about his new album Black Pleasure. The letter thanked fans and celebrated the "listener…capable of acknowledging [their] own feelings and not those that have so easily slipped in the back[s] of [their] skull." It was posted as a screenshot of a word document, Frank Ocean-style. Someone with a master's degree can pen a piece that wrestles with the way that Ocean turned the Text Edit screenshot into short-hand for sincere, direct artist-to-fan contact, because the note worked on me. It gives the arch, mysterious rapper a little more context, and affords his confrontational rhymes some heart. The album is called Black Pleasure, though Cities is really declaring his freedom here: A black dude into noise and metal from Memphis, the birthplace of crunk, rapping his way out of categorization.
But "Black Freedom" sounds pretty corny, right? Cities is quite good at drumming up new ways to express rap cliches. His haters song on last year's Digital Lows was titled "Voyeurs," and here, the equivalent of his "Bitches Ain't Shit" track is called "Escorts." An expanding and contracting sample declares, "All I want to do / Is make sweet love to you," implicating the rapper's desires in the contempt he throws out for "boppers" in his hometown. "Simulation" expresses disgust with the Internet and if that seems a little obnoxious, well, he tempers the hubris later on with a cathartic, motorik album-closer titled "Not That I'm Anywhere." This is a less childish version of Childish Gambino's black-nerd self-flagellation. More about the way that being black and young in this country puts you into a box, and when you climb out of that box, a new set of people, supposedly more open-minded, will put you in another box.
Black Pleasure is also, maybe, a record about falling in love? "Visions Of Us," stuttering chipmunk-soul on 70 RPMs, details touring life and the desire to get back home to hang out with your girl. "Express Your Love," produced by Silkky Johnson, is an unabashed song about fucking, tempered by a series of quirky asides and pointed post-punk references: "I give you pleasure, my power's a sex position / We fucking for hours to Joy Division, Psychic Television / Rapping never was my mission but I grind it to submission / I hope you kill me if you catch me wearing True Religion / But girl it's your decision if you decide to stay / I'm not impressed by banjee bitches and their sheisty ways / Cause since our genesis I've loved you like my Lady Jaye / So when you miss me know I'm somewhere and I feel the same." Weird, witty, heartwarming stuff.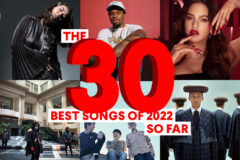 Some of you may not even consider Black Pleasure a rap album. If you liked Cities' debut, Digital Lows, which mixed a southern-yet-traditional approach to lyricism with an iPod-shuffle generation sense of genre-hopping, then Black Pleasure will be a shock. It's noisy and confidently one-note. While Digital Lows was lovingly curated, this is more interested in jagged, jarring transitions. On "Forever," Cities rides a cheap drum-machine kick like Ian Curtis on "Ceremony," and Cities even throws in a J.D. joke when he says he's "hanging like Ian Curtis." Oneohetrix Point Never's searching, slowly molting loops seems to be an influence on many of these hiccuping beats, mostly produced by Cities himself. He connects Memphis buck-music cassette culture to '80s Rick Rubin super-reducer drum and synth beats to pissed-off, apocalyptic No Wave. Mishka put this thing out, but it would be a better fit over at Sacred Bones.
Download Cities Aviv's Black Pleasure