The only time I have ever felt afraid at a rap show was when Killer Mike performed at this year's Hopscotch Music Festival in Raleigh, North Carolina. It wasn't because of some vague but palpable criminal element often present at hip-hop events. And it wasn't the swarthy-bougie frat bros from nearby Chapel Hill using Mike's onstage energy as an excuse to knock some nerds around, either. It was the sentiment sent from the stage after a performance of the song "Reagan" from Mike's 2012 album R.A.P. Music. He doubled down on these lines: "Ronald Reagan was an actor, not at all a factor / Just an employee of the country's real masters / Just like the Bushes, Clintons, and Obama / Just another talking head telling lies on the teleprompter."
Hopscotch's audience, mostly white, caught up in Mike's performance and rhetoric, hooted and hollered and clapped. They were cheering for cynicism. And they were grafting their own youthful "whatever bro"-isms onto Mike's problematic, though well-earned and cogent distrust of the government. Here we were, in a city in a liberal hub of the South, in a battleground state Obama won in 2008 against all odds, and would lose this year to Mitt Romney (not to mention, a state that banned gay marriage earlier this year). You've heard of "radical chic"? Well, this was apathy chic.
I was scared at that moment because of an election that, at the time, was about two months away. Here was the kind of toxic knowingness spreading amongst liberals, gathered in one place. This was an attitude, for reasons that make no sense at all, that seemed to expand as the right wing rolled out bozo after bozo ready to redefine/ban abortion and bomb Iran. All of which should've emboldened people to support our president, right? Yet it became cool to dismiss Obama as just another full-of-shit politician.
Mike's performance arrived at the end of a summer full of similarly dismissive sentiments about the President and the government. Lupe Fiasco, who called Obama "a terrorist" on "Words I Never Said" from last year's fist-pump, hip-pop debacle Lasers (then expounded on those thoughts in an interview with CBS this year), said he does not vote.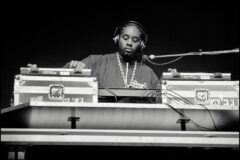 When he received criticism from CNN's Roland Martin and comedian DL Hughley, Lupe tweeted some half-read Howard Zinn-isms like this: "Let me heal from the wound of 400 years of institutionalized agony and destruction first…then maybe I'll think about voting…" Love the "maybe" in there. Like, even after he heals from this 400-year wound, he'll only give some thought to voting.
Kendrick Lamar said this to the website Truth Is Scary: "I don't vote…do what you do. Do good with your people and live your life because what's going on isn't really in our hands." One can extract from that a ground-level support of one's community which sounds fine and all, but is also dangerously close to Mitt Romney's response to Hurricane Sandy. Recall, during a desperate speech at a campaign rally half-heartedly turned into a Sandy relief event, Romney compared post-hurricane clean-up to this one time when his friends all got together and cleaned up a trashed-up football field. Some things are too big for even a determined group of individuals to fix, and both Lamar and Romney must know that.