REISSUE OF THE MONTH
1. Various Artists
Man Chest Hair
Finders-Keepers
Do you know what happened in Manchester in that decade between Herman's Hermits and Joy Division? We sure don't! But if this collection of "hard rock, hairy funk, heavy prog from the toughest unknown rock groups of Greater Manchester, England" is your roadmap, then the Mancunian streets were simply overflowing with barrel-chested frontmen, blazing sax solos, and fat, wet, funky, horn-soaked grooves that make Aerosmith sound like Kraftwerk. Here is an alternate universe where choogle is the national language; where the funky boogie of Babe Ruth and Ram Jam was as famous as Bad Company; where the best Led Zeppelin song was "The Crunge," where every phlegmy, clenched note was ultimately anticipating Electric 6; where bands only emerged from Scotland National Zoo for Fat Animals (see: Urbane Gorilla, Greasy Bear, and Savoury Duck). The brassy J.C. Heavy looks hauntingly forward to our current crop of witch-metal bands like Royal Thunder and Christian Mistress. The rest just looks forward to monster trucks.
2. Johnny Cash
The Complete Columbia Album Collection
Columbia/Legacy
Let's get right to the McCartney II moment where dude goes a little off the rails in the most awesome way possible: That's 1975's hazily overproduced, criminally ignored AM-Gold nugget Look at Them Beans, which features a country-funk title track written by Joe "I Gotcha" Tex, a handful of beautiful soulful horn arrangements, and closes with a demented trumpet solo. As for the rest, well, with 63 discs blanketing his 1959-to-1983 Columbia run, the box has no choice but to hit all the notes you'd expect: At Folsom Prison, At San Quentin, the banjo-fried Sings the Ballads of the Old West, hell, even appending his blazing, in-the-red 1957 Sun Records debut, which has more enough iconic A-sides ("Rock Island Line," "Cry! Cry! Cry!," "I Walk the Line," "Folsom Prison Blues") to power another three biopics (and appends his 15 other Sun singles as bonus tracks).
But you've heard "Get Rhythm" by now, surely, so this brick works more like a BitTorrent from a man-in-black of 1,000 talents. The real treasures are in discovering and embracing the lesser-knowns: Cash rapping the names of Indian tribes on the gritty 1960 frontier storybook Ride This Train; his gauzy version of "Mr. Lonesome" from 1962 which could be in a David Lynch movie tomorrow; and 1967's From Sea to Shining Sea which has a song about someone surviving in a collapsed mine's air pocket and another about shrimping. 1964's Bitter Tears is an earnest collection of "ballads of the American Indian" where Cash awkwardly embraces the one-fourth Cherokee blood that he was claiming pumped through his veins ("Now, I will tell you buster / I ain't a fan of Custer's"). Two years later he'd be doing Everybody Loves a Nut, an album of legitimately hilarious proto-Demento novelty songs with album art by Mad's Jack Davis. 1971's "Singing in Viet Nam Talkin' Blues" is self-explanatory and incredible; 1975's "Dinosaur Song" from his children's album is also self-explanatory and incredible. The less said about the 1980s, the better.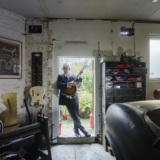 3. Kiki Gyan
24 Hours in a Disco 1978-1982
Soundways
After spending years laying down lush keybs for mid-'70s afro-poppers Osibasa, Ghana-born Kiki Gyan decided to go for self and crank up the bp,. On a series of six extended-play Afro-disco sides collected here, strings are at their most luxurious; slap basses are manhandled; his warm, ping-ponging organs pulse like caffeinated Stevie Wonder (and this was the '70s, so feel free to assume that it wasn't caffeine); and "pleasure is the name of the game."
4. Various Artists
Cooler Than Ice: Arctic Records and the Rise of Philly Soul
Jamie/Guyden
The Arctic Records label helped Philly Soul find its footing. Their complete discography of 121 sides, spread over a six-disc box set, are raw, washed-out, occasionally sloppy — a young Kenny Gamble before he hopped on the love train, a young Harold Melvin and the Blue Notes before you knew them by now — essentially the sound of Philadelphia in the 10 years before "TSOP." The 27 tracks from dynamic soul-stirrer Barbara Mason are the biggest victory here, tracing a slow evolution from the vulnerable, sugary-sad, girl-group era ("Girls Have Feeling Too," the No. 5 hit "Yes, I'm Ready") to the assured, brassy tip of the funky '70s. We'd be remiss not to point out the inimitable tenor of a young Daryl Hall (yes, that Daryl Hall) levitating over the only four released sides from his circa-1967 white-boy soul crew the Temptones, when dude was doing straight Temptations-jacking sans the big bam booms.
5. Various Artists
Surf-Age Nuggets: Trash & Twang Instrumentals 1959-1966
Rockbeat
Not every surf band washing up in the early '60s would get to be immortalized by Hawaii Five-0 or Pulp Fiction. Rockbeat has excavated nearly 100 sides of pounding, twanging, sand-stomping surf instrumentals, and like the original garage-rock Nuggets to which it owes spiritual inspiration, the name of the game is young, unpolished, and trying shit out. While distorted, sickly sax solos and gonzo screams abound, the real fun is in various attempts to move a song past beach-blanket mediocrity: revving hot rods and motorcycles ("Rev Up," "Road Runnah"), flocks of chirping birds ("The Birds"), campy horror- and disaster-movie screams ("House on Haunted Hill," "Earthquake"), or just exploiting trending topics in every way possible (".007," and at least two Batman-related songs). There's plenty of white guys attempting Middle-Eastern vibes here — Dave & the Customs' raging "Ali Baba" and Jim Head & His del Rays' "Harem Bells," which twerks "The Streets of Cairo" (a.k.a., "There's a place in France…") — carving a direct line to California punk bands like Agent Orange and the Offspring. And then there's just unexplainable stuff like the staccato stab-funk of "Pink Dominoes" by Chiyo and the Crescents, which is somewhere between Booker T & the M.G.s and Prong.