This week's Friday Five is brought to you by Popeye's Chicken & Biscuits (or as they now call themselves, "Popeye's Louisiana Kitchen") who inexplicably offer free Wi-Fi. Not that I'm complaining. As someone who had to evacuate New Jersey because of the hurricane, and spent the rest of this week scrambling around for places to stay and wireless Internet to steal, it is much appreciated. Their delicious spicy french fries and ice-cold orange soda are also appreciated. Don't worry about me, my dog is safe, and the most expensive thing I own is, like, the original Lil B Black Ken cover art and a few Sun Ra LPs, so even if my apartment is flooded and my stuff's ruined, it ain't no thing. For others, this storm is a huge deal, so make sure you help out friends, family, and strangers if they need it.
Earl Sweatshirt "Chum"
"Chum," tossed onto Odd Future's Tumblr yesterday, rebuts many of the tics that define OFWGKTA. Earl begins by rewriting OF leader Tyler, the Creator's pissed-off venting from Bastard: "It's probably been 12 years since my father left, left me fatherless / And I just used to say, "I hate him," in dishonest jest / When honestly I miss the nigga, like when I was six / And every time I got the chance to say it, I would swallow it." Rather than rage-out at dad, he admits that shit's just a front and he would really just love to see his pops more. Verse two is pretty much a "I once was lost" redemption tale with Earl detailing his grades slipping as he smokes weed, crashes parties, and steals bikes. A pointed shot at Complex, who proudly proclaimed in April of 2011, "Complex Exclusive: We Found Earl Sweatshirt" flips Goblin's love-hate relationship loop with blog coverage and points out that Earl was at the center of a "FIRST!" battle he had no control over, stuck in Samoa and all: "These Complex fuck niggas'll track me down / Just to be the guys that did it, like I like attention."
Fatima Al Qadiri "Oil Well"
Influenced by the 1992 video game Desert Strike: Return of the Gulf, Fatima Al Qadiri's Desert Strike is a memory purge and a personal-as-political pontification on war-as-entertainment. Video-game designers imagined a sequel to the Gulf War within a year of that war ending. And that seems even more perverse when you consider that a little more than a decade later, George W. Bush, Dick Cheney, and others actually contrived GULF WAR PT. 2 FOR REAL! Al Qadiri, who grew up in Kuwait, played Desert Strike as a child, and the game feels like the apex of the Reagan '80s when Hollywood and politics were inextricably tied together. All the action flicks of the era prepared the brains of people my age for a 2000s full of brown-people bad guys, and a certain comfort with stuff blowing up, as long as we could witness it through a TV screen. Film critic J. Hoberman referred to these flicks as "warno." Al Qadiri vomits up a childhood of "warno," and challenges navel-gazing chillwave musicians who make albums based around their comfy memories of video games and their parents' beach house. Meanwhile, a sound effect of a shell rattling through "Oil Well" mocks the gunshot-filled hipster redundancy of trap rave.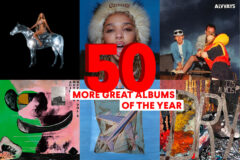 https://youtube.com/watch?v=LFHT0n2tJKc%3Flist%3DPLAZI4aCJYTWTFBDc13t9eEALkCDIbZxZz%26hl%3Den_US
Meek Mill "Dreams & Nightmares"
In which Meek Mill grabs ahold of the piano-based intro track that all emotive major-label rap albums have these days (see Drake's "Over My Dead Body," the intro to J. Cole's Cole World: The Sideline Story, and Tyga's "Careless World") and raps it out of existence. Meek runs through his accomplishments and street cred and all that with his typical urgency, while some soap-opera piano plinks along all sad-like. It works well enough because it doesn't have the petulantly reflective Robert Evans attitude of say, Drake, when he remembers that just five years ago he was simply a Canadian TV star. Before that phone call from Lil Wayne. At the moment when this type of song is supposed to end, though, Meek just refuses to stop, and he breathlessly keeps rapping, pushing his manic voice into a holler, almost willing the wimpy beat into something tougher. So, the beat grows more furious, signalled by a "Maybach Music" drop, and followed by brass-knuckle punches of 808s and art-damaged, apocalypse-flick-soundtrack oohs and ahhs. It's a four-minute tour de force. And for the duration of "Dreams & Nightmares," at least, I'm totally on board with Meek's prickly pathos.
https://youtube.com/watch?v=nXWIUk8oKFI%3Fversion%3D3
Pusha T, feat. Raekwon, Joell Ortiz, and Danny Brown "Tick, Tock"
On this one from the RZA's artful, all-over-the-place soundtrack to his just plain all-over-the-place kung fu freak-out, The Man With The Iron Fists — a movie that isn't any stupider than Kill Bill but will receive none of that movie's pomo-pastiche praise — three once-great "lyrical" MCs, now each one more tedious and not-fun-to-listen-to than the next, take their sweet ol' time rapping. This song pushes seven minutes. Pusha T doesn't start rhyming until 30 seconds in. Who has time for this besides, like, Peter Rosenberg? Perhaps RZA knows what he has (or doesn't have) here, because the Wu mastermind, an expert at orchestrating clusters of rap voices, wisely saves Danny Brown for last. Far from cool, calm, and collected, Brown delivers beyond-cynical gutter Goines-isms ("Got the tongue of a pimp, raised by a dirty preacher / That used the church money to cop a new Beamer") in his squawk of a voice, adding a crazed coda to a much-too-measured song. The beat by Frank Dukes (XXX's "DNA") and S1 (Beyonce's "Best I Never Had" and the "Excellence" half of the Throne's "Murder to Excellence") is the most Morricone-gone-hip-hop sounding-thing since Rick Ross' "Hustlin."
https://youtube.com/watch?v=_1471AIFWus%3Fversion%3D3
Steinski "Mitt vs. the Truth"
Sample-based snarkmeister and hip-hop history teacher Steinski takes on Republican candidate for president, Willard Mitt Romney. The point being, Romney's words kind of do him in already, and that means all that Steinski's got to do is pile some legendarily clueless Romney quotes ("Corporations are people too, my friend" and "They say, 'I want insurance because I've got heart disease?' We can't play the game like that") on top of a medley of contemporary classic hip-hop instrumentals. The rap-radio bounce underneath Willard's words adds another level of absurdity to the whole thing, further highlighting his stilted, robot-dad delivery (Steinski even digitizes his voice, so he sounds like a robot!). The musical mockery of "Mitt vs. the Truth" makes me think of Charles Mingus' "Fables of Faubus," which cut down racist Arkansas Governor Orval E. Faubus by way of a baby-elephant-walkin' instrumental. And though it's all a bit obvious and probably won't convince anybody to change their vote, in a hip-hop world where Killer Mike, Kendrick Lamar, Lupe Fiasco, and too many others have pushed this nonsense that there's no difference between Obama and Romney, we need more pissed-off, painfully obvious hip-hop agitprop like this. This Nate Silver fellow seems like he knows the deal, but still make sure you go out and vote next week!
https://youtube.com/watch?v=5w5oZn3TxYc%3Fversion%3D3