It's too easy to make fun of Myspace. Along with other proper nouns of the Internet's past — GeoCities, CompuServe, LiveJournal — the name is good for an obvious laugh and a follow-up groan, like pointing out that MTV doesn't play music videos anymore. But search SPIN for references to Myspace and you'll find recent examples of artists crediting the social network for helping them get their start, from the xx to Here We Go Magic to TNGHT.
They don't say the same things about Bandcamp, SoundCloud, or even Facebook. Useful tools though they may be, those services don't facilitate discovery the way Myspace (then "MySpace") once did, and now aims to do again. After four years of languishing amidst its shrinking market share, the brand is relaunching by ditching the old in favor of the new. And on Thursday, SPIN went to Beverley Hills to demo the thing.
"This is not site redesign, this is a completely reimagined project," says product management VP Ali Tahmasbi. As skeptical as we're prone to being, he's actually right. The first thing you notice about the new Myspace, as shown with minimal embellishment in the demo clip released in late September, is the unprecedented design: sleek, immersive, continuous. You'll lose time and forget you're in a browser.
But we're getting ahead of ourselves. We're here at the swank SLS Hotel to be plied with swank food — tiny sandwiches, strange dips, impossible salads — and a noontime open bar, plus a four-part introduction to the new website set to culminate in an intimate roundtable with the company's top executives: net-savvy brothers Tim and Chris Vanderhook and, you know, Justin Timberlake. Because he's bringing Myspace back.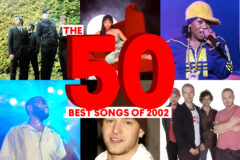 And though JT's success was somewhat preordained, he remembers the same Myspace that, say, Totally Enormous Extinct Dinosaurs remembers: "I watched my friends become One Republic, you know what I mean?" Timberlake says to a cozy circle of nine journalists. "To see that type of connection with a fan base that grew and grew and grew, that was exciting. And for me to discover new music and be able to tell other artists about it, tell my friends about it."
Smartly, the new Myspace universe revolves around music. At the bottom of the page is a navigation bar that follows you everywhere, and most of its real estate belongs to a player that has countless opportunities to come to life: the old "profile song" was salvaged, band pages are infinitely clickable, user playlists are encouraged, radio by genre or artist is provided, and music videos are ample (and if you close them, the song plays on while you explore elsewhere).
There is well-curated editorial content, and a charts system in progress that allow users to see what's trending globally, nationally, or in their own neighborhood. "Similar artist" and "influenced by" categories are pretty on point, and if you Stan for a band — by sharing their content, talking about them, or otherwise following their every move — you can be rewarded with "top fan" status. "It's like a Ponzi scheme but in a positive way," Tahmasbi says.
"If you break it down into a triangle," Timberlake explains, "you have signed artists and unsigned artists, and a fan who just wants to hear music doesn't care if it's Adele or the Weeknd or JJAMZ … We're going to give people the biggest platform that hasn't been given to them yet [for] the fan and their favorite artists to connect and have a conversation [about] other music, or photography or filmmakers or comedians or what have you, because we all just like what we like."
But, like, is there any reason to assume Myspace will actually be popular? In addition to the integrated player, we found four general features that give the site extra swag. Most impressive is the search protocol: the second you start typing, without clicking anywhere, the screen becomes one big search query offering up loads of intuitively sorted results. "It's like typing from thin air," Chris says. According to Tim, "It's not just beautiful, but really functional."
Next is the "affinity" algorithm, which weighs your activity against other interactive site elements (users, artists, songs, videos) to determine how likely that person or thing is to be of interest to you. Hover your cursor over the target, and Myspace will give you a percentage representing the likelihood of a worthwhile connection. For better or for worse, the site simplifies all social activity — the abilities to "like," "friend," "subscribe," or "follow" — into one function: "connect."
The third highlight: Mixes. Instead of strict playlists or photo albums, users can create multimedia portfolios using any combination of songs, videos, and images. For instance, a member of the Myspace design team made one called "90 From the 90s" comprising 90 songs (some with videos) from that decade and 90 photos that represent the era. Timberlake has created a few mixes, including a winking "History of Rap" series that combines classic hip-hop with vintage images.
"[As] an artist," Timberlake says, "you put something out … it [goes] into the ether … and how many times out of 10 does it become completely misunderstood? For me, what's exciting is that if I put a song out, I can paint a whole picture … to let you know what that moment was like in the studio for me. We have inspiration boards, we listen to other music, friends come in and out … It's not about bridging the gap [between artist and fan], it's about blurring the gap."
Last, Myspace now has a horizontal layout, meaning when you scroll, additional content comes from the right. It's a seemingly superficial change that does a lot to make the experience more engaging. Combined with the seamless click-through experience — again, watch the demo video below — it's what allows you to forget that you're operating inside of a browser instead of a program. The "magazine-style" look is uneven at times, but the feel is right.
Ultimately, it's still an uphill battle. We've yet to see the mobile version, integration with existing apps like Twitter and Instagram is an unknown, someone misspelled the Weeknd's profile name as the Weekend (ha), and despite the fact that all involved made a point to never utter the word "Facebook," the social network loomed large over the proceedings. Timberlake and the others have built it, yes, but who will come? And more importantly, will they be worthy of your Top 8?