Hi fashion friends! It's been too long since my last post, but not to worry, I'm as clothes-obsessed as ever. In fact, when I was recently in Katowice, Poland for Off Festival, I met two lovely Russian ladies, both named Katya, and made a point of talking to them about clothes. Not even a broken nose could stop me! You see, Katya S. (left) and Katya V. (right) are two enthusiastic and fun young women who work as photo editors for fashion magazines in Russia, at least when they aren't traveling Eastern Europe to experience all of its beautiful architecture, cheap food and wild music festivals. Even though I don't think they had showered for like three days when I met them (it's the festival lifestyle!), I greatly admired their style and figured I'd learn more about where they come from and the things that inspire them. I gotta go to Russia!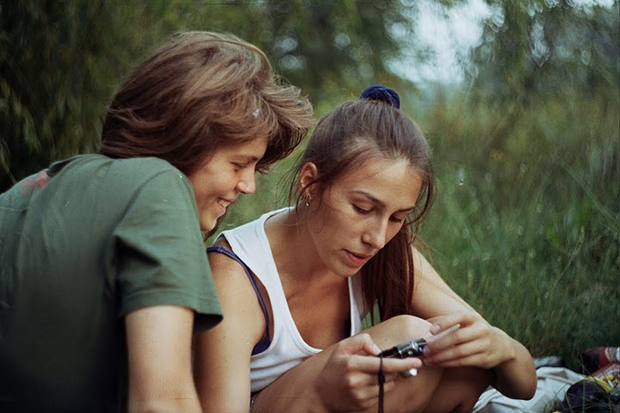 How did you get into photo editing? Was it something you wanted to do, or did the job just sort of happen?
Katya S.: Well, at first I was working for one financial weekly magazine as an editorial assistant, but one day the art-director suggested I join the photo department. I was looking for faces of politics, pics like "what damn inflation now!" and "the share price of petroleum companies go to the dogs," and helped to organize the shoots in the "luxurious restaurants" and the dull shoots of "well-known in the narrow circles" people. Despite the not-so-exciting content, the process was quite interesting and the team was wonderful. Then I moved to the weekly fashion magazine, where everything was in another stream — and , yes, I can say without any doubts, I like this job. You are rummaging in great photo-banks and through the internet and can finally find something awesome.
Katya V.:In the spring of 2011, I felt incredibly tired and mentally exhausted thanks to my previous job. I spent five years as director's assistant in one business, then I braced up and quit! The whole summer I mostly did nothing, taking all the advantages of unemployment: watched a good amount of movies, read books that were waiting for so long, started drawing again and playing accordion just for my own pleasure. But time passed by, savings came to an end, something had to be done. Right at that moment Katya needed someone to help her with picture editing and of course I couldn't refuse, that was the best job offer ever!
What type of shoots are your favorite to work on?
Katya V.: Street-style images are my favorite. Some years ago, my friend send me a link to hel-looks.com and I must admit it is still my number one blog about street-style. During the workday I monitor a lot of fashion shootings, mostly by Grazia photographers from all over the world. I think this is the most pleasant part of work besides drinking coffee and chatting with Katya. I don't like the word "inspiration," but this is a proper word; no one can stay calm admiring so much beauty during the day. Though, to tell the truth, for me an ideal shoot is the one where beauty and humor can live together.
Katya S.: As there are many rubrics in our magazine, we can give reign to our imagination and taste — we can find the most freaky catwalks in unconceivable colors. Then, of course, all the images are sorted by fashion-editors and designers, but we at least have fun during the process. The most unfavorite theme is "celebrity fashion news," but sometimes the pictures are so awesome, especially paparazzi shoots, that you can hardly suppress the laughter. The funniest and most awesome we join to collages and upload to our idiotic blog, brodermordet.tumblr.com. But seriously, it is very interesting to deal with material connected with the past; for instance, recently we have been looking for some Ozzy Clark shoots from the '60s, Dior and Emilio Pucci collections from the '70s, David Hicks prints and even pictures from Fear and Loathing in Las Vegas — their psychedelic prints became the trend of this season.
Are there any Russian designers you have really been enjoying lately?
Katya V: Not long ago I saw the last male collection created by Tatiana Parfionova. The young men were reciting poetry right on the catwalk: Twelfth Night by William Shakespeare. Unusual idea, bi-sexual, tender looks, various voice timbres and well-cut clothes. Some looks from Konstantin Gayday's FW 11/12 collection are something that I would like to wear. And if I find a wallet one day, Alexandre Arngoldt's collection FW12/13 with it's long sleeves and fake blind eyes.
Katya S.: I think Alena Akhmadullina is the best. Maybe you know her — she is quite well-known and took part in the fashion weeks. Her collections are full of femininity, so I can say she is very pretty.
In her fresh collection she is inspired by "Nutcracker and the Mouse King", and I think she has made a go of such a "tale into reality" transformation. I like everything here: colors, shapes, combination of psychedelic prints and military coat details. I have never heard about Natasha Drigant till I started rummaging the archive of last year's Moscow fashion week for one article, so I was really surprised by her collection. Androgyny, ?olor pallette, asymmetry of ?ut — it is the perfect harmony of everything.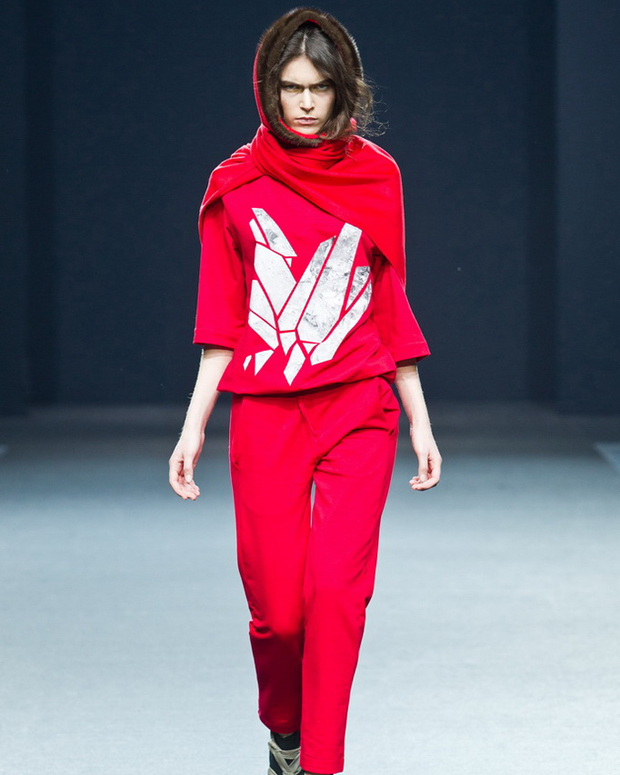 Do you have any fashion advice to offer the guys out there? Anything they should or shouldn't do?
Katya V.: I think people should wear anything they like. A sparkling evening dress or a trash bag. Or a trash dress and a sparkling evening bag. It depends. What I know for sure — money will never save your look if you have no idea how you want to look.
Katya S.: Not any special advice, but I think it is quite stupid idea to follow the trends madly, and be a fashion victim. It is more interesting when a person has his or her own style and considers their outfit with a sense of humor. I like freaks dressed in vintage clothes, people who wear second hand things. It can be just fun, nothing more.