Though he's best known for once wielding axe in the Red Hot Chili Peppers and has worked with everyone from the Mars Volta to the Wu-Tang Clan, John Frusciante has a well-loved solo oeuvre that owes half of its heft to the six albums he released in 2004 alone. A handful of those and a few others are getting a limited edition 180-gram vinyl reissue on December 11 thanks to Record Collection.
From that prolific 2004 solo run: The Will to Death, Inside of Emptiness, A Sphere in the Heart of Silence, and the DC EP. Also included are 2005's fan favorite Curtains; 2009's The Empyrean; and both of his releases with Ataxia, which was rounded out by Fugazi's Joe Lally and RHCP's Josh Klinghoffer, 2004's Automatic Writing and 2007's AW II. Each of the eight releases will come with a download card in both MP3 and WAV.
Now onto the pricing, which is — wow — steep. Fans aiming to save money can grab 'em all for $229.99, or $28.75 apiece. If that seems pricey, consider that each of the full-lengths will cost $34.99 individually, while the DC EP is $29.99. Alternately, for $249.99, you can get all eight, plus Frusciante's 2012 EP and LP, Letur-Lefr and PBX Funicular Intaglio Zone, respectively. Hey, a [reclusive] man [who won't tour] has got to make a living.
Of course, there are always online guitar lessons to fall back on: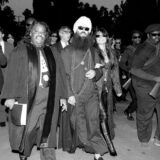 https://youtube.com/watch?v=wqgXSmmzFCU%3Frel%3D0