Fans of left-field rock luminaries, rejoice. Jane's Addiction, Nick Cave & the Bad Seeds, and Throwing Muses all have new albums in the works, according to reports. Their release date status spans from "sometime next year" to, well, February 19, to be exact.
Jane's Addiction mastermind Perry Farrell told Billboard he already has almost 60 songs ready for the follow-up to the alt godheads' 2011 The Great Escape Artist. Though he does only offer the vague "sometime next year" for when we might get to hear this stuff, he appears to be super jazzed about it. "The next album is going to be something that the world has never experienced," he's quoted as saying. "I'm building it simultaneously with the live show in mind and it's just going to be out of sight!" Exclamation point entirely Billboard's (and, presumably, Farrell's!).
Meanwhile, Nick Cave — post-punk dark lord of the Birthday Party and Grinderman fame — has announced a new album with his band the Bad Seeds. Push the Sky Away will arrive, yup, February 19, according to the band's reps, and the opening track appears to play with a Ke$ha song title; then again, another song shares a title with a classic poem by the Pulitzer Prize winner Gwendolyn Brooks. In any event, "We No Who U R" will be available beginning on December 3 and comes as a download with album pre-orders via NickCave.com or iTunes.
Cave's longtime collaborator Nick Launay, who has also worked on albums by Yeah Yeah Yeahs, Arcade Fire, and Kate Bush, produced the new full-length, which was recorded at a studio in a 19th-century French mansion. The press release promises sounds whose origins are difficult to discern, as well as a "clarity and sweet strangeness that's built upon the refusal to accept limitations." That's the track list and album art below.
Separately, Throwing Muses frontwoman Kristin Hersh revealed on Twitter that she's finished "writing the book that is" her band's ninth album (via Slicing Up Eyeballs). Expected to be released, yes, sometime in 2013, the full-length would be Throwing Muses' first since 2003's eponymous record. In January 2011, Hersh — one of SPIN'S 100 Greatest Guitarists of All Time — said the band had wrapped up early studio sessions. Since then she, bassist Bernie Georges, and drummer Dave Narcizo have put out a new Anthology compilation and toured through Europe and the British Isles.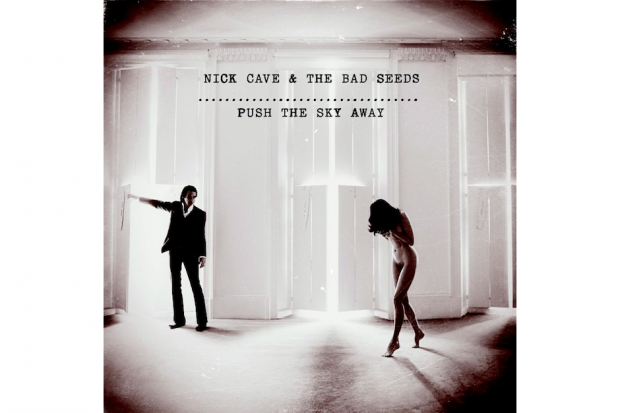 Nick Cave & the Bad Seeds, Push the Sky Away track list:
1. "We No Who U R"
2. "Wide Lovely Eyes"
3. "Water's Edge"
4. "Jubilee Street"
5. "Mermaids"
6. "We Real Cool"
7. "Finishing Jubilee Street"
8. "Higgs Boson Blues"
9. "Push The Sky Away"