It happened again this month. Amazon.com sent out an e-mail saying it doesn't know when the vinyl edition of Frank Ocean's SPIN Essential album channel ORANGE will be ready. But we should be used it by now. E-mails like that one have been coming every month since August. That's even though the original ORANGE vinyl release date posted by Amazon and other online retailers was July 31.

Now, enterprising bootleggers have manufactured their own double-LP vinyl copies of channel ORANGE, and we've managed to acquire a copy. Fittingly, given the record's gray-market status, the shade of orange on the cover is a bit, well, shadier than in the actual cover, and of course, there's no lyric sheet or other artwork. The words "LIMITED EDITION" are printed in white block letters on the back cover. The labels on the actual vinyl records say, "Made in Germany."
The online merchant who sold us the record said he forwarded our questions along to his source, but we have received no comment from the bootleggers yet. Ocean's publicist said he sent our inquiry along to Ocean's management, so we might still receive an official comment from the Odd Future member's camp.
In the meantime, it's worth marveling at the merchandising genius of these particular bootleggers. In addition to a standard black vinyl edition, which we now own, the website Discogs.com also lists a "grey marbled" version that's on sale for as much as $125 plus shipping. Just like the majors!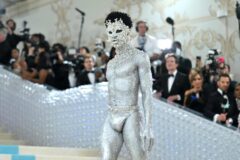 How does it sound? One online reviewer said it best: "This album is fantastic. This is a good bootleg. Basically, the album sounds like it should."
Surely Neil Young, who talked about his new digital music format last night on The Daily Show, would be able to explain how this vinyl is less soulful than it could be because it must be drawn from a digital source. But it wouldn't be the first vinyl record to be ripped "off the CD," a charge My Bloody Valentine's Kevin Shields recently leveled against the 2003 vinyl repressing of his band's 1991 classic Loveless. And until a presumably far superior, official release hits the market, this is our only chance to spin "Thinkin Bout You" on turntables.
Odd, isn't it? Of all the places Ocean mentions on the album — "Egypt, California, Denver, Sierra Leone, Miami, Amsterdam, India, Arkansas, Spain, Idaho," as catalogued by the critic Hua Hsu — somehow Germany wasn't one of them. Still, it appears someone out there was listening. And bootlegging.