Artist of the Year: Death Grips
The outrageous story of how a couple of mysterious punk-hop noise-bringers bumrushed the majors, infiltrated the Hollywood elite, made your iTunes NSFW, and then vanished completely. In a year of Kickstarter millionaires and Tumblr-rap riff-raff, Death Grips were the first band to use the power of the Internet to delete themselves.
The final piece of the puzzle was Hill's longtime engineer Andy Morin, who has dutifully recorded all three Death Grips albums and was last seen dancing enthusiastically onstage at Coachella 2012. (He's been completely absent from the current tour and his role in the band is undetermined.) Together, the group's sound was shrill and merciless: chewed'n'scotch-taped Black Flag and Pink Floyd samples, vein-bulging slow-flow barks, Aphex Twinge nic-fit drum-stutter, and "FUCK IT"s defenestrated like Waka Flocka MacKaye. Angelica Cob-Baehler, Epic's then-executive vice president of marketing, was passed their self-directed video for the fuzz-blustery "Guillotine."
"It took about six seconds," she says. "I was just sucked in. What I saw was a band that had the ability to capture violent, raw aggression in a way I hadn't seen this decade. I couldn't sleep that night. I couldn't stop thinking about it. I was scared of them! I couldn't resist the feeling of just wanting to be a part of it."
In October of 2011, she brought Hill and Burnett in for a meeting with L.A. Reid, the newly appointed chairman and CEO of Epic. "It was funny, because Zach did most of the talking," says Cob-Baehler. "Stefan was just sitting there with his arms crossed. He wasn't saying anything; he was just looking at the ground. At the end of the meeting, L.A. said, 'We really believe in this music and we want to make you part of this family. But here's the deal: We wanna sign you today.' Stefan looks up and goes, 'That's what I'm talking about.' By 10 o'clock that night, they were signed."
Five-and-a-half hours after the meeting started, they became the most unlikely rap group signed to a major since MC 900 Foot Jesus. They were labelmates with Jennifer Lopez, whoever wins The X Factor, and the Michael Jackson catalog. By late April of 2012, the band was giddily tossing giant inflatable pills around a Coachella stage and their major-label debut was a living, breathing glowing-review magnet.
But Hill describes this whole time as "a confusing, kind of darker period." They were aware that The Money Store was a weird gamble for a major label, but says their ideas on how to expand its audience and further their artistic vision — including an attempt at collaborating with outré director (and onetime George McFly actor) Crispin Glover — weren't being heard. Says Hill, "[A major label] has no real time and place other than, 'Go play shows, and hopefully your record sells based on that.'" In addition, Hill could "hear a search in that record" and a "really condensed amount of information with not so much space," and wanted to move on to a sound that was more roomy, cohesive, and emotionally connective.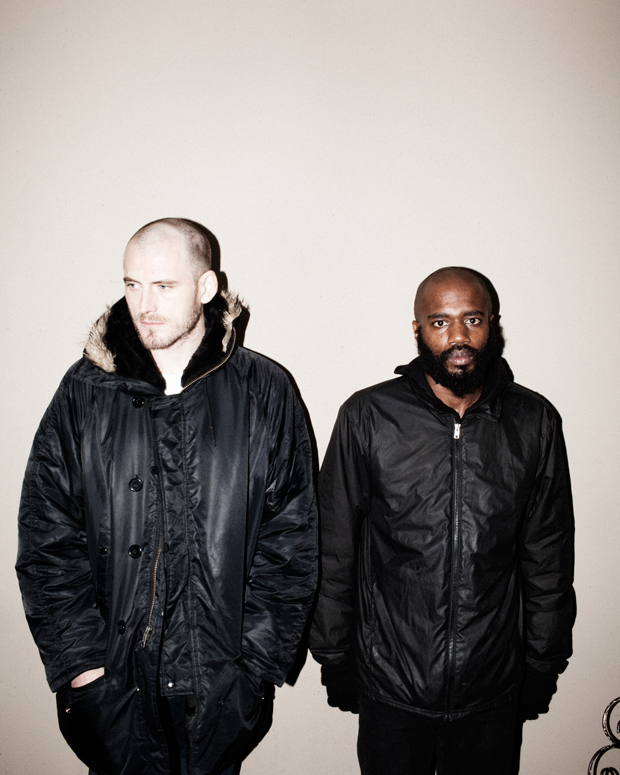 Long before The Money Store's spring 2012 release, the band had made an announcement that a second LP was coming later in the year, something they say the label was committed to, and something their upcoming tour was hindering them from realizing. The band wasn't waiting to be assigned a spot in a release schedule; they were thinking and acting with the speed of the Internet.
"[Epic] aren't futurists, so it's like the old school," says Hill. "You're able, as an artist, to really streamline it and straight connect: You just finished this song, and therefore it's hyper-relevant, because it's now. Everybody's experiencing it now. So when the song hits, you know, 'Wow, this was just made.' It's existing in the same time, the same space, the same dimension of how life is moving at that point in time. It's hard not to just want to roll with the future."
Hill and Burnett stood in an alley by their apartment in downtown Sacramento and pondered their options. After 11 years of being on the road, Hill knew there wasn't always something at the end of the touring rainbow, after playing "the same circuit of the same things of the same this of the same that." Rolling with the future meant finishing the second record. He says, "I'd much rather be making a record [than touring]. For me, personally, it wasn't that hard of a decision. Not to be insensitive about people who want to go see the thing, but you have to prioritize as an artist." They gave the world no more notice than this tweet: "we are dropping out to complete our next album NO LOVE. see you when it's done. (there are no longer any scheduled shows)."
They didn't tell anyone they were bailing on 30 shows, least of all their booking agent, manager, record label, or publicist. "Listen, if that was a publicity stunt, it was one of the most clever ones ever, because it didn't involve their publicist," says Ken Weinstein of Big Hassle Media, the band's beleagured flack. Hill immediately started receiving a mudslide of e-mails, often scathing, from people threatening to cut off business relationships with the band.
"Even the people that are close to us questioned our state of mind, our mental health," says Hill. Having bailed at their RSS-monopolizing peak of buzz, fans and critics alike swarmed to the Internet to register disappointment and frustration. One choice Facebook response, which was reposted with brio on Brooklyn Vegan, stated, "Either way, the music remains great, but fuck them and their shady bullshit." "Yeah, certainly, I'm sure, that was a very unpopular decision," says Hill. "The thing is, when it comes to art…with all due respect to everybody, nothing comes before what I want to do creatively. I just don't value [a band's live show] the same way I value a piece of work."