Take a look at the cover art for all three of Crystal Castles' self-titled albums and the Toronto duo's progression is clear. 2008's I features a portrait of the band in front of a brick wall, awkwardly posed like the figures in a Robert Longo painting, vocalist Alice Glass in a vintage T-shirt, producer Ethan Kath in a hoodie and leather jacket, both in tight jeans. The image is totally appropriate for the noisy 8-bit provocation inside. Crystal Castles are Nintendo Entertainment System Teenage Riot.
II , released in 2010, features an idyllically faded photo of a youthful goth standing in a graveyard near a tombstone that reads "Mother," making explicit the duo's stick-your-face-in-it dread and darkwave influences. It's just right for a collection that features a take on Platinum Blonde's "Not In Love," which Crystal Castles later re-recorded with the Cure's Robert Smith on vocals.
Their latest, III, out November 8, is adorned with a photo of a veiled woman cradling a shirtless young man. Without context, the image, bathed in the color palette of a bruise, looks nebulously "dark" and, well, totally "witch house." Its origins, though, are as an award-winning photograph by Samuel Aranda, taken in Yemen, of a mother holding her son, injured by tear gas while protesting the regime of President Ali Abdullah Saleh. Here is the group moving away from darkness as a stylistic tic, towards soberly, seriously addressing a cruel and unjust world.
Crystal Castles' Alice Glass, 24, ignores my e-mailed theories about their album covers. What I do receive, though, along with the answers to a few of my questions, is a blast of data, excerpted below, putting the new album and the group's intentions into focus: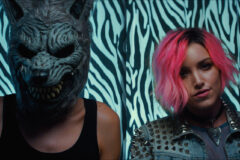 "America is still not doing enough for human trafficking within itself," writes Glass. "The [FBI] estimates 50,000 women will be trafficked into America every year, that number is probably higher than reported…There is a lack of shelters for victims, many victims are placed in juvenile treatment facilities. In the state of Missouri there are only 25 available beds for girl victims in these facilities…One in 12 children in America will be sexually assaulted…In America, the greatest threat to women's health and safety is domestic abuse, yet there is little funding to inform and support women." Okay, then. Perhaps the best comparison for III is Fatima Al-Qadiri's Gulf War pop-culture purge Desert Strike, which too works as retro-futuristic electronic music, but moves into the realm of agitprop pop once its heady context becomes clear.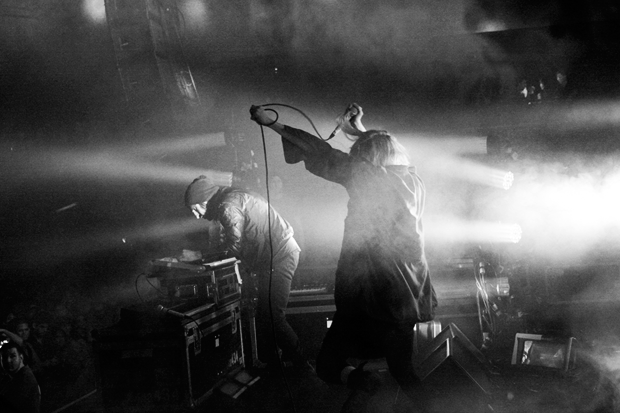 Crystal Castles are an unabashed political group on III, or so I thought: "As a lyricist, I can relate to bands like Crisis and Crass who always tried to inform the masses of injustices in the modern world," Glass explained. "But I also want to write poetry." The didacticism of political music and the more introspective world of poetry bump into one another on "Kerosene," whose hook finds Glass singing, "I will protect you from / All the things I've seen."
That shift from "you" to "I" is telling. Maybe her perspective is meant to convey the voice of the mother on the album cover, but Glass also captures the idealist desire to save everyone from pain, and hints at the selfishness that comes with speaking for the people. Her "I" is a rallying cry for victims defeating their oppressors, and an auto-critique from a band that can come off, at times, as more than a little self-serious.
III offers no escape from the darkness, though, almost as if the group are the perpetrators and the listeners are their victims. It feels more like one, long raging track than a considered set of songs. Imagine Dance Dance Revolution as a boogie-down-to-death They Shoot Horses, Don't They? scenario. The dependable video-game chirps and glitches are mostly shed, replaced with Euro-trash synth-strings and digitally crackling blast beats. Ethan Kath's production here competes with the abrasive energy of AraabMuzik, Sleigh Bells' boy-girl noisemaker joys, and seems to lecture the rest of the electronic world on what it means to make confrontational dance music.
Whether that's the intent, I can't be sure, because Kath, 29, didn't answer bother to answer any of my ponderous e-mail questions. Glass picks up the slack, but her boredom with any effort at sonic dot-connecting and "what are your influences?" pestering is palpable: "If you're asking specifically what I like, personally, then Louis-Ferdinand Celine's Journey to the End of the Night, Albert Camus, Sylvia Plath, John Waters, Divine, hate comics, and gore in movies."
Yet, Crystal Castles remain an electronic act capable of standing on festival stages, singing over wailing doomsday alarm beats about the world's injustices. That's got to be strange, right? "I've never thought about where I wanted to go in life in general, let alone to be so aware of what complete strangers think of our art," offers Glass. Whether the stranger is me or some slack-jawed EDM-ers who the group will confront sooner or later is unclear. "I'm not sure where I want to go," she adds, "I just try to be sincere."
Right now, even the most popular dance music isn't afraid to kick listeners heads in. Can you say dubstep? What about the rage-outs on PSY's "Gangnam Style" or the aggro party-pop of Nicki Minaj's Roman Reloaded? There isn't that big of a difference between Crystal Castles and what the normies are throwing elbows to every Friday night, is there? "Pop music is relative," Glass lectures. "I'm not sure what defines it anymore [but] if it's a catchy melody then I suppose so, because the way I write vocal melodies is to use the melody that gets stuck in my head the longest."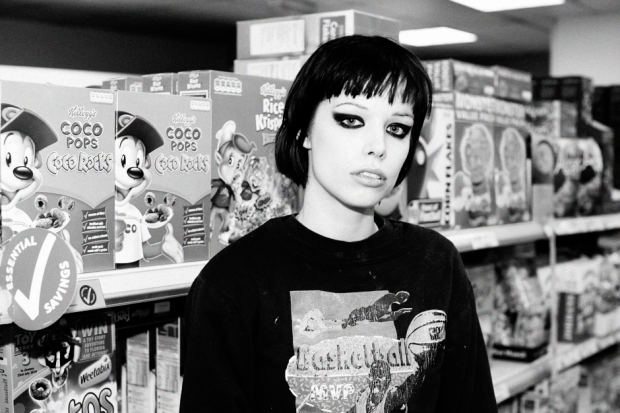 But I can imagine Rihanna, a few albums from now, moving closer and closer to her fuck-it-for-real moment of fame, bypassing "edgy"-for-Top-40 moves, becoming subsumed by her grim pop grimace and having a dead-eyed Nico moment, covering the Doors' "The End," backed by Ethan Kath's shards of digi-noise and Alice Glass' bellowing about human rights. What say you, Ms. Glass? "I fucking hate the word 'edgy.'"
Fair enough.