Despite being a legendary producer, co-founder of Roxy Music, and occasional fifth Talking Head, Brian Eno seems entirely uninterested in the idea of retirement. He's just released the new solo album LUX, which, as SPIN's Andy Beta explains, "leapfrogs back to the shimmering heights (or are they flats?) of the epochal ambient albums he made in the mid-'70s." And he's also got a freshly released iPad app called Scape, not too mention his recent spate of collaborative LPs with the likes of David Byrne, Jon Hopkins, and Rick Holland. In a new interview with journalist Nick Duerden for England's The Independent, Eno shares some of the secrets behind his staggering productivity, along with a handful of other gems we've rounded up here.
1) He is incredibly, freakishly, cartoonishly anal: Duerden had been "afforded a precise 45 minutes of his time" in advance, though he picks up exactly two minutes and seven seconds for the break they take so that Eno can play him Elvis Presley's "His Latest Flame."
2) That Roxy Music reunion is never gonna happen: "It's simply not my temperament to look back, which is why, for example, I could never tour with Roxy Music again … I keep telling them I don't want to do it … They are nice people; they understand."
3) He sports pirate bling: As Duerden writes, "He reaches for the ancient Elvis track, plays it at earsplitting volume, and dances along to it, grinning wildly … He [smiles] to reveal one, possibly two, gold teeth glinting from inside his mouth."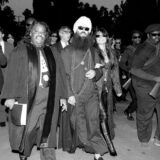 4) He's okay with you falling asleep to LUX: "I've done much the same thing. It's a fine way to enjoy the record."
5) He compares Coldplay and U2 to ABBA: "I remember very clearly when I was young, and we were all into the Velvet Underground and Jefferson Airplane. And then Abba came along. Now, everybody secretly loved Abba, but you could never admit to it. You would have to listen to their records guiltily at home, because they weren't cool. Everybody liked them, for a start — your mother liked them! — and so they had no subversive cred. Of course, now, in retrospect, we can all see that they wrote amazing songs, and that they really were a great band."
6) "Pop" is not a four-letter word: "The English are constantly in knots over this sort of thing, aren't they? If something is successful, it can't possibly be any good. Anything popular is populist, and populist is rarely a good adjective." [He also says a lot of new music is "wank."]
7) He compares himself to Beethoven: "When people think of a composer — Beethoven, say, or Mozart — they understand that every note is specific, and carefully detailed. My kind of composing is more like the work of a gardener. The gardener takes his seeds and scatters them, knowing what he is planting but not quite what will grow where and when — and he won't necessarily be able to reproduce it again afterwards either.
8) He's down with easy listening: "People do dismiss ambient music, don't they? They call it 'easy listening,' as if to suggest that it should be hard to listen to. That's a very 20th Century, art-world kind of idea: that art is only really valid if it takes you by the lapels and attempts to wake you up from your useless bourgeois existence. I find it questionable that art has to somehow be disruptive, don't you?"
9) LUX is fancy elevator music: Duerden: "Lux was commissioned by the board of the Great Gallery of the Palace of Venaria in Turin, Italy — essentially a corridor connecting two palaces that attract up to a million visitors a year." His first draft, however, wasn't right. Eno: "The music I'd made was very crepuscular, while the building itself was full of light and windows, and responsive to the outside, to the weather. I had to start over."
10) He's the next Wayne Coyne-style mad music scientist: Duerden: "[Eno] takes me into his studio where he lets me hear some work in progress, more ambient music that he is road-testing by playing on four separate boomboxes on an endless loop. 'It's been going for five days solid now,' he says triumphantly. He explains why this has been necessary, but I fail to catch the gist."