Alt-J were awarded Britain's prestigious Barclaycard Mercury Prize Thursday (November 1) for their debut album, An Awesome Wave.
"We didn't expect to win because the competition was so high. Have a great night," the band said to accept the award, Drowned In Sound reports.
The genre-blending quartet beat out a shortlist of 11 other nominees, including SPIN Essential soul singer Jessie Ware, rapper Plan B, and singer-songwriter Richard Hawley, who previously lost the award to the Arctic Monkeys in 2006.
Guardian readers presciently picked Alt-J as their favorite to win, pledging 24 percent of votes in an online poll to the British four-piece. Bookies in the U.K. also pegged the electronic folk act as the prize-winners, the Telegraph reported. In a July interview with SPIN, My Morning Jacket frontman Jim James laid high praise on Alt-J, saying, "I saw them play in Germany at one of the festivals we played [and] it kind of gave me this good, foreboding feeling. It was like seeing one of the great bands very young."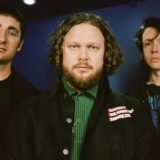 According to the Official Charts Company, An Awesome Wave has sold 72,500 copies in the U.K., making it the fifth highest-selling Mercury nominee, behind Ben Howard's Every Kingdom, Plan B's Ill Manors, Michael Kiwanuka's Home Again, and the Maccabees' Given to the Wild. In the U.S., Alt-J's debut sits at No. 20 on Billboard's Heatseekers chart, fallen from its peak at No. 3.
PJ Harvey won the Mercury Prize last year for her battle-damaged album Let England Shake, which made her the first two-time winner in the award's history. Harvey previously received the honor in 2001 for her album-length love letter to New York City, 2000's Stories From the City, Stories From the Sea. Past winners include the xx, Pulp, Portishead, and Antony and the Johnsons.
Since 1992, the Mercury Prize has been awarded to the best album by a British or Irish act, as selected by a panel of musicians and other industry figures.
Watch Alt-J's press conference following the big win, and the band's video for "Tessellate," the third single off An Awesome Wave, below.