It's a good time to be a No Doubt fan. The band just released its first new studio album in 11 years, Push and Shove, and will be playing a run of home-state shows starting in late November. To help fans of Gwen, Tony, Adrian, and Tom celebrate, we're offering up a pretty hefty No Doubt prize pack.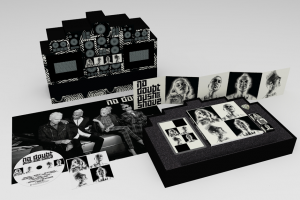 The winner will receive a signed copy of No Doubt's Speaker Box box set. This super deluxe limited edition collection includes the new album (with three bonus tracks), a fold-out photo poster, postcard set, and other goodies. It's housed in textured box that features working audio speakers.
So there's that. The winner will also receive the band's full catalog.
Here's how to enter:
— First, follow @SPINmagazine on Twitter. (If you haven't already.)
— Then, Tweet the following message: "Hey, @spinmagazine, I want to win the @nodoubt #pushandshove box! bit.ly/UPirSC"
The contest will close on Tuesday October 16 at 5 p.m. EST. One winner will be selected at random and contacted shortly thereafter. Contestants must be at least 16 years of age or older as of date of entry and must be US residents.