With the possible exception of a resurrected Bruce Lee, there is no one we're more excited to see a martial arts movie from than RZA. The Wu-Tang mastermind's The Man With the Iron Fists, which he directed and co-wrote with horror auteur Eli Roth, slams into theaters on November 2. If the film, which stars RZA, Russell Crowe, and Lucy Liu, among others, is anywhere as good as its soundtrack, it'll be really, really good.
In advance of The Man With the Iron Fist's release, we've got a pretty cool giveaway for you. One grand prizewinner will receive the Russell Crowe poster featured in this post, as well as an Iron Fist shirt, beanie, bandana, and (because why not?) cufflinks. We'll also select four runner-up winners who will each receive their own copy of the aforementioned poster.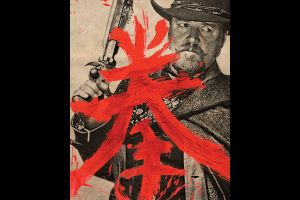 Jeff Stevens, who has leant his punkish, aggressive design style to major apparel and snowboard companies, created the poster we're giving away. Tear-off versions of his poster, as well as others designed by a varied and unique group of martial arts aficionados, will also be distributed in the following cities:
New York City
Los Angeles
Washington D.C./Baltimore
Atlanta
Houston
Miami
Detroit
Seattle
San Francisco
Philadelphia
Dallas
Phoenix
Find 'em, tear 'em down, take 'em home.
Or, you can enter our contest! Fill out the form below to give yourself a chance to win.
Good luck!
The contest will close on Friday, November 2 at 5 p.m. EST. Winners will be selected at random and contacted shortly thereafter. Contestants must be at least 16 years of age or older as of date of entry and must be U.S. residents.