Sorry, goys, on Rick Ross' new mixtape The Black Bar Mitzvah, the rapper does not collaborate with Schlomo Artzi, there are no Rabbi Shmuley Boteach interludes, and Rozay's producers did not conjure up Klezmer-trap, the latest subgenre ready to knock the wind out of trap-rave. It's just a rocky, Rockie Fresh-featuring mess wherein Ross and MMG jump on some other rappers' beats and throw out a few originals to temporarily up their buzz, giving it all an extra hype boost thanks to the quasi-trolling title and album cover. Because the rap crews who get on the radio are more like business conglomerates, anyways, think of this as MMG needing to drive up their stock after G.O.O.D. took hold of the market for a few weeks.
Pretty much all you need to know about Black Bar Mitzvah can be found on its first proper track, a Bawse-tinged take on Chief Keef's "I Don't Like." Ross begins with his typically mistaken take on struggle raps: "I seen a homeboy die in cold blood / Eyes rolled in his head, wasn't no love / His momma sold pussy, daddy was a fiend / He from a place where niggas don't believe in dreams / Niggas snorting powder, get your head right / Get your dick sucked sittin' at the red light!" And it's with that last line, punctuated by an icky tubby-guy cackle that finds Ross abandoning the pretense of empathy, Romney-style, and just getting caught up in the seedy thrills of illegal business. A few lines later, he says something or other about scooping up a few models.
In just one verse, Ross conveys how easy it is to contrive "real shit" in rhymes while simultaneously revealing his feckless disinterest in even selling those same lines. Not to mention, Ross doesn't even play into the conceit of "I Don't Like," in which, you know, you list those things which you do not enjoy experiencing. Because it's all a kind of surface-level touching down on "the streets," he just doles out dollar-store Donald Goines descriptions and keeps it moving. Strangely, the Black Bar Mitzvah version of "I Don't Like" keeps Kanye's mostly clueless verse from the G.O.O.D. remix, leaves one of Keef's verses, as well, and ends up making a pretty good case for Chief Keef's mastery of this simple, catchy style. Despite being, well, derivative and just not very good, Keef clearly possesses a singular approach to rapping that superstars like Rick Ross or Kanye West can't approximate.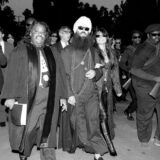 See also: "Us," track four on Black Bar Mitzvah. It's courtesy of Keef compadre, Lil Reese, but now featuring Ross and Drake. It shows Ross, street-rap phony baloney glomming onto Chicago realness because it's what's hot, just a few months after his nostalgia trip to New Orleans for the "Hold Me Back" video. Meanwhile, Drake does his snide, I'm-rich-bitch thing, continuing the Canadian's career-long misunderstanding of Kanye's obnoxious yet defiant swagger. These two Chicago beat-jacks highlight what's wrong with Black Bar Mitzvah, as well as this all-encompassing MMG/YMCMCB/G.O.O.D circle-jerk that rap radio has gotten itself caught up in: It's all a misreading of the previous decade of hip-hop — street rap turned into hood madlibs, "fuck you pay me" demands for respect reduced to a bunch of boasting from a child star. Rockie Fresh, a fourth-generation hipster rapper — birthed from a corny but vital mid-2000s subgenre that reminded rap fans of the multitudes of blackness hip-hop once represented in the mainstream — recently signed to MMG, and makes three appearances because that's just a niche market that needs to be given a nod.
Then there's Black Bar Mitzvah's title, grabbed from a Jay-Z line used on both "Roc Boys" off American Gangster ("Black Bar Mitzvhah, mazel tov, it's a celebration, bitches") and Watch The Throne's "New Day" ("Black bar Mitzvah, mazel tov, mogul talk"). Here, the half-clever line is ripped of Jay's typically loaded (if corny) meaning, and instead employed as a nice piece of #trollgaze. What Jay-Z enacted when he said, "l'chaim," or when he explained the celebration of his success as a "black bar mitzvah," was the sort of playful, entry-level, learn-from-each-other's-culture stuff that's the core of American interaction, particularly in the world of business. Just as a generation or two of Jewish peoples took their style and slang from the NBA and hip-hop, and therefore attempted to forge cultural connections, Jay-Z employed some Jewish slang to make a point about his success and upward mobility.
Other than the ridiculous cover art of Black Bar Mitzvah, a perfunctory intro track, and a terribly unfunny skit featuring Hot 97's Peter Rosenberg as a Rabbi, Ross doesn't court this concept because why we would he? How would he? Here, we have the goof who gauchely boasted that he was the "only fat nigga in the sauna with Jews" on Drake's "Lord Knows," trying on Jay-Z's urbane culture-cruising and just wearing it all wrong.