There was a time, not that long ago, when Natasha Khan would have rather been dealing with crust and filling than laboring over the third Bat for Lashes album. Exhausted from months of touring to support her breakthrough 2009 record Two Suns — which earned critical acclaim and nominations for both a Mercury Prize and BRIT Award — the singer returned home to her native England and decided that "baking pies" seemed more appealing than slogging through another album cycle.
"It was like, 'Oh my God, I never want to do music again,'" Khan says over the phone from a New York City hotel room following an afternoon of photo shoots. "After the second album I felt like I was in a situation where I might be able to stay home and do family things and I was totally up for that."
Instead, she wound up retreating to an apartment in Brighton, England, where she dove into new artistic outlets, drawing, working on a film script, and directing dance films with a group of friends, until, finally, she felt able to begin writing music again.
For her sophomore album, Khan bounced from New York to England to Joshua Tree, culling inspiration from new scenes and crafting a concept record based on adopted characters. This time around, she took the opposite approach, building the outline for a handful of songs on autoharp and piano in her home studio. The Haunted Man's more minimal feel developed as she'd planned, but she began to long for outside input and, in spite of herself, grew restless.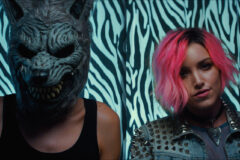 "I started to get cabin fever," she admits. "People kept saying, 'You should go out and meet with fellow musicians.' So I did that. I went to meet and stay with Beck [with whom she wrote 'Let's Get Lost' for the Twilight: Eclipse soundtrack] and I hung out with [TV on the Radio's] Dave Sitek a little bit and I played with some musicians in Italy. It was more about getting out and starting to define my sonic landscape and bouncing off of creative friends. I needed those improvisational moments to know what I wanted to do. It's hard to do that all on your own when you're just in a room in Brighton."
The Haunted Man (Parlophone), due October 23, is the result of two years of "intense struggle" to move beyond the ornate, dark beauty of her last record. "Mysticism has come in as a fashion trend," Khan says with a laugh. "I don't want to perpetuate that anymore."
The new LP is still lush, punctuated by synths with broad strokes of plinking harp and hushed violin, but it's defined by its delicate quality, a result of Khan's soaring mezzo-soprano trill. The album's stunning cover art, which shows Khan naked and with a lifeless man draped over her shoulders, is meant to emphasize the simple, pared back sound and intensely personal lyrics contained within.
Khan was deeply irked that there were those who immediately labeled the aforementioned image NSFW. "Because there's, like, a few pubes in it, it freaks everyone out," she says. "That's just incredible to me because of the way women are portrayed in the media in terms of air brushing, lip gloss, fake tan, fake boobs. I thought [the cover] was the opposite. It was really important that I didn't have any makeup on. I didn't have any retouching. It's completely raw, natural, wild. There's a lot of young girls that struggle with body image or just struggle with the fact that you can have hairy armpits if you want."
But, argues Khan, with both the album art and the her new music, she does have goals. "If [young girls] see that and think, 'It's cool to be natural and raw'," she says, "then I've done my job."