Jacked up on too much coffee and a great new Kanye song, there's no way you're getting complete thoughts, here. Give Mr. Muthafuckin' eXquire credit for working with Gucci Mane, who he's a lot like, really. Give him even more credit for recording a song called "Telephuck," with a soundwave that if you check it out in Soundcloud, looks LIKE A GIANT BONER. Make sure you check out DJ Burn One-approved rap-funk-fusion jazzbos iNDEED, whose album streamed here last week and is now available for download. "Double Cup Etiquette" is a swooping something-like-a-love-song (to a lady who can hold her liquor, to drank, to old Willie Hutch-style Southern soul). Of course, Burn One would sample a track from Hutch's 1977 kinda-disco album, Havin' a House Party. Why doesn't Lil Twist's Diplo-produced single "Flowerz" sample the Armand Van Helden song of the same name? How great would that be? Curren$y's "Jet Life" actually getting some radio play is refreshing. Freddie Gibbs and Kirko Bangz's "Bout It, Bout It" should, as well. Can't recommend Steven A. Clark's Fornication Under Consent of the King enough. Late by a week, but oh man, Billy Corben's ESPN 30-for-30 doc Broke! It was more interesting than good (no momentum due to its reliance on nothing but talking heads), but it's an important story that should be told. There easily could be a rapper version of the movie. Plus, Broke felt particularly poignant after reading Jessica Hopper's Kendrick Lamar piece, which features a picture of the rapper munching cereal on his momma's couch, and revealing that he has spent very little of his million-plus contract on himself.
One more thing for those of you in New York. Next Thursday, me and a bunch of other music writers are spinning rap music from our hometowns for charity! Yes, myself, Zach Baron, Rembert Browne, Julianne Escobedo Shepherd, Corban Goble, Luke McCormick, and Puja Patel (who organized this thing) will be at Arrow Bar (85 Avenue A) to benefit locally grown after-school music organization Bigger Than Hip-Hop, Building Beats, and Dance Theatre Etcetera. You'll be politely asked to kick in a few shekels at the door, if you could. And please do. It's for charity, jerks!
Cardo, "2050"
Cardo, best known for working with Wiz Khalifa and Freddie Gibbs, releases an instrumental beat-tape, Everything Is Gold, with Fool's Gold, and takes on the candy-colored, tangly, taffy-rap rush of Rustie and Hudson Mohawke. It is the trap sound that bounced across the pond — starting with Girl Unit's "Wut," really — and returned as "trap rave" refixed by a laid-back West Coast beatmaker gone future-funk. Major points for that "My Sharona"-esque drumming — a rhythm Quentin Tarantino once called "a butt-fucking beat" — stupidly pounding through the whole thing. Other than most of this trap-rave junk just being another hipster redundancy, it doesn't seem like that big of deal. What David Drake over at Complex said in his thoughtful piece, "Real Trap Sh*t? The Commodification of Southern Rap's Drug-Fueled Subgenre" is correct, but the term "trap" has simply stomped past T.I. and Young Jeezy, and now means a specific production style. One that rose up from Atlanta at the same time as a similar-sounding, rickety robot strain of dubstep rose out of London. It only makes sense that they would start conversing. As long as we have guys like Cardo to answer back, I wouldn't worry too much.
https://youtube.com/watch?v=LWH5zg2QJgk%3Fversion%3D3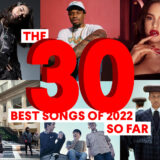 Cities Aviv, Total Indulgence Mix 2012
The first song on this 30-minute mix from Memphis noise-rapper Cities Aviv is an even more dire take on the Iron Curtain's "The Condos." Towards the end, there is a previously unreleased, and vicious grindcore-meets-DJ Screw blast of rage from No Gang Colors, who are sort of the inverse of Cities, in that they make rap-tinged metal, rather than metal-tinged rap. The rest of the tracks, I'm not sure what they are, but it all sounds like the sort of thing Sacred Bones Records should be releasing, if they haven't already: Factory smoke-caked, sad-sack post-punk that's ready to fight and bite you if need be, but would probably prefer to curl up in the corner and be left alone. More than anything, Total Indulgence Mix sustains a feeling of things on their last legs, of people not winning, of stuff totally sucking. When I saw Cities at the Hopscotch Music Festival last month, I was shocked by his move away from curious, curatorial boom-bap to what I declared "rap as pigfuck." This mix seems like another move in that direction. Black Pleasure, the follow-up to Digital Lows, is out next month.
Purity Ring, feat. Danny Brown, "Belispeak II"
Danny Brown attacks "Belispeak," from Renaissance Faire-in-space, dirge-pop duo Purity Ring, and turns all their arch, Ursula LeGuin-ian nonsense about witchcraft and grandparents and just plain bad lyric-writing ("Grandmother, my sleep is narrow") into a breathless rap about being poor as shit and hungry as fuck. He clearly listened to the original and considered it, making sure some of his content overlaps, but he also pulls the song out of the realm of the fantastical, where way too many indie kids are fortunate enough to reside: "Raised in the gutter, I ain't really have nothing / No silver spoon, I was raised on rusty shovels / Granny used to tell me, 'Boy, stay up out of trouble' / But the hunger in my tummy had me staying on my hustle." Then, Danny turns to a touching rhetorical: "Now, tell me have you ever, ever, ever in your life / Did something wrong and you know it wasn't right?" It is, well, a hybrid of Brown's poetic poverty tale spewing on The Hybrid, and the avant-Waka shout-rap that made XXX both fun and harrowing. A Purity Ring x Danny Brown collabo shouldn't work, but it does. Credit to Purity Ring's Corin Roddick, for having the stones to gently Auto-Tune Danny Brown's vocals to make a slightly more manic version of his own song, and for answering Brown's Twitter calls to collaborate in the first place.
https://youtube.com/watch?v=xpdyGFmct78%3Fversion%3D3
Quelle Chris, feat. DJ GroWeyez, "Rat Shit"
Latarian Milton, age 7, back in 2008 on the West Palm Beach news, when asked why he stole his grandmother's car: "It's fun to do bad things. I wanted to do hoodrat stuff with my friends." Juicy J, age 37, in 2012, on "Bandz a Maker Her Dance," his inexplicable radio hit: "You say no to ratchet pussy, Juicy J can't!" Quelle Chris has some fun with this ratchet-music trend on "Rat Shit," muttering a list of hoodrat shit (or "hoodrat things" as young Mr. Milton put it) over a bubbling, bass-heavy beat: "Hangin' out at the liquor store (rat shit) / Call your baby momma a hoe (rat shit)"; "Going straight to the club after church (rat shit)." The beat, though, seems to be making a different point altogether, connecting the sonic dots between the minimalism coming out of the West Coast right now, and techno (Detroit resident Chris' hometown contribution to dance music), by sounding like some lost Cybotron single. At its core, "Rat Shit" is typical underground snark, for sure, but Chris is having fun with it, and like the best rap parodies, it's hard to distinguish from the real, sincere, thing. It's like something Chris Rock would do with Prince Paul, if they were still making ambitious comedy albums together.
Rick Ross, feat. Gunplay & Rockie Fresh, "Clique"
Gunplay, the guy with the swastika tattoo on his neck, has the best verse on Rick Ross' The Black Bar Mitzvah mixtape. Of course, he does. It's almost as if Gunplay exists as much as Ross' living breathing street cred as he does a grinning, towering reminder of where and how Ross' music fails, even when it succeeds as street-signifying wish-fulfillment spectacle. That Gunplay's "Bible On The Dash," one of the most introspective rap songs of the year, is tossed onto the end of this shoddy mixtape seems perverse. Then again, so does the entire existence of Rockie Fresh, who, in an act of cognitive dissonance typical for an MMG signee, jokes on this song, about Kreayshawn's crappy record sales, even though he will never have a hit as big as "Gucci Gucci," or probably even put out an album that will get the chance to fail miserably. Back to Gunplay: "Yeah, I spill my Coors on your Michael Kors, whore / Yeah, so the fuck what? I could buy you more." Right there, in two ignorant-ass lines is the dude's Tony Montana-in-"Say goodnight to the bad guy"-mode appeal. He's sipping Coors, being an obnoxious asshole, knows who Michael Kors is, what wearing it means, and can spot someone wearing it. He also has the bills to pay for some expensive dress he just ruined with his cheap beer. Yesterday, Gunplay turned himself in for armed robbery. That guy.
https://youtube.com/watch?v=e9tDBg9GuG0%3Fversion%3D3