New Order Play First U.S. Show in Seven Years: Bring the Hits, Not Peter Hook
It was a celebratory night in Oakland for synth-pop fans and baseball fans alike.
The reunited New Order's gig at the Fox Theater on Friday was their first U.S. show in seven years — but Oakland was already ready to party. After two unbelievable and unlikely champagne-soaked locker room celebrations courtesy of the Athletics earlier in the week, the people in the East Bay were eager to celebrate themselves. Outside the Fox, thousands of revelers congregated along a shutdown stretch of Telegraph Ave. to watch one of a dozen local bands simultaneously performing as part of the city's monthly culture fest First Friday. Inside the Fox, the scene was just as buoyant as the progenitors of synthpop took the stage, albeit minus one crucial piece: longtime bassist Peter Hook.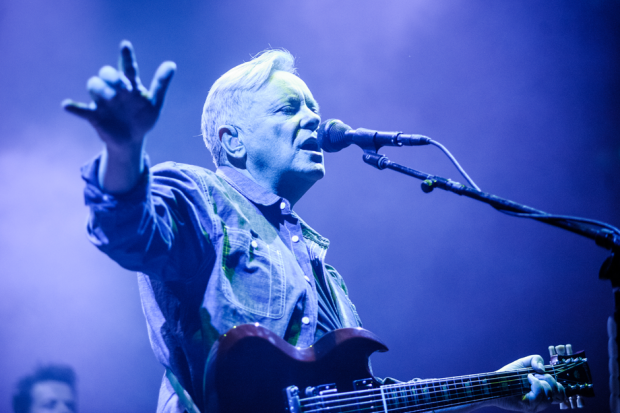 Those expecting some sort of revolt against Bernard Sumner for continuing to perform as New Order sans Hook wouldn't find any disgruntled purists among the sold-out crowd. When new bassist Tom Chapman's name was shown on the video screen behind the band during "Your Silent Face," there were one or two drunken shouts for "Peter Hook," but that was about it. No offense to Hook — his contributions to New Order's music is incalculable — but in a blind hear test, not even the most ardent New Order fan could identify who was rocking the bass line to "Age of Consent" on stage. If Joy Division could successfully carry on without Ian Curtis, New Order could surely do the same without their founding bassist. Instead of three chubby, balding men in their mid-50s onstage, there's now only two. And that certainly didn't make "Bizarre Love Triangle" any less of a crowd-pleaser.
In fact, Sumner, a "twat" by Hook's definition, could have easily hid Chapman behind the plumes of white smoke that were constantly pumping out of the fog machine — and the crowd's thick bog of weed smoke, 'cause that's practically legal here in Oaksterdam — but on "Crystal," the evening's second song, Chapman received the "bass solo in the spotlight" treatment twice. It was essentially Sumner telling the audience early on, "This is our new bassist, deal with it," and no one in crowd seemed to mind or stopped dancing. While drummer Stephen Morris was as crisp and syncopated as ever, Sumner struggled the handful of times his voice was required to hit a higher register, like during "Ceremony" and set closer "Temptation." Thankfully, those were the only instances where New Order showed any rust. Each song was perfectly manicured and perfectly timed to its visual companion on the video screen.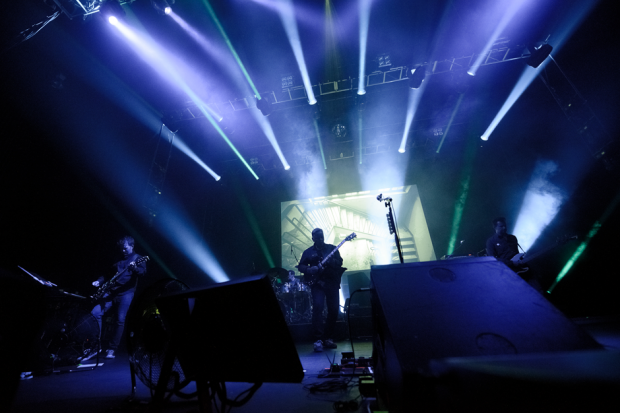 Even after three decades, and even without Hook, the band — complete with longtime keyboardist Gillian Gilbert and guitarist Phil Cunningham — still sounded great, and that was partly attributable to the Fox Theater itself. There's a reason why bands like Animal Collective (last month) and Grizzly Bear (next week) and New Order (Friday night) are completely bypassing San Francisco nowadays and heading straight to Oakland, and it's the Fox. The 84-year-old movie theater lay dormant and dilapidated for nearly three decades until 2009, when it reopened as the premier midlevel music venue in the Bay, with its impeccable acoustics, warm atmosphere and Taj Mahal décor that makes you feel like you're watching a concert from the inside of a hookah.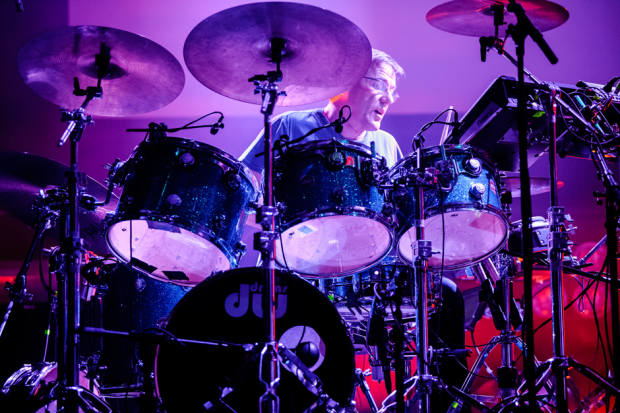 The setlist didn't deviate much from New Order's recent European tour — the song choices are pretty much an abridged version of the band's singles collection Total, with the addition of the 24 Hour Party People soundtrack's "Here to Stay" — but there were a few surprises: Get Ready's "Close Range" was unearthed for the first time in over a decade, and in the encore, which is routinely dedicated to Ian Curtis and the Joy Division years, "Atmosphere" made its first live appearance since 2006.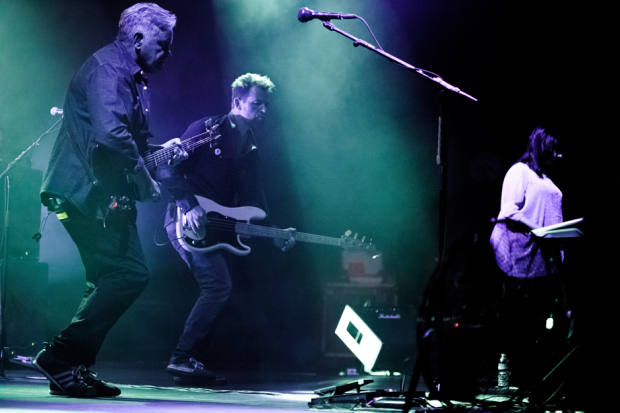 While those previous Europe shows usually cherry-picked at least one hit single from every New Order album, the 100-minute, 16-song set leaned heavily on the early half of the band's discography: "Blue Monday," "5 8 6," "Age of Consent" and "Your Silent Face" from the Power, Corruption & Lies era, two tracks from Low-Life ("The Perfect Kiss" and the opening instrumental overture "Elegia") and four songs penned by Curtis: "Ceremony," "Isolation," "Atmosphere," and the evening's final rave-up, "Love Will Tear Us Apart," which escorted the sweaty, danced-out Oakland fans back out toward Telegraph Ave., ready for the next day's Athletics playoff game.
Setlist
"Elegia"
"Crystal"
"Ceremony"
"Close Range"
"Age of Consent"
"Isolation"
"Here to Stay"
"Your Silent Face"
"Bizarre Love Triangle"
"5 8 6″
"True Faith"
"The Perfect Kiss"
"Blue Monday"
"Temptation"
Encore:
"Atmosphere"
"Love Will Tear Us Apart"