At some point during the past few decades, the remaining members of Led Zeppelin started acting pretty punk-rock. They play only when they want, they give cool, cheeky responses to reporters who ask about the prospect of upcoming concerts, and, in their most recent act of insolence, they waited five years to release a film of what was likely their final performance. (Don't like the way they do things? Too bad.) The flick, Celebration Day — which documents the 2007 London concert the band played in tribute to Atlantic Records cofounder Ahmet Ertegun — will screen in cinemas beginning on October 17 and will be released on DVD on November 19. Even the film itself is no bullshit, save some arty Instagram-like shots. There are no skits, no shenanigans, no druids on mountains, no mudsharks; in other words, it's not The Song Remains the Same simply because the song remains the same.
On October 9, the band hosted an advance screening at New York City's Museum of Modern Art. MOMA proved to be an appropriate setting for the pomp, circumstance, gong hits, Theremin solos, bowed guitars, stairways to heaven, "baby, baby, babys," and other indulgences showcased in the band's filmed performance. With no commentary or talking heads, the film's most touching moments are the looks the band members give each other: a smirk from bassist John Paul Jones to guitarist Jimmy Page when the latter nails a solo, a beaming side-glance from frontman Robert Plant toward drummer Jason Bonham, son of the group's deceased drummer John. Save for a few rusty notes here and there, the performances were spot-on, and, more impressively, the musicians looked like they were all having fun.
Despite the event's 10 A.M. start time, it proved to be one of the liveliest press outings we've ever attended, with cheering throughout the screening. At the press conference afterwards, Plant, Page, Jones and Bonham vehemently dismissed any further agenda beyond the release of this film. But if the chat revealed anything, it's that if they do anything else beyond this, it will be on their own terms. With that in mind, we've decided to relish what little Led Zeppelin we can get by chronicling the facts and figures that make up Celebration Day's highs, lows, and in-betweens, as well as the same for the dressing down that the press received afterwards.
Celebration Day By the Numbers
Number of professional cameras used to film the concert: 14
Approximate number of cell phone screens visible when the band launched into first number "Good Times, Bad Times": 14,000
Number of blurry, Instagram-like cutaways during the 124-minute duration of the film: 159
Number of times Page removed articles of clothing during the performances: 2 (a long-tail coat and a vest. He remains shirted throughout.)
Times Page made kissy faces as he bends notes on his guitar during "Ramble On": 3
Number of short-lived tambourine solos by Plant: 1 (during "In My Time of Dying")
Number of references to Jason Bonham using a double-bass pedal on his drum kit in one of Plant's speeches that was notable only because the band heartily discouraged his father from using one: 1
Number of songs the band had never played live prior to the London show: 1 ("For Your Life," from 1976's Presence)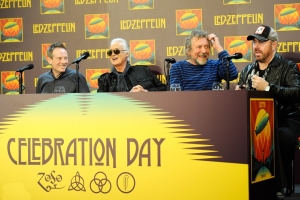 Number of times Plant joked about appropriating blues songs for their own use: 2 (Robert Johnson's "Terraplane Blues" for Led Zep's "Trampled Under Foot" and Blind Willie Johnson's "It's Nobody's Fault but Mine" for, of course, "Nobody's Fault but Mine")
Number of press members who air-drummed throughout the film and woot-ed after Plant's blistering harmonica solo in "Nobody's Fault but Mine": 1 (We swear it wasn't SPIN)
Number of guitar solos that featured Page making shimmery sounds with a violin bow from within a virtual box of green lasers: 1 ("Dazed and Confused," duh)
Number of times Plant recreated the odd "Stairway to Heaven" moment in The Song Remains the Same, where he sings, "The forests will echo with laughter," and then asks, "Does anybody remember laughter?": 0, sadly.
Approximate number of individual drum hits Bonham played during his mini solo in "Rock and Roll": 1,032
Number of impromptu singing moments from Plant at the onset of the press conference: 1 (He sang, "Treat me like a fool," the opening to Elvis Presley's "Love Me" before someone directed him to pose for photos)
Approximate percentage of journalists who took photos of Led Zeppelin on their camera phones when the band arrived for the press conference: 72
Number of minutes into the press conference until Page decided to put his sunglasses back on: 6
Number of times Plant bemoaned his looks when asked about feeling regrets: 1 ("I used to be better looking than this")
Number of references to Ratt and White Lion that Plant made when talking about Ahmet Ertegun's music tastes: 1
Number of times Jimmy Page said people shouldn't listen to Led Zeppelin on MP3: 1
Number of awkward moments when the band questioned whether a reporter's phrasing of "getting on the same page" meant piling up on Jimmy: 1
Number of moments where Plant recalled John Bonham telling him he couldn't sing: 1 ("He said to me, 'You're not very good, Planty. Just go out there and look good.' And he was right.")