In a Fuse article dubbed "Jay-Z Borrowed My Menorah," New York writer Amit Wehle details his incredibly unusual experience with the artist behind "Empire State of Mind." As it turns out, the two men have shared something in common: the Brooklyn address 560 State Street, which Jay identifies as his "stash spot" in the lyrics of the aforementioned quintuple-plantinum hit.
Here's what happened: Jigga was in need of a menorah to commemorate his eight-night run at the borough's newly opened Barclays Center sports arena. Through a synchronicituous series of events, and via an intermediary, Wehle ended up loaning his candelabra to the rapper. He and his wife were handed a pair of VIP tickets to the event in exchange, and that was to be that.
Except that only four days later, Wehle received an email from the producers of Ron Howard's upcoming Jay-Z documentary, Made in America. The subject read "560 State Street," and they were hoping to have the address' current resident sign a location release to film their subject therein. Was he into the idea? "Duh. When the universe wants you to hook Jay-Z up, you listen."
So Hova came through and visited the unit next to Wehle's where he actually lived, then spoke on camera about his humble beginnings on that block, where he first realized that a career slanging music instead of drugs was within reach. Also, "He spoke about his genius-level talent, which he feels all people have, explaining that it's up to the individual to … nurture it at all costs."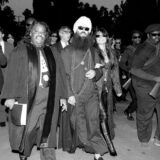 In the end, Wehle was able to pow-wow with Jay, and let him know that his was the very same menorah adding a little more light to Jay's backstage each night at Barclays. He asked for a photo of sacred relic in action, and, although it's unclear whether Jay took the photo, he got one. It's a sweet story that captures the rap megastar in a rare intimate light. Read more at Fuse.
https://youtube.com/watch?v=0UjsXo9l6I8%3Frel%3D0