The opening declaration of Gary Clark Jr.'s forthcoming album, Blak and Blu, goes, "I don't believe in competition, ain't nobody else like me around." The lyric draws from the years the prodigious vocalist-guitarist, now 28, spent woodshedding his mix of guitar-heavy blues and expressive soul on indie releases and the Austin, Texas, club circuit, where he says "everyone is a guitar player" showing off. He claims he has tried to avoid the scene's schoolyard-like one-upmanship, but when asked whether that lyric might be just him bragging, he says with a smirk, "I just genuinely feel that way…so why not?"
With that in mind, the past year has been incredibly validating for Clark. Since putting out his first major-label release, an EP of studio and live cuts titled The Bright Lights, he has appeared on at least nine festivals, humbly accepted praise from the likes of Metallica's Kirk Hammett and Alicia Keys, filmed a SPIN session and traded verses and guitar licks with Mick Jagger, Buddy Guy and Jeff Beck at the White House. Without any kind of nationally full-length LP available, so maybe there truly is nobody else like him around.
Come October 23, though, when Blak and Blu arrives, those who somehow missed his festival- and pop-cultural ubiquity will have the chance to hear why Clark has gotten so many rare opportunities. Draped in a relaxed fashion over the back of a velvety purple couch in Warner Bros. Records' office on the 20-somethingth floor of a Manhattan skyscraper, Clark savors the fact he has finally put the finishing touches on the album, which until recently didn't even have a title. "The label kept asking, 'What are you going to call it?'" he says in a cool, laidback manner, looking up from under beige wide-brim hat. Then he laughs. " 'Blak and Blu, I don't know. Shit, let's do it.' They'd been asking me for a long, long time." In total, it took him about two months to record the album, of which only about five of the album's 13 tracks stretch back to his Austin days.
Its songs are polished, nuanced and diverse. The album contains electric-guitar rock burners, ragged and raw traditional blues, and soul songs that recall the big-band Stax rave-ups of yore. The title cut bounces with an R&B-like swagger, as Clark plays some ornate guitar filigrees and sings about how he handles the times he feels down. "It's just my curiosity, worries, enthusiasm about my future, the unknown—just kind of that, in four minutes," he says. "It's my interpretation of past, present and future." Then he smiles earnestly and says, "I can't explain my stuff. I'm so bad, I am horrible at that."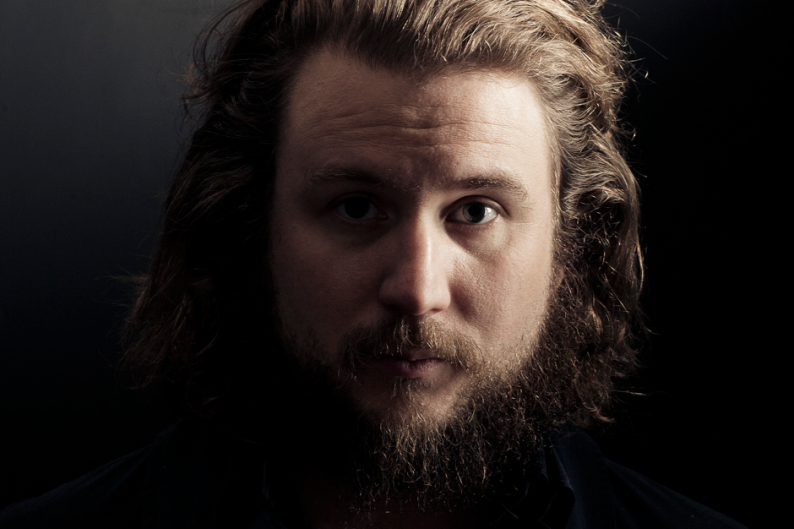 What he can describe though is how invigorating recording the album was for him. Beginning in March, he joined producer Mike Elizondo (Dr. Dre, Fiona Apple, Avenged Sevenfold) at Can-Am studios in Tarzana, California, where many recordings were made by one of Clark's all-time favorite artists: Tupac Shakur. "I was so excited to get in there because of that," he says. "I felt some sort of new energy. Anytime there was a mess-up or a glitch in the system, I was like, That is the ghost of Tupac. He's not feeling this. We've got to rethink it." Largely, though, Clark says he didn't have to rethink much, just a few things at the behest of Elizondo.
"I am the type of artist where you can't tell me anything," Clark says with an impish look. "I have always been that way. I am right. I don't need any input. Mike was really cool about the way he would relay an idea without saying, 'This is right.' It was the first time I had worked with a producer, so to work with him was great."
The song Elizondo helped shape the most is a fuzzy, jammy single-track cover of both Jimi Hendrix's "Third Stone From the Sun" and Little Johnny Taylor's "If You Love Me Like You Say." In its recorded state, it lasts a whopping nine minutes and 39 seconds, but Clark insists that's the short version. "At first I was like, Leave it as the 20-minute version,'" he recalls of one discussion with Elizondo. "I've been playing it that long for about eight years. But he did some really cool cuts. I realized I am one of those artists where I lose sense of time when it comes to record-making. You can't do a 20-minute version on a record. Mike was really cool about it."
The only other track that gave Clark some trouble was "Glitter Ain't Gold," which he cowrote with sometime Beyoncé and Kelly Clarkson collaborator Ali Tamposi and says has been "referred to as heavy." For whatever reason, when it came to doing the song's vocals, it just didn't come to him. "I ended up just laying on the floor," he says. "I was just like, 'Put the mic down here and I will just keep doing it over and over again.' That was the only time I got frustrated. I was like, 'Fuuuuuck! Why?'" It's a rare moment of anxiety for an artist who by and large comes across as the visage of cool.
The rest of the album, though, he says went smoothly, and features Elizondo on bass, keyboardist Zac Rae and John Mayer drummer JJ Johnson. For "Ain't Messin' 'Round"—the song where Clark address his competition—he brought in a horn section, something he's always wanted to do after playing for a short while with one in Austin. "I loved that and I missed it and I wanted to put it back on the record," he says. "I try to play trumpet a little bit, but I won't play it at a show or anything. I grew up listening to stuff with horns, though, that Memphis, Otis Redding-type of thing. I just think horns are badass, so why not?" And for "Next Door Neighbor Blues," he just plugged in and went for a murky, electrified Robert Johnson sound. "It was nice to explore all of those sound artistically, let it go, break it back down to the foundation," Clark says. "The 'Next Door Neighbor Blues' is basically how I learned, it's where I come from."
As he parses the recent past, that idea of where he came from is something he likes to hold onto as he meets and even befriends people he had only seen on TV. "It's been a whirlwind, but I've had some time to reflect on the whole year," he says. "I've always thought it would be fun to run around, play festivals, meet all these people. It is a bit overwhelming, but it's like a dream come true. I am grateful and very aware of myself in all of these moments, because it is pretty special." Now Clark is looking forward to proving his worth with the release of Blak and Blu. "I am just ready to share it," he says. "I am ready to say, 'Here it is.'"