Death Grips are on another level. Perhaps that's an obvious thing to point out, considering the Sacramento-based hip-hop/hardcore crew recently released their album NO LOVE DEEP WEB for free online with a buoyant "fuck you" to their label and a pic of a pulsating pink cock on the cover. But the way their music translates live is beyond dick-art subversion. It's a genre-meld mind-warp that advances the concepts of punk, rap, dance music, and sub-bass past their post-commercial, late-stage capitalist potential. When they tore into "No Love" last night on the stage at New York's Le Poisson Rouge, the crowd erupted into a mosh pit, guttural vocalist Stefan Burnett flailing his lean, tatted body about, conducting his own energy, turning it out. His kinetic anger split hip-hop's rage and punk's malcontent, translating both into a performative whir. When they said NO LOVE DEEP WEB's erect dick was art, they meant it. This is a band about pure visceral human nature, and last night they displayed it in its finest distilled messiness.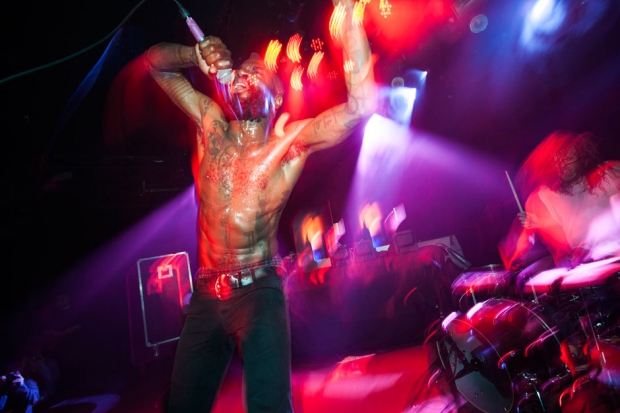 Aaannnd, it was an NPR concert — a testament to how far-reaching Death Grips' music resonates. Performing to a backing track of synths sans programmer Andy Morin, the stripped-down version of Burnett and flailing powerhouse Zach Hill on drums were accompanied by two flat-screen televisions broadcasting Burnett rapping around New York in HD. The fancy West Village venue where they played was actually a perfect spot — their sound system could handle the sub-bass, showcasing the range these dudes are working with.
Melting rap into noise with an industrial bent, the duo dropped songs from The Money Store and the new jam, Burnett's lyrics layered over a backing track of himself so at times it sounded like there were six of him — and that he was speaking in tongues. His presence was as baldly sexual and raw as Iggy Pop — confrontational, sweaty, shirtless, and most of all agile, bending and flexing his body as though he was rubber-made. That was doubly emphasized on the new tracks, which highlight the band's electronic element and make forays into juke and U.K. bass, some beats sounding like they came from Hyperdub's evil twin. When the instrumentals were pared down, as on The Money Store classic "Guillotine," it showcased the boggling fact that such power was coming from only two people, a brilliant bit of minimal chaos. Though it's still confusing why Death Grips ever committed themselves to the limited trappings of a major label, it's not hard to understand why a major label would want to sign them: They're legends in the making, and at the very least their aggressive stances will forever encapsulate Sacramento as a place that maybe you don't want to visit. On one side of the venue, WNYC Soundcheck host John Schaefer looked bemused. On the other, Michael Quattlebaum a.k.a. Mykki Blanco, himself an artist who nudges rap into industrial territory, stood rapt. When their set ended and Ali Shaheed Muhammed resumed his between-songs DJ post, the A Tribe Called Quest producer said, "That was the best set I've seen in all of 2012." Then he dropped dead prez's "Hip-Hop."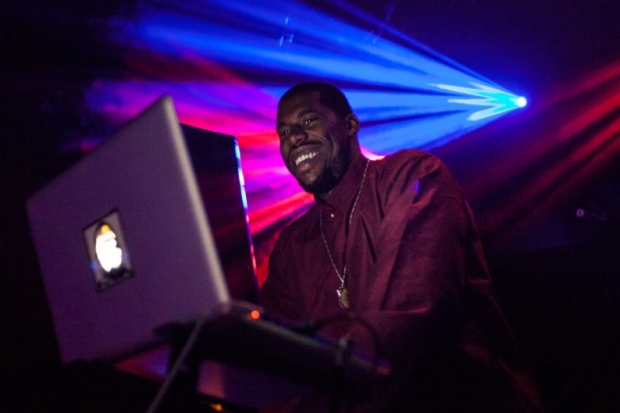 So show headliner Flying Lotus had a lot to live up to, particularly since Shaheed Muhammed had been goaded into dropping French Montana's "Pop That" to a trap music-hungry crowd of young white men. But never underestimate a beat nerd. Though FlyLo's music is the exact opposite of Death Grips in temperament — he's the vibrating massage chair to their Brazen Bull — they come from similar platforms, emphasis always on the rhythm. Flying Lotus is especially comfortable riding in the cut, keeping his bass-heavy set smooth and starry eyed. He played several tracks from his new album, Until the Quiet Comes, including the dreamy "Getting There," but he was at his best when he was being playful.
You've got to love a DJ who's not afraid to play rap music at a really high BPM, and he sped up Schoolboy Q's "Hands on the Wheel" so that A$AP Rocky sounded like a eunuch chipmunk, simply for the love of beatmatching — and doing so made FlyLo grin at his own petard after seguing into a sweet organ jam. The L.A.-based producer had his own dalliances with genre: He mixed up juke, trap, drum and bass, jazzy deep house and Dam-Funk, ending with Frank Ocean's "Thinking About You" at about 145 BPM before he opened it up to requests. "What do you want to hear?" he asked. "Should we go there now?" It was not yet 1 a.m., the perfect bedtime for job-having NPR listeners.