G.O.O.D. Music's Cruel Summer just kind of came and went, didn't it? It sold pretty well, and I still hear songs from it crawling out of car radios, but overall, it was an underwhelming release. And so, we of the up-to-the-second rap Internet all just pretended like it never really happened. It was better to do that than get bummed out about it not living up to the hype, right? A few times this year, I've compared Kanye's over-ambitious production to Dark Knight director Christopher Nolan's serious-as-cancer approach to superhero storytelling. Nolan took a grown-ass man in a bat suit, forget about camp or even just plain fun, and built up the Batman mythos into an impenetrably po-faced film. Kanye's approach to trap music has been similar. On say, 2 Chainz's "The Birthday Song" and the remix of Chief Keef's "I Don't Like," the simple, for-the-club energy of these pop-trap tracks was needlessly complicated by baroque production flourishes. Cruel Summer is 2012 rap radio Nolan-ized. So, perhaps Cruel Summer is the rap equivalent of Dark Knight Rises — a ponderous mess that we all should've seen coming.
What happened? All the elements of a Kanye West classic are there: A loose narrative arc; a plan to ingest radio trends and spit them back as something a bit more sophisticated; there was even something to lash out against (in this case, other fake rap crews like Maybach Music Group). But maybe attempting to turn these middling compilations into something conceptually sound and ambitious just doesn't work? They're just supposed to be totally whatever record-label write-offs, or extended back-patting sessions. It could be as simple an explanation as the fact that Kanye West works best as his own solar system and here, he has to be the sun around which all the other smaller rapper planets revolve. One month after its release, all of its imagined potential still stuck in my craw, I decided to trace the origins and influences of Cruel Summer (at least as I hear them). Below are ten albums that might help explain G.O.O.D.'s group-album debacle.
Tappa Zukie Peace In The Ghetto (1978)
Kanye has been dipping his toes into the wubby waters of dubstep, lately. But Cruel Summer is much more interested in tracing dubstep's roots to reggae and dub, via samples: Super Beagle's "Dust A Sound Boy" and Reggie Stepper's "Cu-Oonuh" on "Mercy," Dbanj's reggae-tinged hook on "Morning," and Barrington Levy's "Under Mi Sensi," stuck somewhere inside the album-closing remix of "I Don't Like." Those samples also remind hip-hop heads that the origins of the Deejay/MC go back to Jamaican toasting. Tappa Zukie's Peace In The Ghetto was released on Virgin Records at a time when the toastmaster/producer was conversing with punks in London and New York, and highlights a moment when reggae was on the precipice of mainstream white cool, and for better or worse, making way for American dubstep mania 30 years later.
https://youtube.com/watch?v=LwjimutORZE%3Fversion%3D3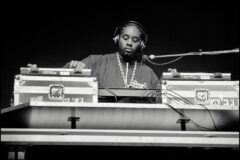 Marley Marl In Control, Volume 1 (1988)
In his SPIN review of Cruel Summer, Christopher R. Weingarten asked, "Has there really been [a cohesive group/label album] since Marley Marl's In Control, Volume 1 came out 24 years ago?" The answer is "Well, not really." G.O.O.D. Music is not Cold Chillin'. The personality-less jokers who make up the majority of G.O.O.D. sure as hell ain't the Juice Crew. And "Clique," as manic and energetic as it may be, sure as hell isn't "The Symphony." Nevertheless, here is the model for a producer-helmed group album for a rap record label, buttressed by a team of allied MCs. Every album packed to the gills with weed carriers and superstars alike owes it all to Marley Marl's masterful In Control, Volume 1.
https://youtube.com/watch?v=R6kajRjrCPo%3Fversion%3D3
Puff Daddy & the Family No Way Out (1997)
A group album as petulant and "dark" as Cruel Summer. While Kanye and friends are caught up in a ridiculous competition with fellow contrived rap crews like MMG, Puffy was mourning the death of the Notorious B.I.G. "Mercy" is the "Victory" of 2012: A haunting, inexplicable radio hit. And of course, Cruel Summer and No Way Out both feature stand-out appearances from mumbling mega-playa Ma$e. His appearances on No Way Out are a snapshot of the young Harlem rapper on top of the world. His appearance on Cruel Summer's "Higher" casts him as a ghost from hip-hop's ballin' past, now humbled. And as always, Kanye's production — obnoxiously expensive-sounding, often beautiful — owes a great deal to Puffy and his production crew the Hitmen.
https://youtube.com/watch?v=KJAgGB7jKZU%3Fversion%3D3
Jermaine Dupri Life In 1472: The Original Soundtrack (1998)
A crew album with a few ringers wrapped around a film that never actually arrived. Sound familiar? For real, what happened to the movie version of Life In 1472? What was Dupri's movie even about? I like to imagine a Bertolucci-style hip-hop historical epic in which the So So Def-ers beat Christopher Columbus to America by 20 years. For now, it's just a movie in my mind's eye — like Kanye's one-off, 12-screens-or-whatever, Cannes-premiered short. Plus, Dupri and West both have an affection for inviting legends past their prime over for some fun. Cruel Summer resurrects Raekwon and Ghostface, while 1472 included appearances by Slick Rick ("Fresh") and Keith Sweat ("Going Home With Me"). Not to mention, J.D.'s album contains an early Kanye West production: "Turn It Out," featuring Nas.
https://youtube.com/watch?v=oy16Dd5BRX8%3Fversion%3D3
Various Artists Eminem Presents: The Re-Up (2006)
A tossed-off project that, if the origin story is to be believed, went from a fun street mixtape to a good and proper album because it was all working out so swimmingly! Cruel Summer and The Re-Up are ego-trips for the big star rapper at the center of its orbit, and also purport to be acts of magnanimity there to drop some shine on the label's lesser-knowns. Ultimately, both topple over because of their lead rap star's hubris — or maybe just a last-minute realization that a whole album of Bobby Creekwater and Stat Quo (or Cyhi Da Prynce and Teyana Taylor), was not what anybody wanted. Marley Marl's In Control is the beginning of the producer/label rap album. Eminem's The Re-Up is the blueprint for tossed-off compilations contrived into rap events. Cruel Summer is a little of both.
https://youtube.com/watch?v=tOH_wSjJFV8%3Fversion%3D3
U.S.D.A. Cold Summer (2007)
Similarly-titled summer crew album fronted by a bigger-than-life superstar — Atlanta snowman Young Jeezy — and his pals, Blood Raw and Slicka Pulla, that actually came out during the summer. And that's more than you can say about Cruel Summer's fall release, right? Both Yeezy and Jeezy's cliquey compilations are perfunctory, half-hearted victory laps: A group of guys trying to gas themselves up based on the victories and exploits of their leader who doesn't even really need them. And what is it about the group album that demands some sort of dark and evil vision of the world? Even Life In 1472 was Dupri's attempt to transcend the quasi-kiddie rap on which he built his name. Even by the standards of Jeezy's stomping solo albums, Cold Summer feels vicious. Hardly summer music. Maybe that's Kanye's point with this thing?
https://youtube.com/watch?v=FwNm6kZIcaw%3Fversion%3D3
Hudson Mohawke Butter (2009)
Hudson Mohawke produced the Tony Montana-on-ecstasy-remixed-by-AraabMuzik pulse of "Mercy" that Kanye — and only Kanye — gets to rap over. He also contributed "Bliss," a sleazy neon-noir soundscape featuring Teyana Taylor and John Legend, whose origins go back to the young Glaswegian producer's own track "Ice Viper." Mohawke was doing mainstream hip-hop and R&B cross-genre fusion freakouts a little bit before that sort of thing was, well, what everyone was doing. So, Kanye was wise to reach out to him. In Simon Reynolds' Retromania, the predictive music writer describes Mohawke's Butter as "prog rock updated for the Pro Tools era." That also describes Kanye's production on My Beautiful Dark Twisted Fantasy, Watch the Throne, and Cruel Summer, doesn't it?
https://youtube.com/watch?v=FJ1oxBJKi94%3Fversion%3D3
The Weeknd House Of Balloons (2011)
Despite being derivative of Drake and the-Dream, the Weeknd's influence on mainstream R&B and hip-hop cannot be overstated. Tesfaye and his production crew have turned the club into an evil labyrinth of temptation, with groupie-girl Minotaurs stalking every corner, ready to steal your money or innocence or career, or all three. Already paranoid, egomanical MCs and crooners have followed House of Balloons' lead. Still, it's pretty shocking when Kanye approximates the Weeknd's steez on Cruel Summer. First, on "Higher," thanks to a helium-voiced the-Dream crooning over an evil cello and sighing beat — it's all atmosphere and not much songwriting, just like the Weeknd — and "Sin City," a celebration/bemoaning of Las Vegas culture, punctuated by dubstep bass blow-outs that recalls House of Balloons' "Glass Table Girls."
https://youtube.com/watch?v=8ex38L8xtNI%3Fversion%3D3
fun. Some Nights (2011)
Producer Jeff Bhasker's name is only attached to "The Morning" on Cruel Summer. But his hands are all over effects-filled Kanye albums 808s & Heartbreak and My Beautiful Dark Twisted Fantasy. Producing for Beyonce, Lana Del Rey, and Kid Cudi as well, Bhasker is the king of an organic-enough, entry-level experimentalism within the pop realm. His masterwork just may be the Queen-meets-Neutral Milk Hotel pomp of fun.'s Some Nights. The fascinating, then distracting, and then exciting energy of Some Nights comes from Bhasker's use and abuse of studio technology to push the group's anthemic rock-pop songs over the top. When Kanye decides it's necessary to Mr. Hudson-ize R. Fucking Kelly of all people on "To The World," he's taking the over-production lessons of Bhasker to heart. Some Nights is the "more is always better" production that you feel and hear on Cruel Summer, but gone completely cuckoo.
https://youtube.com/watch?v=M9O1Vh61o-8%3Fversion%3D3
Chief Keef Back From The Dead (2012)
Chief Keef's regional hit "I Don't Like" was turned into an actual hit thanks to Kanye West's hammy remix. The original's producer, Young Chop, got mad at Kanye for building on top of his beat, but what Keef and Chop (insert Click and Clack of Car Talk joke) should've been angry about was Kanye walking through and smearing some Chi-town "realness" all over their carefully curated threads. Keef is Kanye's grab at youth-market street cred, and a conduit for social commentary that makes empathetic asides about Chicago street violence on "New God Flow" hit even harder. The topic of crime in his hometown was addressed by Kanye as early as "Everything I Am" on 2007's Graduation, but for better or worse, Keef has helped turn it into a rap talking point.
https://youtube.com/watch?v=2WcRXJ4piHg%3Fversion%3D3