Last year about this time, the rumors began that Madonna would star in the Super Bowl XLVII halftime show. Now, an anonymous source quoted by the Associated Press claims to know who will take the stage for 2013's biggest American sporting event: Beyoncé Knowles. An official announcement is expected to come tomorrow, but AP appear quite confident in their claim that "all the single ladies will be watching."
UPDATE: Beyoncé has implicitly confirmed her Super Bowl performance by posting the photo below to her website, featuring the pop star in football-inspired facepaint sporting the date of the upcoming event.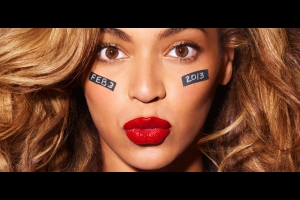 Super Bowl XLVII is going down on February 3, 2013, at the Mercedes-Benz Superdome in New Orleans, which served as a shelter for displaced citizens during and after Hurricane Katrina. While this will be the city's tenth Super Bowl — making NoLa the host with the most, um, hosts ever — it will be their first since the 2005 disaster. There have been extensive renovations since, to the tune of $320 million, and the renaming.
We can only assume that the general fancying up of the place was an attempt to properly court Beyoncé — as the song goes, if you love it, then you better put an arena on it. Could a Destiny's Child reunion be in order? An appearance from her ballin' hubby Jay-Z? Or perhaps following that $4 million fundraiser that the power-couple threw for the President, she could wrangle a live collabo with Barack Obama.
https://youtube.com/watch?v=VBmMU_iwe6U%3Frel%3D0