Most people fumble their way through sewing on a first button, learn to do their hair from a YouTube tutorial, or Rosetta Stone the crap out of Italian a few months before a trip to Rome. Yigal Azrouël, on the other hand, is a completely self-taught fashion designer, and a killer one at that. With a knack for fabric draping — in non-fashion terms, that's like being a natural at multivariable calculus — the Israeli-born, French-Moroccan designer has been all business since his first Fashion Week back in 2000. Only makes sense, then, that for this season's architecture-influenced collection, he'd stay true to his roots and focus on natural elements. Unchanging, indeed.
Waterfalls and Mother Earth-made rock formations lead to capes, crochets, and a whole group of hoods in navy, sand, and other Grand Canyon-style colors. Nunnery chic? Possibly. But the soundtrack is anything but old school organ-banging ethereal. With an indie-crossover collection of tunes and a look that's left us thinking, Yigal tells us all about the process that went into picking the perfect two tracks for the free-flowing, head-covered collection. (After all, we don't have to pretend The Crucible didn't net serious style inspiration.) Tell me about the music you chose for your spring '13 collection.
The music is a bit edgy, and all about the beat. I wanted it to evoke a feeling and energy from the clothes.
How did these songs help you get inspired for this collection, or how do they reflect it?
I usually start with the collection and then find the music that inspires it. I like to have the music playing when I fit the girls, too. It really puts it all together, and I can really vision the venue and lighting.
How is it different from the playlist for past seasons?
Last season's music had a bit more of a relaxed vibe.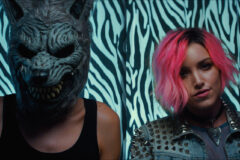 Do you have any memories of designing that's specifically tied to music or individual songs?
I always have music playing in my studio when I design. It really gets me in the mood and allows me to focus.
Have you ever struggled to pair music with your finished collections?
I find that I will listen to a lot of songs before I have that "ah-ha" moment, and I know that the collection fits perfectly with the song.
Are there any musicians whose career or style stand out to you or have inspired you?
Charlotte Gainsbourg and Mick Jagger.
What's the most embarrassing song on your iPod?
I have "Happy Birthday" in multiple languages on my iPod — I like to play it at company birthday parties. (Editor's note: It's always a party at Azrouël HQ!)
What's the last song you recall listening to and falling in love with?
Lykki Li's "I Follow Rivers."
PLAYLIST
"Genesis" by Grimes
"I Belong In Your Arms" by Chairlift