Four new episodes of Nigel Godrich's sessions series From the Basement are available for streaming online — and in 3D! The Shins, Feist, Aimee Mann, Father John Misty, and various combinations thereof kick off the show's third season, which in previous seasons hosted performances by Radiohead, Jack White, and Fleet Foxes.
Split over the first two episodes, James Mercer leads his band through a pu pu platter of The Shins' January album Ports of Morrow, including its title track, "No Way Down," and "Bait and Switch." Aimee Mann and Father John Misty pop in for spell, too.
In the latter two videos, Feist runs through parts of 2004's Let It Die and 2011's Metals, then invites Charles Spearin and his Happiness Project into the studio for a version of "Vanessa."
Watch each 26-minute episode below. And head over to Crackle to watch From The Basement's seasons one and two.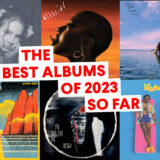 Watch The Shins, Aimee Mann, and Father John Misty on From the Basement
Watch Feist and The Happiness Project on From the Basement