The Melvins '51 States in 51 Days' Tour Diary, Day 3: Earthquake Destroys Portland!
"To anyone that thinks it would be really cool to move to Portland, I hope you like shitty rain"
Sludge-metal pioneers the Melvins are attempting to break a world record: 51 shows in 51 states in 51 days. Join SPIN for their exclusive tour diary of this ridiculous and completely inadvisable endeavor! Catch up here.
September 7, 2012 – Portland, OR @ Hawthorne Theatre
3 down, 48 to go
We stopped at the Country Cousin restaurant in Centralia, Washington, on our way to Portland. I haven't been there in 35 years! My parents would stop there when we would take trips down to Oregon. The one thing I remembered about this place was when you opened the door you could hear a chicken clucking. I was pretty happy that it hadn't changed one bit, except now I'm old enough to order the bacon bloody mary. How could I not? I mean, the pregnant waitress practically begged my to order it just so she could watch someone drink.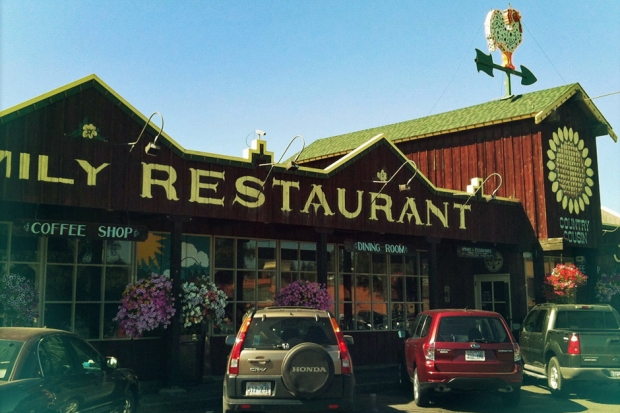 Portland is the new, hip place to move to. I guess it has been for a while now. It's not quite the "Doom Town" that the Wipers were singing about. There used to be one gig in town, and that was the Satyricon. Lovingly referred to as the Syringe-icon. One time we pulled up to play there and the first thing someone says to me is "Got any rigs?" Niiiice! Phil Irwin, a.k.a. the Whiskey Rebel and author of Job Jumper, was fed up with the change here in Snoreland, Boregon. All the old dive bars closing to make way for hippie grocery stores and trendy coffee shops. He said goodbye and moved to Hostile City, USA: Philadelphia, that is. We do have great shows here though. But to anyone that thinks it would be really cool to move to Portland, I hope you like shitty rain for most of the year, constant traffic jams due to bad city planning and lots of drinking, 'cause that's what you're in for. Oh, and even though it's gentrified, the junkies haven't left.
Show was okay. The power in the building blew out on the last note of the set…because of a 3.5 earthquake!
On our way to Boise, Idaho. Tweak Bird jumps on the tour for 45-or-so shows. Looking forward to having these guys on the bill. One of my favorite bands for sure! Weirdo brother duo, originally from Carbondale, Illinois, now living in L.A. They have a new CD out called Undercover Crops and it's really, really good! Another new record I've been listening to a lot on the long drives is Redd Kross, Researching The Blues. Great record! They've been a band longer than us even! I saw them the first time they came to Washington on the Neurotica tour, when I was 18. They we're awesome then and are just as good now!
My friend Pat is using our tour to learn obscure facts about each state we visit. In Idaho it's illegal to fish from the back of a giraffe! I wonder what failed redneck stunt made it a need for that law?
That's all for now. Driving through forest fire areas to Montana. Wish us luck!