It's one thing to say a designer has "dreamt up a collection," but where Rachel Antonoff is concerned, dreams are actually her singular source of inspiration: all of the gorgeous dresses, inventive patterns, and even the killer kicks she's made through her collaboration with Bass, started as a daydream while popping in some headphones and going for a jog.
She's not messing around with these daydreams, either — Rachel even joined a softball team after being lost in thought over succeeding, A League Of Their Own-style — and while her athletic dreams may have faltered, we're thankful her adorable designs are going full-force.
With a brother who's the lead guitarist of one of our favorite bands to make it big this year, Fun., and a boyfriend in the group as well, it's an understatement to say the designer is surrounded by music. That's why we're stoked to have been able to sit down before her upcoming Fashion Week presentation and find out what's on her soundtrack, and even nab a sneak peek at which song one of her new items is named after. (Hint: tectonic plates shifting has never been this rad!) 
 How did music help you get inspired for this collection?
Music is a big part of everything I do, starting from this very basic place of the way that I design. The only time I'm productive in design is while I'm running. So, I jog, and put on my iPod, and just listen and daydream. So, music is a really big part of this. For this collection, I've been listening to a lot of Pippen the musical — I looove Pippen. My brother [Jack] is also a really big inspiration… I listen to both of his bands (Steel Train & Fun.) all the time, and he does the playlists for all of our shows, except for the one we had Tennessee Thomas DJ a few seasons ago. It's really cozy for me, because this is a family business — my dad and I co-own the business, and then my mom comes on for Fashion Week — so, it's nice to have my brother involved, too.
What else have you been listening to lately?
I listen to really weird stuff. There were a few days where I listened exclusively to One Direction! I'm really into that new Taylor Swift single, and I just can't get enough &mdash — it's my ringtone. But, it also depends what the daydream is, which is sort of embarrassing in its own way. I've been designing before I realized I was designing, because I've always just had these outlandish daydreams. They've always been about cute boys and I look really great. [laughs] You know, like a very unrealistic portrayal of myself, and in it, I'm always dressed fabulously. It didn't occur to me until I started doing this that that's where those outfits come from.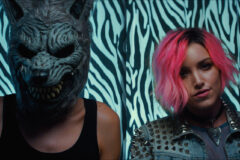 Have you always done this? When you were younger in school, would you just space out?
Like nobody's business! I remember once — because I think about this stuff from time to time — getting back a test in middle school and the teacher was like, 'You just can't do this!' I had doodled literally all over the test. Like, I answered the questions, but then I also doodled all around the questions. The entire thing looked like weird illustrations and was completely bizarre and inappropriate! Why would I think that was okay, ever? So, yeah, school was torture for me.
Are there any items in this collection that specifically tie back to a daydream or a song?
There is one, actually. There's this one Fun. song that I listen to over and over, and it's so inspiring. It's called "One Foot," and for whatever reason makes me think about earthquakes. We have this one blouse in the collection called the Earthquake blouse, and it's as if an earthquake happened on the blouse. Everything, the placket, and the collar, and the pocket — everything's off-kilter.
How do you discover music, usually?
Through my brother. Otherwise, I'm really lazy because I love to repeat things. You know who really gets me sometimes? Demi Lovato. That one song, "Skyskraper"… I was listening to that song a month ago when my car broke down for good at the entrance of the George Washington Bridge, and it was like a really sad, epic moment.
Are there any musicians whose career or style stand out to you or have inspired you?
"Clothing-wise, in the past and present, I have felt inspired by Jenny Lewis. I do feel really inspired by Bethany Cosentino. I think there is something about their actual style and the way they present themselves that is nice, but I also love both of their stuff —actually, all of their work!"
You mentioned Pippin — that's kind of, like, a deep cut.
"I feel like Pippin is the MGMT of musical theatre. It actually really sounds like that to me. [Phone goes off to Taylor Swift's "We Are Never Ever Getting Back Together"] So good!"
Are there any musicals that are your favorites?
Yeah, it does not stop at Pippen. I un-ironically love Cats. I love these random musicals I got into when I was a real musical theatre nerd — this one called Baby I loved, and Ruthless. Into The Woods is one of my favorites; I just saw it the other night in the park and it was incredible. Gypsy was a really good one for me and Crazy For You is one of my favorites, ever. I was pretty into Rent in high school in a really bad, wait-for-the-cast-members-outside-the-stage-door kind of way. I [think] I gave one of them a ring, or something. I had a really big crush on Adam Pascal, who played Roger.