Finally, a ray of hope in the Pussy Riot case. On Wednesday, Russian Prime Minister Dmitry Medvedev displayed uncommonly good sense when he intimated that he doesn't think the three imprisoned members of the feminist agit-punk posse should be forced to serve out their two-year sentences for hooliganism.
"Imprisonment is a very severe, I would even say a frightening, responsibility," he told officials during a meeting of his political party, United Russia. "What has already happened, that this well-known group of girls have been in prison quite a long time, is a very serious punishment for everything they did."
We're guessing the "well-known" part has a lot to do with his opinion. Ever since the women were locked up in March for performing an anti-government song at a Moscow Cathedral, they've been amassing a cadre of high-profile supporters, including Madonna, Björk, Paul McCartney, Sting, Red Hot Chili Peppers, and Green Day.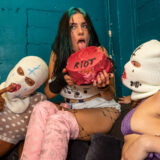 Pussy Riot's story has made international headlines via virtually every major news outlet, even if their name sometimes doesn't make it into those same headlines for modesty's sake. (Fun game: count how many words it takes the New York Times to say "Pussy Riot"— bless that old media!)
Medvedev was careful not to condone the organization's actions — he reportedly said that the mere act of thinking about it made him nauseous — but he called the recent sentencing "unproductive." It's not clear yet whether or not his opinion will make a difference, but there's an appeal coming up on October 1.
Certainly Russian President Vladimir Putin is not a fan (nor Pussy Riot of him), and he's made a point to slander their cause in the press, attacking the morals of Maria Alyokhina, Yekaterina Samutsevich, and Nadezhda Tolokonnikova by referencing the latter's involvement in a semi-public orgy.
Two Pussy Riot members who are on the lam released a video last week thanking some of the group's more vocal supporters from the West. They also burned a large photo of Putin's face.