Peep Wynter Gordon's Anything-But-Basic Style
The New York pop dynamo breaks out on her own, breaks down her look
Wynter Gordon may not be a household name just yet, but she certainly is a household sound. Having written songs for Mary J. Blige, Flo Rida, Jennifer Lopez, David Guetta, and Estelle — as well as provided vocals for tracks by Major Lazer and Steve Aoki &8212; Wynter is now breaking out on her own. After releasing her first solo record, With The Music I Die, last year, Wynter is embarking on a more intimate and artistically daring new direction. Her current project, The Human Condition, is a series of four conceptual EPs about exactly that. Each EP pertains to a specific emotion, with the first EP, Doleo (released in July) exploring the idea of pain, and the soon-to-be released Furor dealing with anger. According to Wynter, two more EPs will be added to the series in the coming months. We talked to the New York native about the differences between writing for herself and other artists, where she gets her inspiration, and the secret behind her amazing hair.
Can you tell us a little bit about the Human Condition EPs? Why did you decide to release it separately? How would you describe the project?
The Human Condition is me exploring some ideas and thoughts that I have that don't fit one sound. I'm giving emotions a sound — it's a fusion of genres. There are four EPs in The Human Condition; each title is a different emotion.
What is the hardest part about writing for yourself, rather than other artists? What is the easiest?
It's easier to write for myself. I'm the source so I don't need to ask myself the answers to the questions of my own life.
Do you have a favorite song from theHuman Condition EPs so far? If so, what is it, and what's the story behind it?
My favorite song is called "Reachout." There are so many different stories told in that song. I think anyone who listens to it will gather a different meaning, but each answer is true. I also like the sound of it, period — there are a lot of classical influences.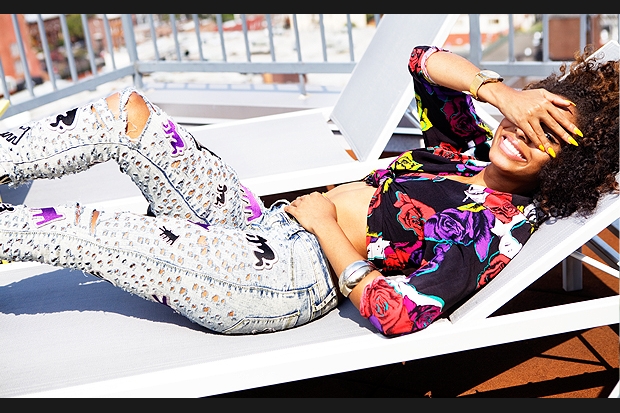 You've written and worked with everyone from Mary J. Blige to David Guetta. Is there anyone you haven't worked with yet that you'd like to in the future?
I'd like to work with Florence and The Machine, Little Dragon, Frank Ocean, Miguel, Calvin Harris…there are so many artists and producers. I would be here all day if I listed them all!
What music did you listen to growing up? Who inspired you musically when you were younger?
I listened to Disney musicals and alternative gospel. My parents were purists when it came to raising children. They wanted to protect my ears. I did like Britney and 'N Sync, though, when I got old enough to sneak. I enjoyed Michael Jackson and all the divas.
How would you describe your personal style? Where do you draw inspiration from?
My style is a mashup of different eras, but each piece I have makes me feel good about myself. I do have a taste for expensive shoes.
Your hair is gorgeous! What products do you swear by?
I use pure Aloe Jelly by Lily of the Desert to twist my hair at night.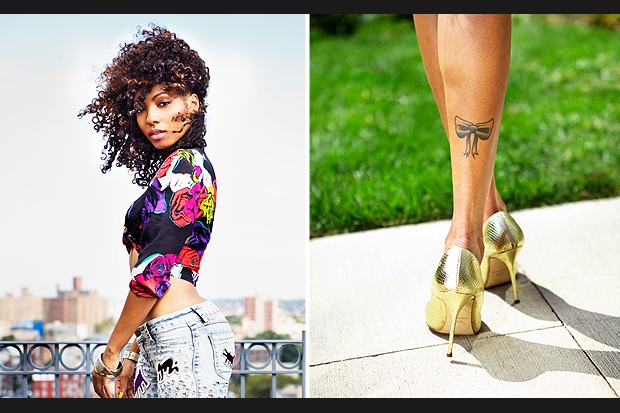 What artists have you been particularly inspired by lately
Florence and The Machine.
What's one great cheap thrill you've scored recently?
I love a good thrift. I got a vintage Christian Dior Egyptian print button-up at the Brooklyn flea for $40.
What's your favorite outfit to wear on stage? I don't have any basics in my closet, so anything goes.
By Nathan Reese