PAVEMENT – 'STRAY SLACK'
PAVEMENT - 'STRAY SLACK'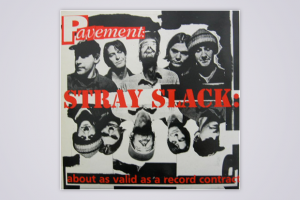 Pavement's essential bootleg recording, 1994's Stray Slack, gathered audio from the vaunted indie rock fivesome's two night-stand at London's Brixton Academy two years earlier, months after the release of their much ballyhooed debut, Slanted and Enchanted. Live, they were all over the place: looser and tighter and noisier all at once. The recording also captured them at their shambolic best (their line-up still featured drummer, noted eccentric, and fan favorite Gary Young), just before they'd begin transitioning away from the experimental tunings and lo-fi tomfoolery of their psyched-out beginnings, toward the more polished "Cut Your Hair" fare that would land them on MTV and Lollapalooza the following year. Avey Tare: Pavement were definitely a unifying factor in Brian and I's friendship. "Cut Your Hair" came out in 9th grade and we got that. And then summer happened and we kind of parted ways. While Brian was away he got this bootleg of early live Pavement. And right at the end of the summer was also when we started to get into doing acid. We took some acid and, at some point, put on this bootleg. And I remember it not even sounding like music. Is it English? What's going on? It just sounds like nonsense. And at the end of the bootleg there's outtakes and songs that were hard to find. And there was this song called "Greenlander" and that song came on, and I could not get it out of my head the next day. I just wanted to keep hearing it. I kept playing it over and over and over again. Just into their darker, weirder, stony, not so much alternative rock stylings….At our school, there was an open mic, and you could come at night and play a song. So Brian and I decided to cover "Greenlander" and it was pretty much the first time that we decided to play music together.
Geologist: We didn't know anything about alternate tunings. I'm sure we just picked chords that were close to what he was playing.
Panda Bear: I remember hearing "Cut Your Hair" on the radio…after a Presidents of the United States of America song.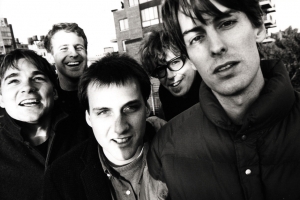 Back to the Centipedia glossary