Given hip-hop's loopy libertarian streak as of late, expressed by even a few of the most cogent, socially-engaged rappers — Kendrick Lamar saying that he doesn't vote, Ab-Soul and Killer Mike suddenly losing all their nuance and telling you that Obama's no different than all the other dudes in power — Nicki Minaj's supposed support for Mitt Romney on "Mercy" off Lil Wayne's Dedication 4 mixtape made sense for a fleeting few moments, at least.
Then, you paused, ignored the explosions of tweets about Nicki's being pro-Romney, and realized that she isn't declaring her support. She's doing the thing rappers do where they make things up, and contrive the weirdest, wildest ways to say some pretty basic stuff like, "I got more money than you do, and I don't give a fuck" — Romney's M.O., no? — which I think is what Nicki is saying when she raps, "I'm a Republican voting for Mitt Romney / You lazy bitches are fucking up the economy." What's missing in that line is the word "like," ("I'm like a Republican voting for Mitt Romney"), which is often removed from rap poetics because it creates more distance between the person delivering the line and the person hearing it, and without it, reality and fiction are blurred.
Plus, in a post-lyrical world where Big Sean gets away with rapping "I give her that D / Because that's where I was born and raised in," which sounds clever if you don't think about it at all (otherwise, he's saying he was born and raised in a dick), one certainly shouldn't take rappers' attempts to get clever too literally. Rap during the past decade, in particular, has become a game of fluid meanings and hot-sounding nonsense. Even "no homo," often cited as the nadir of hip-hop homophobia, is ultimately just a silly wordgame that tries to find sexuality in everyday phrases.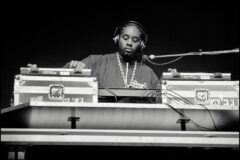 There's also a long tradition of rappers comparing themselves to Republicans and neo-cons (there's also a shorter tradition of rappers being conservative, think Eazy E, who was actually invited to the White House): Jay-Z and Nas' "Black Republicans," in which Jay-Z boasts of the rarefied, money-burning air he breathes by saying, "I feel like a black Republican, money I got coming in"; Mac Dre's "Dreganomics" finds the late Bay Area rapper adopting and then usurping the hammy leadership qualities of Reagan, explaining neo-con values as "Royal, spoiled, the American way." Or even, UGK's Bun B calling himself "Big Dick Cheney," around the time of 2007's Underground Kingz, and at about the time everybody agreed that the Iraq War was a mess.
Besides being a dick joke, Bun B was parodying rap's criminal worship, skipping over the thugs from his city and the silver-screen gangsters on tall-Ts to suggest that the ultimate bad-ass in America is the venal vice president, architect of two misguided wars and all-around evil motherfucker. Even Jay-Z and Kanye West's embrace of Illuminati imagery — which has led to endless YouTube videos "proving" the Throne are actually part of a secret society — exists simply to one-up the exclusivity all the other rappers are always going on about. Worshipping Aleister Crowley in some temple somewhere is a whole other level of insider culture than, say, the V.I.P. section of the club, right?
All of this talk, fueled by the misreading of a line from a rapper who says all kinds of outlandish things, has prevented a discussion about this actually pretty great song. Nicki's verse is fascinating because it builds from scattered feminist flips of Big Sean ("Drop it to the floor, make that dick shake" instead of "Drop it to the floor, make that ass shake") into one of her classic, frenzied fast-raps. It's also a clever diss track, continuing the pointless YMCMB vs. G.O.O.D. beef that we've been forced to pretend matters, but making it kind of interesting. Unlike Pusha T's full-frontal Wayne attack "Exodus 23:1," and Wayne's rambling response "Goulish," Wayne and Nicki's "Mercy" is almost subliminal.
Producers Kanye West, Lifted, Mike Sean, Mike Will, and Hudson Mohawke's "Mercy" beat grabs from DJ Screw with the same hipster aplomb as A$AP Rocky. The final moments of Dedication 4's version gets slowed-up and syrup-thick and seems to be a way for Wayne, syrup-sipper before a styrofoam cup was a fashion accessory, to reclaim that sonic trend. You must ignore the fact that Houston producer Mike Dean was involved in "Mercy" for this to work, but hey, that's rap beef in 2012. Notice how Wayne occupies the Kanye spot on the track — he only raps when the song goes from decadent lurch into Giorgio Moroder Scarface soundtrack rave-up — and Nicki carries the rest of it, challenging the work of every member of G.O.O.D. — subtly suggesting that it really only takes Nicki and Wayne to pull off a better version of what it took Kanye and his entire crew of cobbled-together goofs to create.