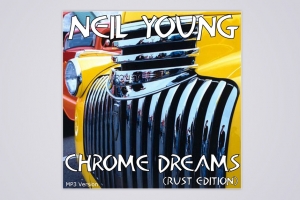 Comprised of tracks that would later show up on classic '70s albums like Rust Never Sleeps and American Stars 'n Bars, the unreleased Chrome Dreams is Young at his most unvarnished, stoned, and shaman-like. In 2007, Young released a sort-of (and lesser) sequel album called Chrome Dreams II.
Avey Tare: Chrome Dreams had a lot of tracks and outtakes from albums. It was a lot of darker, mellower stuff like "Look Out For My Love" or "Pocahontas" or some of these weird, more spaced-out, mellow ones. The darker, stonier stuff made the biggest impression on me in terms of his stuff.
Geologist: [Young] is a good reminder sometimes that less is more and imperfection is better than perfection. It's obvious that a lot of people that listen to Animal Collective don't always get the emotional quality in the melodies, but that part of it is always there. And Neil Young pretty consistently throughout his career always writes a really good, simple melody.
https://youtube.com/watch?v=ejAZ6yN2q0w
Back to the Centipedia glossary