Sludge-metal pioneers the Melvins are attempting to break a world record: 51 shows in 51 states in 51 days. Join SPIN for their exclusive tour diary of this ridiculous and completely inadvisable endeavor! Catch up here.
September 12, 2012 – Denver, CO @ Bluebird Theatre
September 13, 2012 – Lawrence, KS @ The Bottleneck
September 14, 2012 – Columbia, MO @ The Blue Note
10 down, 41 to go
In Denver we played the lovely Bluebird Theatre. It's been a while since we've played here. In the past, the theater had noise complaints from neighbors, resulting in a severe decibel limit. I've been clocked at 105 without the P.A. system, and with two drummers at times, forget it! They have since done a nice job of soundproofing the joint, so problem solved! Theaters like this are our favorite to play. They're built for performance and sound in mind. Unlike sports arenas, where you get to watch the band on a screen and it sounds like doggie doo! We don't have to worry about playing those types of places too much, thankfully. Even if we were a big band we wouldn't want to play the "Enormo-Dome". Does U2 really need to play Dodger Stadium? Don't they have enough money? It's our belief that bands like that should say "thank you" to their fans and play nothing but theaters. Alas, these millionaire bands have giant egos, and are the laziest people on the planet to boot. We've put out three different releases, been to Europe twice, and are now on our second US tour — all within a year! Let's see you top that, Bono!
After a successful show we headed back to our hotel, or at least tried to get to the hotel. Every road surrounding the hotel was road blocked with a cop and a blockade. Our road manager Dave got out of the vehicle and asked one of the cops how do we get down the road to the entrance. He was told to "Go talk to those guys over there". Those guys turned out to be Secret Service. After having our vehicle searched for guns and explosives I asked one of the servicemen who was in town. "You mean you don't know?" No, I honestly have no idea. "Well, I can't tell you, but you'll figure it out." After going through more airport style security, I made it to my room and Googled "Obama Denver." Sure enough the Commander In Chief was in town. The President? At our hotel?! How weird! Now, we stay at decent hotels, but nothing fancy. And certainly not the type of hotel you'd expect The President to be staying in. We realized the genius of the Secret Service plan. You'd figure he'd be staying at a five star joint downtown, and not some nondescript hotel on the outskirts of town. From our window we could see the Presidential motorcade "pig parked" out in the back lot. Now wonder they told us "Good luck finding a place to park."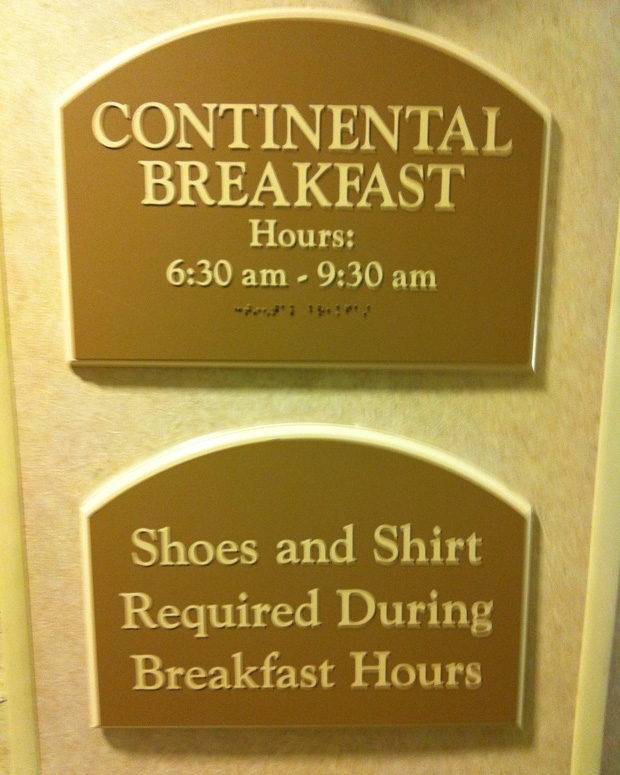 At breakfast the next morning Dave asked the waitress if we would see The President at breakfast. She scoffed at him and said, "No one is going to see The President." We decided we should get the hell out before he decides to leave and they lock the whole place down. So we made a beeline for Lawrence, Kansas. Usually we have a day off for this drive. It's a long, long drive! We usually take our time and stop at this weird roadside attraction called Prairie Dog Town, You see the signs for miles boasting five- and six-legged steer, rattlesnakes and the world's largest prairie dog. My favorite part is all the pygmy goats running around. Buy a bag of feed and you'll be surrounded by them. I wish we had a pygmy goat for a mascot. He could eat all the van garbage. By far the weirdest roadside attraction I've been to is also in Kansas. It's called the Garden Of Eden. This Mason fella named Dinsmoor built all these crazy religious sculptures around his house. You tour the garden, then at the end you go into a pyramid and view his mummified body in the stone and glass coffin he built!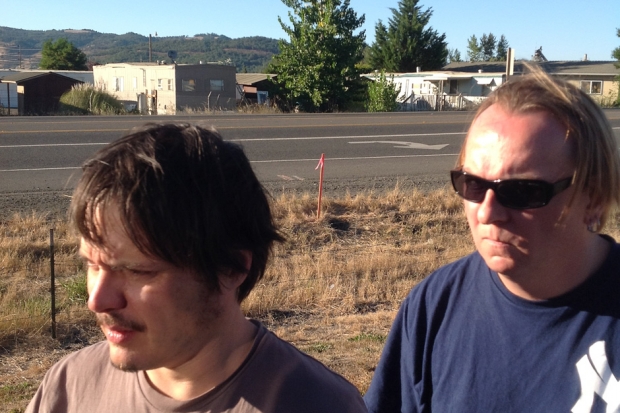 Anyway, on to Lawrence to play the Bottleneck. Our first time playing Lawrence was at a place called the Outhouse. The place was just as glamorous as it sounds. Drive down this dirt road through the cornfields and you'll find it. When we first pulled up, there was a pick-up truck rammed right through the front of the place. The cops were there and some punchers were talking to them. We met the promoter and asked what the hell was going on. Right before we got there some redneck pulled up in his truck. He got out of his truck and was in his underwear with a beer in his hand. He said to the kids, "Which one of you faggots is going to kick my ass?" The punks just stared in disbelief, then the guy gets back in his truck, starts doing doughnuts and tries to run down the promoter. Wham! Right through the front door! They're still determined to have the show though. All was going well until the promoter came running up about three-quarters through our set yelling "Stop, stop!" There was a big fight happening and someone was unconscious! The cops were on their way back, as well as paramedics. The guy had a concussion, but at least no one was dead. That was also the night I was introduced to the band Jon Wayne. This girl gave me a tape of their record saying it would change my life. Sure enough it did! Jack White recently reissued Jon Wayne, Texas Funeral on Third Man Records. Yip! The Bottleneck show wasn't quite as action-packed, but fun nonetheless.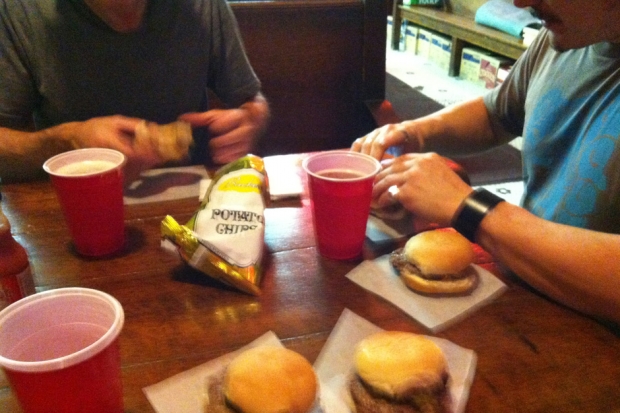 Played the next day at another nice theatre in Columbia, Missouri called the Blue Note. Had a great show and ate some tasty burgers down the street at a place called Booches Billiard Hall. This place has been open since 1884 and serves up cheeseburgers on wax paper. Small enough that you can easily eat two of them. After a great show we played wiffle ball with Tweak Bird in the back lot. Those guys are good players and big Cardinals fans. We usually have a home run derby with the staff of the Double Door in Chicago. They cheated the first derby and won the next. We have some good bats this time. The Double door best beware. We're out for revenge!