Sludge-metal pioneers the Melvins are attempting to break a world record: 51 shows in 51 states in 51 days. Join SPIN for their exclusive tour diary of this ridiculous and completely inadvisable endeavor! Catch up here.
September 15, 2012 – Omaha, NE – The Waiting Room
September 16, 2012 – Des Moines, IA – Wooly's
September 17, 2012 – Sioux Falls, SD – The Vault
13 down, 38 to go
The stretch of road between Denver and Lawrence, Kansas, spans a tireless, vast, empty 562 miles. It's the kind of road that makes you wonder why people complain about overpopulation and urban density or lack of space for landfill. If you want to go somewhere in the U.S. where there is little to do or see, and you have the place to yourself, there are plenty of options. All you have to do is accept the nothingness. As long as you're ok with having no friends and eating garbage, you will have all the personal space you need.
We are traveling in a van, not a bus, so personal space is limited. It's comfortable enough, has a good stereo, air conditioning and even wi-fi. One thing is does not have is a toilet. After loading up on coffee first thing in the morning, you can count on several pee stops. Of course, we are a van full of dudes. We can pee anywhere, and we do. My pee is no less disgusting than a dog's so I'm going to take the liberty of watering trees, fire hydrants, or the tires of the opening band's vehicle whenever the urge strikes. But sometimes you gotta go number two and in that situation a vacant lot behind a liquor store is just not gonna cut the cake.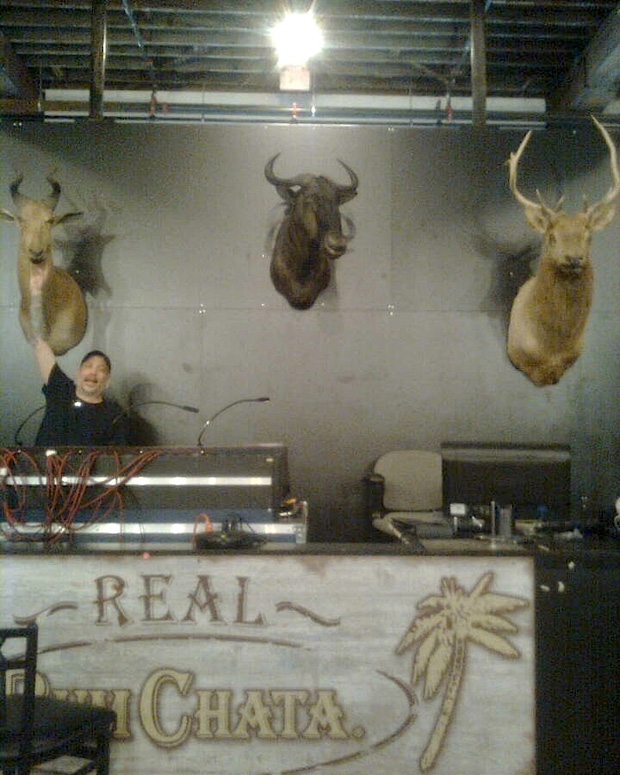 Somewhere along the drive to Lawrence, Dave, our tour manager/soundguy, found himself in a dire situation. There wasn't a gas station for miles and he was…Well, he was prairie doggin'. You know, crowning. He had some cable laying to attend to, post haste. Time was running out and none of us wanted to be subject to poopy pants in the limited quarters of the van. I was trying to enjoy my Hot Pocket and chocolate milk for cryin' out loud. Eventually, we came across a very sad, remote truck stop. By this time everyone needed the can, but unfortunately, the urinal was out of order. Only one toilet was available, so we waited our turns while loitering around the convenience store eyeing dusty boxes of cereal and bubblegum that had somehow passed their expiration dates.
Now I know we aren't a bunch of preened pretty boys in business suits, but we're a trustworthy bunch, or usually are I should say. Brian, our merch guy, decided he'd had enough and went for the unoccupied women's restroom. (There wasn't a female within 30 miles of this joint, and I don't blame them. It looked like a prime hangout for rapists and child molesters). Just as Brian had his hand on the doorknob, urine threatening to make it's escape, the bleary-eyed, half-dead clerk jumped to attention and pulled a knife, yelling at the top of his lungs in some unidentifiable accent, "You no allow, you no allow, NO NO NO NO NO."
A chaotic scene developed at which time Dale snuck into the women's room. Dave was still in the can exorcising the evil that Cracker Barrel had bewitched upon him. I was ready to bust a valve myself, so I opened up the beer cooler and peed on the Bud Lite. In the meantime Buzz was shoving packets of beef jerky and Skittles into his pockets. Brian was, at this point, backed into a corner by the maniacal clerk. The two were yelling at each other as Brian tried to inch his way to the front door. That's when I heard a scream from the toilet, "There's no fucking toilet paper in here!" Cliff, our stage guy, who had been rolling blunts in the van, walked into the milieu and then slowly walked out. Right then the clerk seemed to half-faint and slumped up against the wall which was decorated with posters of locals who had been arrested for various crimes most of which involved meth and domestic violence.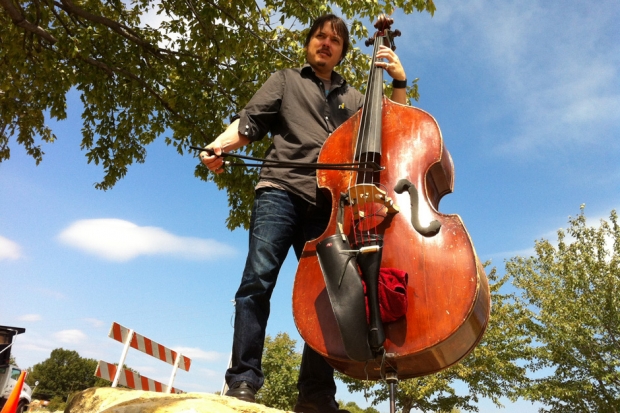 I'm not sure if those guys found any toilet paper 'cause I got the hell out of there and back in the van, but not before I saw a pack of unruly teenagers walk in. We high-tailed it out of there and left it in their hands. Buzz passed around some Skittles and we drove the rest of the way in complete silence…
It was only a couple of nondescript days later that we found ourselves in the bustling hubbub of Sioux Falls, South Dakota. I walked from the venue to a mall to mail some postcards. The mall had four open businesses: a wedding center, a tuxedo shop, a baby boutique and a pharmacy. I could only assume that the streets were empty because it was 6 p.m. on a Monday night and all of the picture perfect, functional families were preparing supper in their dream homes. I walked back to the venue and slammed four shots of tequila.