Sludge-metal pioneers the Melvins are attempting to break a world record: 51 shows in 51 states in 51 days. Join SPIN for their exclusive tour diary of this ridiculous and completely inadvisable endeavor! Catch up here.
September 18, 2012 – Fargo, ND @ The Aquarium
September 19, 2012 – Minneapolis, MN @ Grumpy's
September 20, 2012 – Madison, WI @ High Noon Saloon
September 21, 2012 – Chicago, IL @ Double Door
September 22, 2012 – Indianapolis, IN @ The Vogue Theatre
18 down, 33 to go
I could only think of two things while traveling across the Dakotas. The movie Badlands, where Martin Sheen and Sissy Spacek go on a romantic fairytale killing spree, and Fargo, a not-so-romantic killing spree. There's more quotable dialogue in Fargo than Badlands. Once we get close it starts. "Where is Pancakes House?" "We stop at Pancakes House!" And lots of "Oh, ya?"s and "Geez Margies" in funny, almost Canadian accents all day long. Once I get started talking with an accent I can't stop doing it. I'll be eating at an Indian restaurant, not even realizing I'm talking like Apu. "Howdy parttiner. She'll have the birdie num nums!" The Simpsons and Peter Sellers have ruined me!
We've technically have never played in North Dakota before. The only time we played here before was across the river from Fargo, in Moorhead, Minnesota. Tonight is a sold out gig at the Aquarium, upstairs from Dempsey's Public House. No elevator, great! At least the load-in isn't as bad as Gabe's Oasis in Iowa City. Humping gear up and down the steep, metal staircase there suuucks! I decide that tonight's dinner will be at Dempsey's after spying pickled egg baskets and beer-cheese soup on the menu. I try not to eat a bunch of crap on the road, but we are in the Midwest, where even if you do order a salad it's going to be deep fried with double butter and extra cheese! Anyway, beer-cheese soup is delicious, and I'll burn off the calories in an hour when I jump on stage and play like a gacked-out gorilla for 75 minutes. After the show, the owner gives us a tub of picked eggs and pretzels in appreciation for playing there. "This should last you, ya know. You won't even have to refrigerate them either!" "Where is Pancakes House?"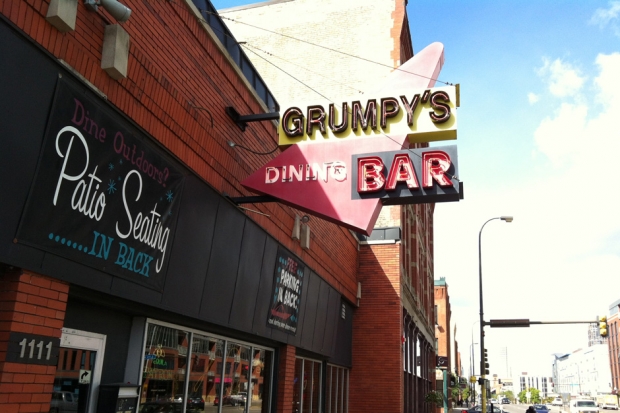 Minneapolis at Grumpy's! This place is our third home! I think we play here more that we do in L.A. Grumpy's isn't really a live music venue, only doing the occasional show. Our good friend Tom Hazelmyer is the owner, and that's why we play here. Tom is also the man behind Amphetamine Reptile Records. Though the label doesn't put out a ton of records anymore. We still do limited edition records and CDs, with super deluxe artwork and packaging with Tom. You can only buy these at our shows or through the AmRep website. People bitch and moan that some of these items are expensive and limited. What they fail to realize is that these items are handmade by us, or artists we like. A lot of work goes into the making of these and they are expensive to make. These items are priced as such. They are collector's items, and will be on eBay tomorrow at a 100 percent markup by some flipper. We learned that one the hard way. If you just want the music, you can find it for free on the internet. Sadly, that's the way things are now. Vinyl, full-length records, record labels and even record stores are breathing their last breath. There's a thing called Record Store Day that's held every April. Bands will make 7″ records that are only available at stores on that day. We found out that some stores themselves were pulling the best stuff, and guess what? Flipping them on eBay! Gee, thanks a lot, jerks!
Grumpy's has great food, and they always feed us well. This time I do order a salad, but also a side of deep-fried mac and cheese bites. I think Tom may have got this idea from the Minnesota State Fair. We went there a few years ago and shared a little bit of everything deep-fried: Spam, cheeseburgers, cheese curds, Swedish meatballs, things on sticks. The chicken-fried bacon sounded like a good idea.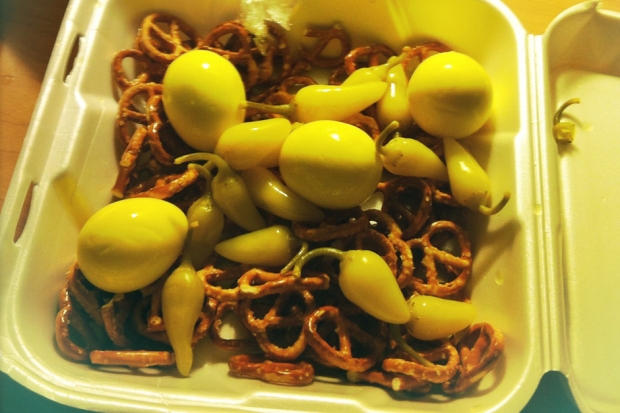 In Madison we saw our old friend Dan Hobson, from the band Killdozer. We met and toured with those guys back in 1987. After picking them up at the airport at 11 a.m. they had us take them straight to the liquor store for a case of Rheinlander beer. "Stew" as they called it. Both bands were jammed into one van. No seats besides the driver and passenger seats, so five of us had to sit on the amp cabinets. It was always a mad dash to get in because someone had to sit in the spot we referred to as the "Butt Buster." You had to hang by one butt cheek off a drum case! Those guys were really funny! After playing a few shows in Canada with them, they decided they were going to call their next record Those Stupid, Stupid Canadians. Unfortunately they chickened out.
Louisville today, and we're in town early enough to do something besides sit and stare at nothing. We went to the Louisville Slugger Museum, which was pretty cool! I got to pose with Mickey Mantle's bat. On the factory tour the guide told us that the pink bats they were making were for the Cubs, ha ha! Will they ever break the Curse Of The Goat?