Sludge-metal pioneers the Melvins are attempting to break a world record: 51 shows in 51 states in 51 days. Join SPIN for their exclusive tour diary of this ridiculous and completely inadvisable endeavor! Catch up here.
September 23, 2012 – Louisville, KY @ The Vernon Club
September 24, 2012 – Detroit, MI – Smalls
20 down, 31 to go
I have to laugh when my non-touring friends get jealous about my "road trips." They like to guilt-trip me about my glorious adventures in this great and vast country of ours; about how much I get to "see." I would say, however, that 97.3 percent of what I see out here consists of the inside of our van, fields of corn, backed-up traffic, and the bowels of rock clubs — usually just the dressing room and the stage. If there is a decent bathroom backstage I may not even leave the dressing room all night. That's what happened last night in Detroit. It was cold in a crappy neighborhood and just the thought of moving seemed uncomfortable. So after load-in I made a sandwich with turkey and salami, sliced up some tomato with a plastic spoon, kicked aside an empty mouse trap and sat down for a lovely one-course meal in an unkempt, dusty "green room." A pit bull yelped in the distance. A side of chips and salsa rounded up my carb intake. My doctor says I need more salt and carbs in my diet so I pile that stuff on whenever I can.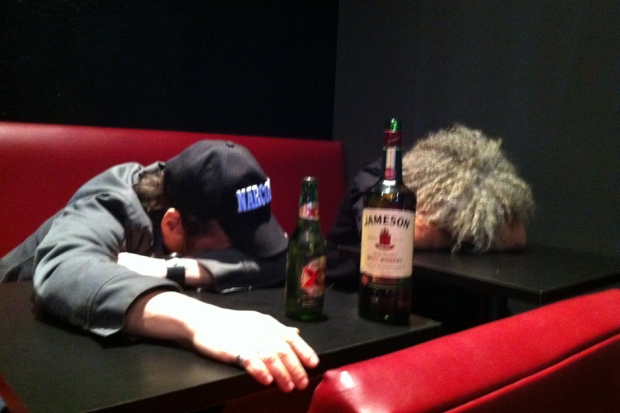 At this point, 20 shows under our belt, we are a well-oiled de-barking machine. From the time we pull our van up to the loading dock until we are ready to soundcheck — gear plugged in, stage fully wired, PA tuned — a mere 30 minutes has passed. Thirty minutes! What other rock band can do that? (Our maiden name may be Profane Derelict Outcasts, but our middle name is Efficiency). We then get our monitor mixes together and play through a song and a half, all of which takes another ten minutes. Then it's time to party! And by "party" I mean look for a Cobb salad. A few nights ago we played an early show in Indianapolis. Due to having our van serviced and losing an hour as we entered the Eastern Time Zone we showed up somewhat tardy. No matter. We sound-checked, ate, played, loaded out, and were back on the asphalt by 10 p.m. We spent less than six hours in Indianapolis. I didn't see shit. Indianapolis is one of those towns I've been to several times and could tell you absolutely nothing about it. There are hundreds of cities like that floating around the detritus of my brain. They are cities full of opportunity and stimulation but all I can recall is a black box room reeking of the previous night's beer and dry ice fog. There isn't really time, especially on a whirlwind tour like this, to go exploring.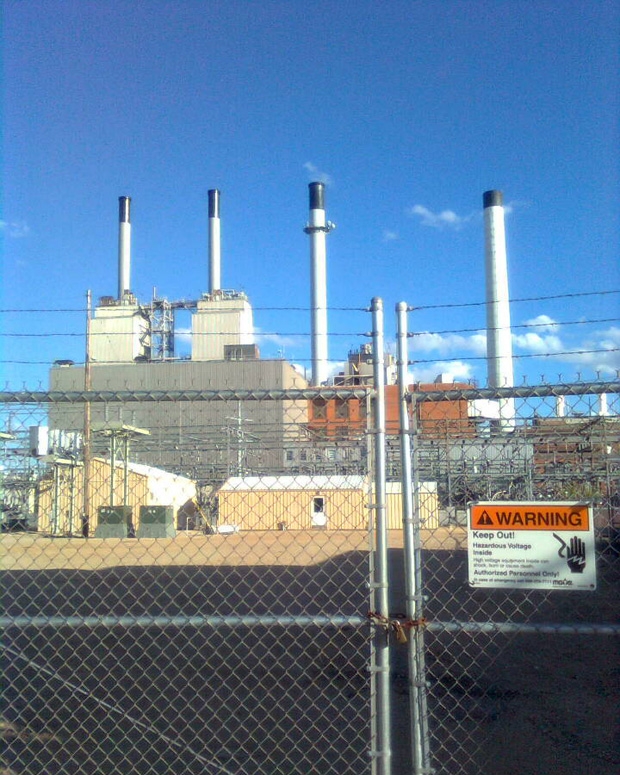 But to limit oneself to such colorless surroundings is to go mad and there's nothing worse then some rock'n'roll brat throwing a tantrum and going AWOL just because he can't keep himself occupied. Yes, I'm referring to that little weasel in Green Day. That guy's main problem is that he doesn't realize that he is Justin Bieber. He should take some of the green in his wallet, buy himself a green smoothie and relax. What kind of band name is Green Day anyway? Is that in reference to all the chord progressions they continually recycle? But I digress….
There are plenty of legitimate ways to break up the monotony of touring. But in addition to that stuff, my road-weary readers and traveling colleagues know what I'm talking about when I mention the "code of the road." There are ways to get exactly what you need in whatever town whenever you want. For instance, knowing who to talk to in order to get a "Kentucky Bagel" or "Louisville Lip Service." Every town has its specialty that the locals are privy to. Most liquor stores in Fargo provide "potato privileges." There is a truck stop half-way to Madison off of exit 263 called "Buck's Lucks" that, if the right person is behind the counter, will load you up on "stick figures" or "pancake palmers" depending on what day of the week it is. Now, Chicago is a big town and the prodigious range of lingo varies from neighborhood to neighborhood. It was pouring rain and I was experiencing acute shoulder pain and didn't feel like venturing outside so I ordered out for an "ultra-sound treatment." Unfortunately I was in the wrong place. What showed up wasn't what I expected but provided 23 minutes of entertainment nonetheless. After the show we drove a couple hours out of town and stayed at an Econo Lodge. I asked for a "single room with a roll-a-way." Most people who are "priority" customers at this fine establishment know that the vending machines are stocked with "extra dark Snickers." All you have to do is punch in the correct combination of numbers and letters. It also helps to be on the mailing lists of said hotels, truck stops, diners, etc. as they are always sending out updates, new passwords and re-configured "treasure maps."
As I write this, I'm sitting in a parking lot of a mall in Cleveland. There's a Bob Evans on the corner that I've been to a half a million times. The 63-year-old waitress there is named Gertrude and she has worked there as long as I've been thumping the doghouse. She claims that she used to work monitors for Poison Idea. If you order the turkey bacon melt "with a side of Cleveland corkscrews" and give her a wink you will not be disappointed. Sometimes it's the only way to get through the day. The remaining 2.7 percent of what I see on the road can be summed up in this phrase: drool on my pillow.