Some version of Kanye West's G.O.O.D. Music Cruel Summer leaked last night. Here, five SPIN editors give their hasty and completely impulsive opinions… (which we recommend reading while playing Cruel Summer Leak Bingo!).
Charles Aaron:
There's no reason for this album to exist (sorry, Big Sean, I hear your tiny yips of protest, but tough tit-taaayyy!).
Obviously the idea was for Kanye to zoom in Stars Earn Stripes-style, metaphorically hop out of his Blackhawk copter and launch some lyrical grenades and re-educate the mixtape population on who really runs this rap shit. And "Mercy" (via 2 Chainz), "New God Flow" (via Pusha T), and "Clique" (via Jay-Z) sorta did that. The production felt like our dear leader was trying to pull back from the lavish Citizen Kanye tableaux of My Beautiful Dark Twisted Fantasy and give us a short, sharp all-up-in-your-nutsac shock, then jet off to an exclusive Obama jump-off. But that's not really Kanye, of course, and he couldn't help himself from Diddy-like intrusions into the frame, whether it's the "Mercy" EDM bridge or "New God Flow" fadeout blather. Kanye is about scale, or at least scalability, and that's tough with this particular crew (as was made manifest at the Made in America fest). Dudes don't have clearly defined roles and tend to unfocus the spotlight rather than magnify it. Ultimately, it confuses Kanye's brand.
But that's not to say this isn't a consistently interesting or enjoyable collection of music. You'd have to be childishly silly or presumptuous to suggest that, say, it shouldn't exist. Especially after you hear the fabulously synth-pinging, tympani-thudding opening-ceremony of an opening track, "To the World" (featuring R. Kelly) and its now-official campaign shout-out of the year: "Mitt Romney don't pay no tax! Mitt Romney don't pay no tax!" And the Kid Cudi cameo, "Creepers," with its hypnotically jittery hand-clap beat playing off Cudi's rapid-fire substance-abuse confessional, is far more intriguing that anyone could've predicted. I've already rewound it three times in last 10 minutes, without really tracking on the lyrics.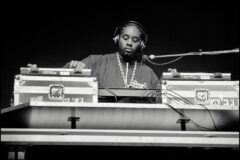 What nags, though, is that Cruel Summer doesn't feel directly connected to Kanye's life in any real way (Kim K asides aside). BTW, what was the cruelest part of Ye's summer? Refereeing Beyonce and KK backstage at Made in America? Giving Big Sean a post-show Mean Joe Greene/Coca-Cola pep talk? I mean, if Kanye ain't bringing the mostest drama, musically or otherwise, then his movement seems off-message. But, honestly, quibbling like this feels pretty chintzy. This is a glorified summer mixtape, natch.
More importantly and much more urgently: "Mitt Romney don't pay no tax!" Get your ass out and vote, y'all!
Early score: 7/10
David Marchese:
As far as wisdom to be gleaned from Cruel Summer, here's my big takeaway, so far: A whiny-ass persecution complex and chest-out defiance are two sides of the same AmEx Centurion card. Take "To The World," Cruel Summer's lead-off track. The music is fucking triumphant — splendiferous major-key piano, bomb-blast snare, radiant synth-hook fireworks, strings lending cinematic luster. A hobo digging through a dumpster for a can of Sterno could hear this track and feel like five, six million bucks easy. But while the music says victory, the words say something else. Guest star R. Kelly, his voice yearning and gospel-strong (and who has his own issues) implores the listener to "put your middle fingers up to the world." Could be bravado; could be nihilism. Ye complicates things further. "I'm just trying to protect my stack," he raps, "Mitt Romney don't pay no tax." One-percent solidarity? 99-percent shame? Kellz storms back in, singing, gorgeously, "I could give it all up / But it's not enough." It never is. And yet try to imagine floating above the world knowing that there are, truly, people writing the vilest, most fucked-up garbage about you, and that bile draws page views. This is 2012. Nobody's safe. There's a storm coming, Mr. Ye. Doesn't matter if your boo is the girl whose sex tape you used to watch to get up for the down stroke. On the album's "The One," he claims "I'm the One, baby / Since God gave his only begotten son, baby." Yeah, well, we all remember what happened to J.C. (J. Cole, too.) "I'm shittin' on you / Holy crap," West raps on "To The World." Puts sacred and profane in an unusual kind of relief. Relief — what a concept. Now will someone let this man design a goddamn hotel!
Early score: 7/10
Christopher R. Weingarten:
Kanye West is an artist, not a businessman. Yeah, he'll posse up if that's an economic reality when you want to make albums like My Beautiful Dark Collection of No Real Radio Singles; but unlike hip-hop's smarter, savvier historical entrepreneurs (Marley Marl, Birdman, Eminem, Lil Wayne, Jay-Z), Kanye will never let anyone in his crew outshine him. G.O.O.D. will never have a Big Daddy Kane, a Kool G Rap, a Juvenile, a Weezy, a 50 Cent, a Nicki, a Drake, or even a Kanye West — all artists originally vetted through the crew system, all instances where students surpassed the teacher. Cruel Summer is Kanye Night Live where he's the host and the musical guest and everyone else has to be Darrell Hammond and never even gets so much as Obie Trice's "Got Some Teeth." So, despite CyHi Da Prince and Big Sean and Pusha T trying their damnedest to prove themselves, they're never gonna compete with the tabloid spectacle and perfect Twitter storm of Yeezy dropping down from a gold-plated helicopter to point out "I was suicidal when my mother died" and "Hey, remember when you saw my girlfriend's vagina on the internet?" in the same verse ("Clique"). It really speaks volumes that the best raps on this thing are (in order) Jay-Z, 2 Chainz, Raekwon, 2 Chainz again, and then maybe Kid Cudi stepping his game up four years too late.
Early score: 5/10
Brandon Soderberg:
The first six songs of Cruel Summer feel like a proper Kanye West event, with lots of big and small personalities orbiting around each other, the album gaining its power from the scary feeling that this thing is, like, one production flourish or crappy verse away from completely falling apart. The click-click beat of "Morning" bumping into the click-click-click-beep beat of "Cold" is an excellent example of sensitive sequencing increasing the energy. "To The World," featuring R. Kelly is like "Lift Off" from Watch the Throne, because it's just one hulking hook. But it also has a classic Kanye moment when he turns Rick Ross' "Hold Me Back" into "Mitt Romney ain't pay no tax." Why are all the big stupid pop-rap stars like Kanye and Nicki so much better at political commentary than the underground-ish guys who just seem content to brag about how they don't vote? The first half of Cruel Summer is like Kanye tripling down on the part of My Beautiful Dark Twisted Fantasy that placed posse dirges "Monster" and "So Appalled" right next to one another. After "Cold," though, Cruel Summer's highlights are few: Ma$e's mumble on "Higher"; Big Sean trying hard "The One"; Kid Cudi's lonely-bro moan on "Creepers" (even though the catchy part is the same as WZRD's "Teleport 2 Me, Jamie"); the '80s action-movie soundtrack sleaze of "Bliss." Kanye's doing the best with what he's got here, but he doesn't have that much to work with.
Early score: 6/10
Caryn Ganz:
Oh my God
I'm heartly sorry
For having offended thee
And I detest all my sins
Because I dread the loss of Heaven
And the pains of Hell
But most of all because I love thee
And I want so badly to be good…
Early score: 6/10
AVERAGE SCORE: 6.2