If the prevailing verdict on Kanye West's G.O.O.D. Music crew album Cruel Summer seems to be that Yeezy won't allow anyone to outshine him, he's certainly doing what he can to counter that notion when it comes to the record's promotion.
The man who once brought his Jesus Christ pose to the cover of magazines has stayed silent this promotional cycle, sometimes literally: In April, he stood there without a word during 2 Chainz' interview on BET's 106 & Park. As Cruel Summer battles Pink's The Truth About Love for the top spot on next week's Billboard album chart, 'Ye has graced us with a roughly two-minute promo video for the album. But if you're looking for the rapper-producer's usual instant quotables or colorful controversy-mongering, you'll have to rewind the album to "Mitt Romney don't pay no tax." No big revelations here.
In black-and-white close-up, the video shows a hoodie-wearing West speaking in an understated, careful manner. In Romney terms, this would be a polished swing-state campaign commercial, not, say, an off-the-cuff rant at a private-equity manager's party house in Florida. West acknowledges that he sometimes is jealous of other artist's tracks, that he can "get bored really easily," and that the making of Cruel Summer followed a "communal" approach. "The whole thing is about empowerment," West explains, as R. Kelly collaboration "To the World" swells inspirationally. "We're just trying our best, you know. That's all you can ask for." Kanye, is that you?
In keeping with the new, modest Yeezy, he remained conspicuously absent as the G.O.O.D. Music crew appeared yesterday on 106 & Park in matching white outfits reminiscent of a cult or maybe alien villains in an old Christopher Reeves Superman movie. Kid CuDi was similarly nowhere to be found, but Big Sean, Pusha T, Common, 2 Chainz, Teyana Taylor, CyHi The Prynce, and Travi$ Scott all showed up to perform Cruel Summer cuts "Mercy," "New God Flow," "Birthday Song," "I Don't Like," and "Clique." They also answered a few questions. Only two more official days of summer!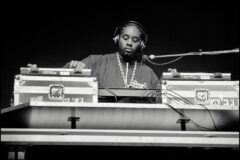 https://youtube.com/watch?v=AASuNLtz45A%3Ffeature%3Dplayer_embedded