"They call me 'Eight Shows H.O.' / You can stunt like that when you own the whole place, though," rapped Jay-Z, a cappella, at the very first event held in Brooklyn's new Barclays Center.
The rap monolith and Brooklyn cultural ambassador was taking a breather during the first of eight sold-out shows at his brand new 19,000-capacity arena. Well, it's not technically his per se (he's owns a fraction of a percent of its basketball team, the Nets), but he's certainly been its most visible face (Hov's been helping with details like logo designs and champagne brands). And not to mention, he's its brightest story. Born into Brooklyn public housing an eight-minute drive away, Jay-Z would ultimately grow up to help give the borough its first arena — so no doubt the night played as victory lap for Jay-Z, for Brooklyn, and for hip-hop culture itself. Forgive him for getting a little choked up.
"I've been on many stages all around the world," he said. "I performed at the Grammys. I performed at Glastonbury. I tore Coachella to pieces. Nothing feels like this, Brooklyn, I swear to God." Jay-Z broke completely free from the almost-Presidential cool he had when he held court at the Jigga-curated Made In America Festival earlier this month. Instead he pushed his voice into shouts. Pumping out the "I'm from Brooklyn, son!" in "Where I'm From"; leading a "B-R-O-O-K-L-Y-N" chant in "Brooklyn Go Hard"; yelling "I got a million of them" before "Money Ain't a Thing."
His voice sounded froggy by night's end, he sometimes repeated some of his stage banter (a rare occurance from a dude who's show is tight enough to be on Broadway), and he admitted he was a little overwhelmed. But Brooklyn, he went hard, especially during the aggro, high-octane "On to the Next One"/"Dirt Off Your Shoulder"/"I Just Wanna Love U (Give It 2 Me)"/"Big Pimpin'" middle section; and especially when he got deep into "Encore," asking to just rap over its gorgeous, floating chords. And, oh yeah, that thing he said about there being no special guests? Well Brooklyn-born rap legend Big Daddy Kane popped out for three songs originally released around the time Jay-Z was still rocking Hawaiian shirts (and Kane even managed some pretty liquid dance moves for a man well into his 40s). Jay-Z came back out, still blown away by everything, and even rattled off a few bars of "Warm It Up Kane" for good measure.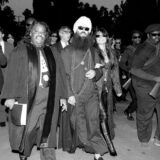 Onstage, Jay was clearly was taking in time to discover all the crevasses of Barclays. And who could blame him: The stadium itself is dripping with swag, seeming more like a European designer hotel inflated to arena size: It was full of comforting blues, TV screens that curve and spiral, big windows, and lights that undulate like sine waves. The seats are cozy and squishy. And it's so fucking big that people couldn't even line up their "HOVA" chants without turning them into some phase experiment.
"I can't even put into words what I'm feeling right now," he said. Which really meant quite a lot since the guy whose unparalled use of words is going to fill that stadium seven more times.
Set List:
"Where I'm From"
"Brooklyn Go Hard"
"Kick in the Door"/"Juicy" (Biggie tribute)
"U Don't Know"
"99 Problems"
"Run This Town"
"New York State of Mind"
"On to the Next One"
"Dirt Off Your Shoulder"
"I Just Wanna Love U (Give It 2 Me)"
"Big Pimpin'"
"Murda Murda"
"Dead Presidents"
"Can I Live?"
"Public Service Announcement"
"Jigga My Nigga"
"Izzo (H.O.V.A.)"
"Nigga What, Nigga Who (Originator '99)"
"Hard Knock Life (Ghetto Anthem)"
"Heart of the City (Ain't No Love)"
"Encore"
Encore
"What More Can I Say?"
"Do It Again (Put Ya Hands Up)"
Big Daddy Kane – "Ain't No Half Steppin'"
Big Daddy Kane – "Set It Off"
Big Daddy Kane – "Warm it Up Kane"
"Clique"
"3 Kings"
"Money Ain't a Thing"
"Money, Cash, Hoes"
"Young Forever"