Hopscotch Festival 2012: Roots Defeat the Rain, Mountain Goats Go Metal
At one of the best and most eclectic music festivals in America, the Mountain Goats do metal and the Roots conquer the rain.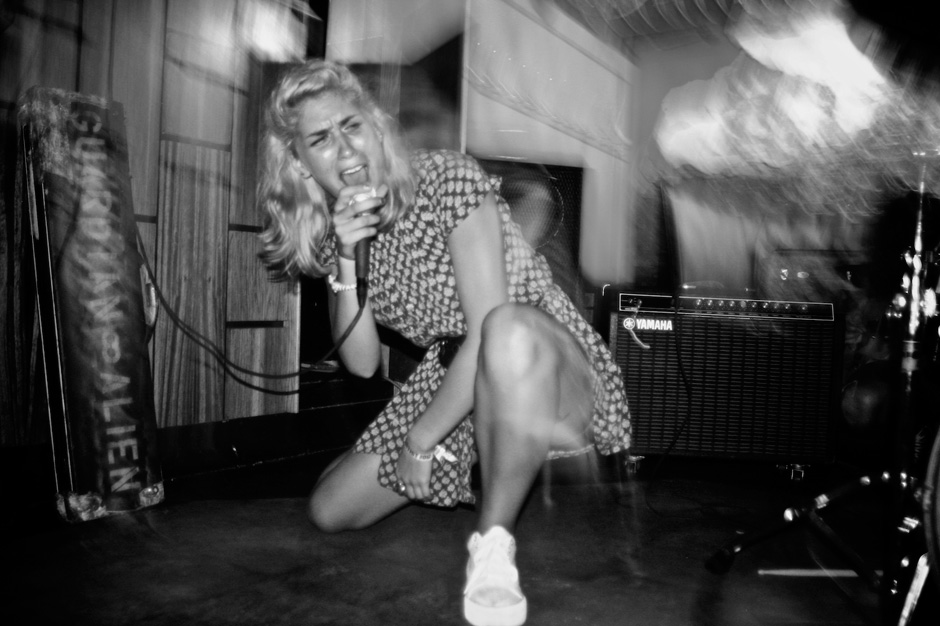 Hopscotch Festival is one of the best and weirdest music festivals in America, bringing a roster loaded with subterranean doom metal, fiery indie rap, desolate alt-country, and sheer hellish noise miasma to downtown Raleigh, North Carolina. Nearly 200 bands took over 15 venues: the Mountain Goats premiered a rare all-metal set, the Roots conquered the rain and Guardian Alien (above) brought just a fraction of the fest's wild vibes. BRANDON SODERBERG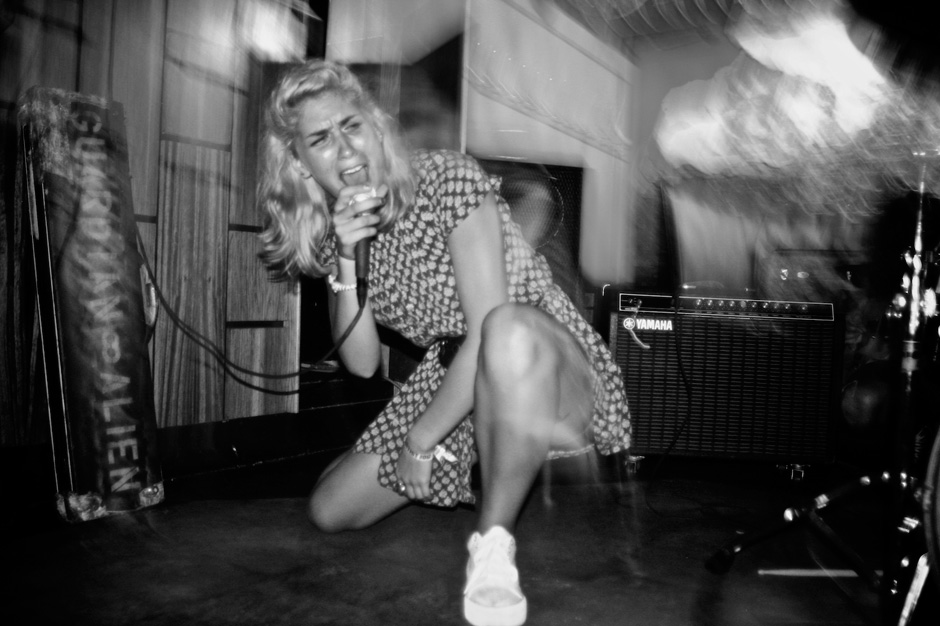 Hopscotch Festival is one of the best and weirdest music festivals in America, bringing a roster loaded with subterranean doom metal, fiery indie rap, desolate alt-country, and sheer hellish noise miasma to downtown Raleigh, North Carolina. Nearly 200 bands took over 15 venues: the Mountain Goats premiered a rare all-metal set, the Roots conquered the rain and Guardian Alien (above) brought just a fraction of the fest's wild vibes. BRANDON SODERBERG
3.Worst Fans: MOUNTAIN GOATS
3/14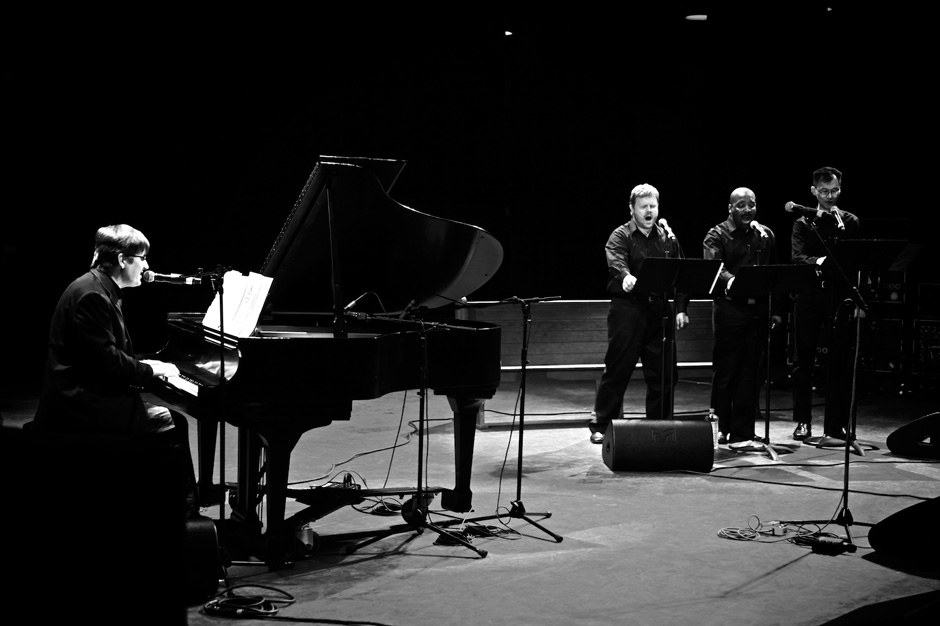 Inside of an opera house, in a suit, seated in front of a piano, accompanied by a three-man choir, John Darnielle's all metal covers set was could've gone wrong for many reasons. See, Mountain Goats fans are notoriously, obnoxiously vocal, many of them trying to make sure they make it clear that they totally get Darnielle, man. And so, when he opened with Ozzy Osbourne's "A Shot In The Dark," there were many audible, performative laughs. Darnielle's quivering yelp of voice delivered the lyrics with the right amount of desperation and the snarky side of the crowd had to shut up, soon enough. Darkthrone's "Those Treasures Will Never Befall You," was prefaced with the anti-hipster caveat that this was a Darkthrone song not on Transylvanian Hunger; then, Darnielle added that the group has one "the best second acts in music history," which is totally true. As the metal covers got a bit more obscure, the laughing mostly subsided and it became more apparent that this was an exercise in sincerity, not a big in-joke — which anybody who has read Darnielle's music criticism should've known already. Most Mountain Goats maniacs seemed to prefer the second half of the set, focused on originals. They were wrong.
4.Most Crowd-Pleasing: THE ROOTS
4/14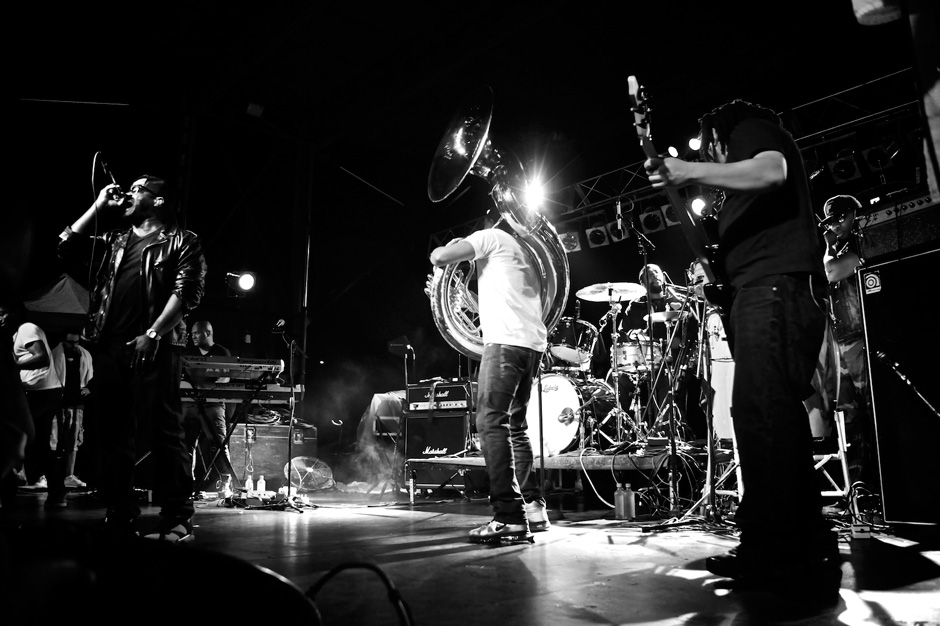 "Rapper" and "MC" are often used interchangeably, as they should be, because it's really just one of those snobby divisions snobs push, right there with differentiating between "hip-hop" and "rap." But Black Thought is an MC in the old-fashioned "master of ceremonies" definition, anchoring the Roots' all-over-the-place sets with his commanding voice and quick-on-his-feet chants and scat-like raps. And so, hearing him move from a gritty rap song like 2008's "Get Busy" to a tossed-off cover of Kool & the Gang's "Jungle Boogie," like it's nothing, is a special talent. And those moments when the Roots crew simply goes off, doing improvisations best described as go-go-tinged spy movie funk, Black Thought's there to goad the group on and keep the audience involved, so it never feels too much like self-involved showing off. Saturday's outdoor shows suffered from heavy rain, canceling Escort's set, which made the Roots responsible for boosting the morale for the evening. If the dude near me, joyously two-stepping in a Wes Unseld jersey is any indication, the Roots won over a wet and frustrated crowd.
5.Most Effective Use of the Outdoor Stage: THE JESUS AND MARY CHAIN
5/14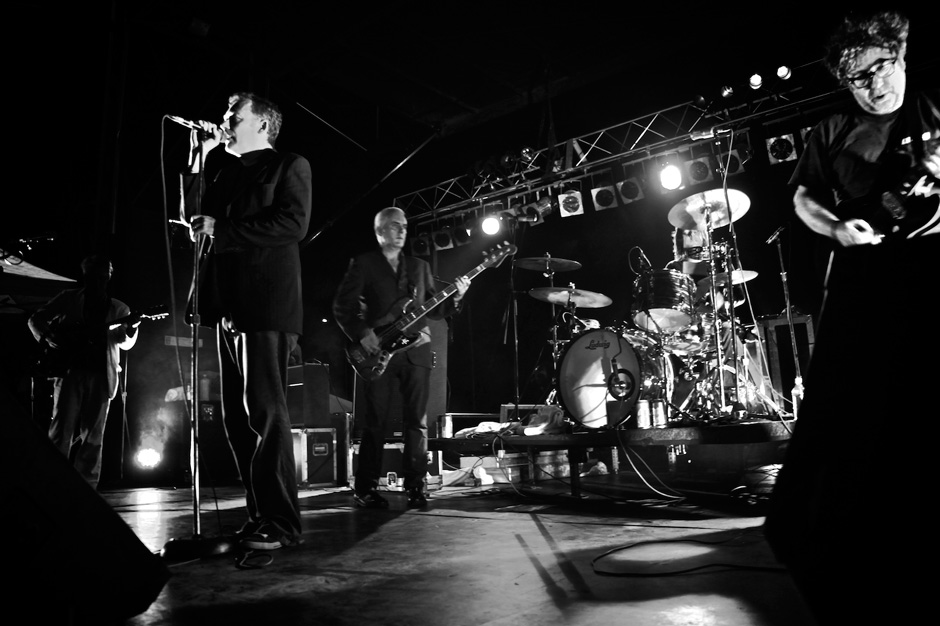 The outdoor Raleigh Plaza stage sounds wonderful, all the sound bouncing off the surrounding buildings and then over top of them, and across the entire downtown Raleigh area. So, whether you were right there with the Scottish noise-poppers and heard lead singer Jim Reid playfully harass his brother William for taking too long to tune his guitar, or you were rushing between club shows and heard them in the distance, sugary hooks and guitar grind spanning a few miles, JM&C was a treat.
6.Best Reason to Come to Hopscotch: SUNN 0)))
6/14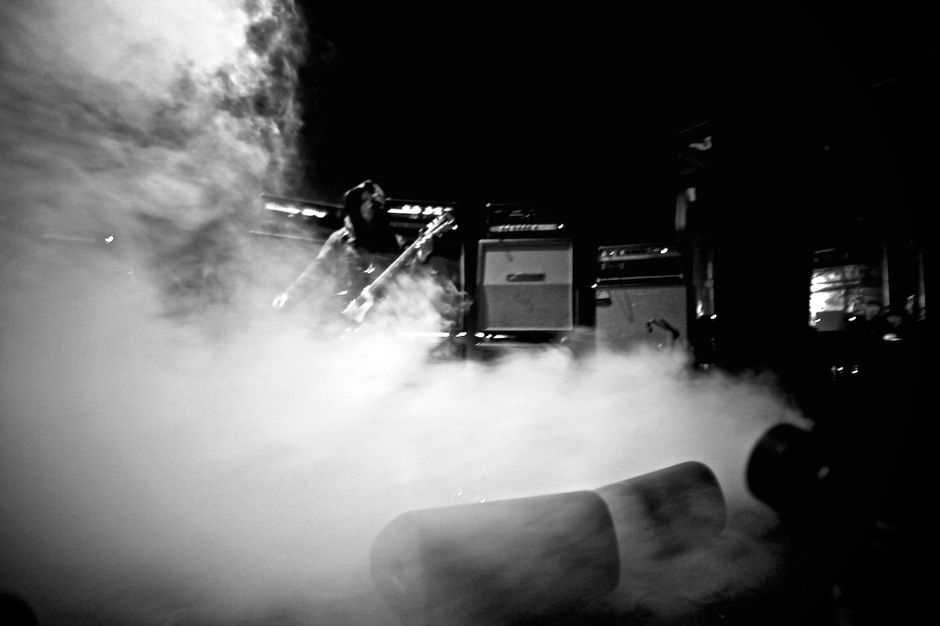 Hooded doom merchants Sunn 0))) came to Raleigh for the first time and performed in Memorial Auditorium, a venue massive enough that their drones could rumble at teeth-chattering levels, unrestricted. At typical rock clubs, it's all really loud but usually capped by the relatively small space and the standing-room proximity to other people. Here, the group's evil hum could be heard from outside the venue! Opening the auditorium doors felt like walking into some masonic ritual, revealing green fog floating up into the high ceilings and curling around the wall of amps. Also: This happened at the same venue that will soon host Shrek: The Musical. Think about that.
7.Best Pandering to the Locals: KILLER MIKE
7/14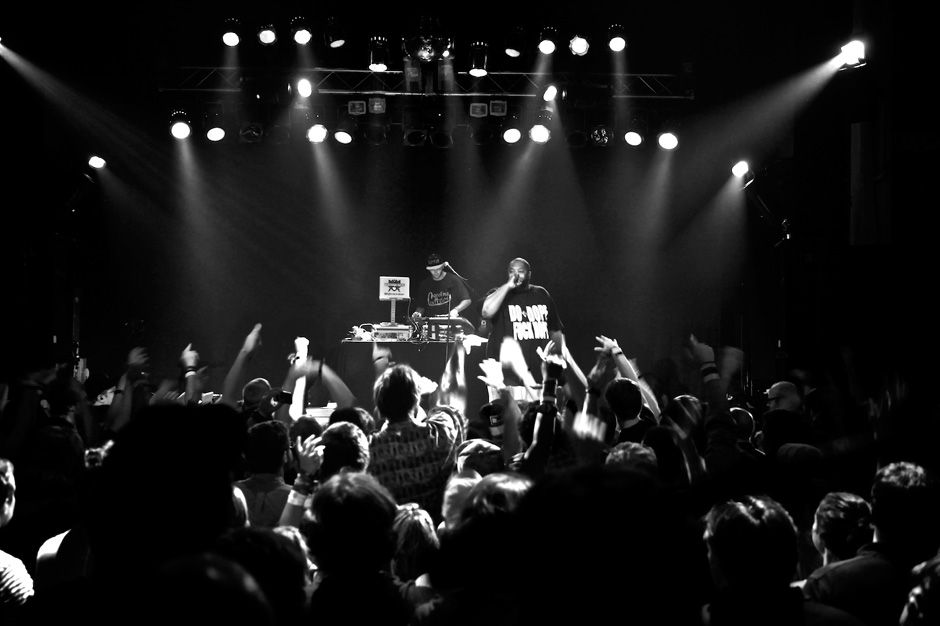 The crowd at the packed Lincoln Theater knew all of R.A.P. Music by heart it seemed, and wilded-out equally to "Never Scared" and other Mike classics. Towards the end of Mike's set, he aimed his thank you's directly at Carolinians, bringing out Durham, NC, rappers Big Pooh and Joe Scudda, who performed Little Brother's "Lovin' It." And right before he played "Ric Flair," Mike made sure to thank the Tar Heel State for being the birthplace of that "WOO!"-ing wrestling legend.
8.Coolest T-Shirts: PALLBEARER
8/14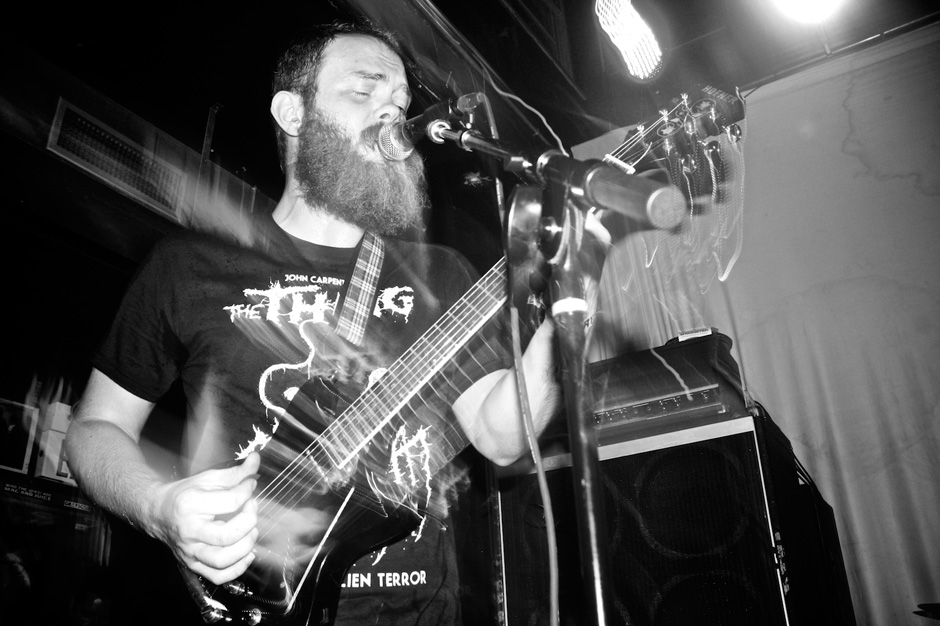 Pallbearer lead singer and guitarist Brett Campbell sported a very bad-ass, black and white T-shirt of John Carpenter's The Thing, while bassist Joseph D. Roland rocked a bright red tee that said "SWAG! SWAG! SWAG! SWAG!" on the front of it, clearly grabbed from one of those mall kiosks that also sells Mac Miller hoodies and "Come At Me Bro" sweatshirts. A much-anticipated show that ran a bit late had everyone pacing and looking for something to do in the meantime and Roland's shirt gave the bar full of impatient, impossibly excited metalheads something to joke about. Every show at the Pour House suffered from sound issues, so not being able to hear Campbell's glorious vocals all that well wasn't a surprise. But it didn't much matter because the group's Candlemass-like dirges of doom that never even try to conventionally "rock" — instead aiming for a rummy grandeur that metal barely attains these days — was more than enough.
9.Best Chance For a Slow Dance: ZOLA JESUS
9/14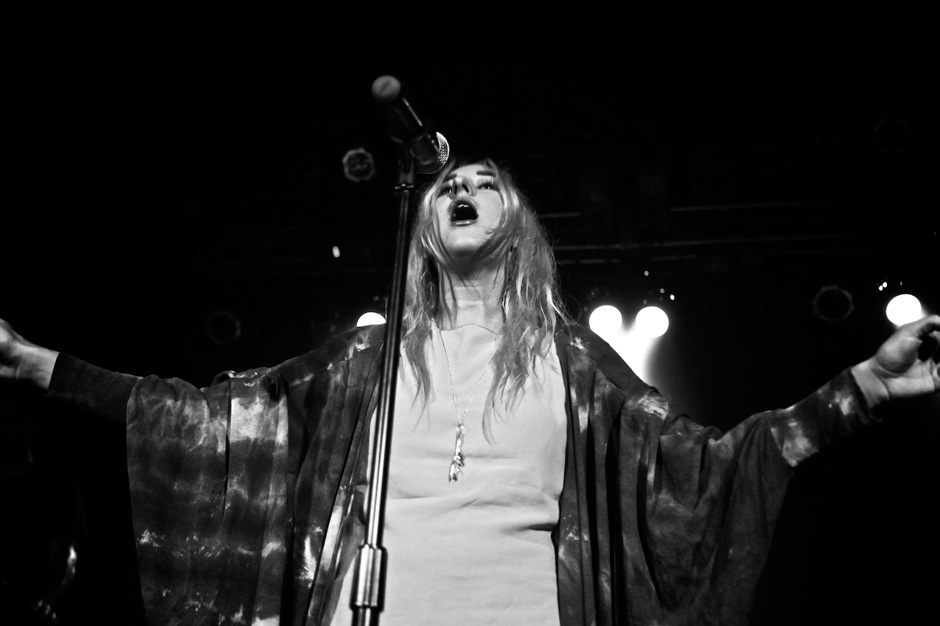 Nika Rosa Danilova of Zola Jesus has an impossible-to-ignore presence. Not because she's tall or pretty in this singular way or whatever everyone says, but because she just casually unleashes her virtuosic vocals, and is backed up by a band that just plain ignores every element of the classic band set-up — voice, synths, drums, and violin is how this four-piece rolls — and still gets to the same animal-brain appeal of rock based on furious intensity and slow-burn ambiance. Danilova stands out because she doesn't seem to be trying, or perhaps she's totally lost in her music — it's hard to tell. At a song's peak, a simple gesture — a shake of the shoulders, her wrist going limp at the end of a line — seemed to tell the crowd to follow along, and you could witness a steady wave of rocking back and forth move through the Lincoln Theater. Zola Jesus do slow jam ballads gone weird, letting in just enough worldly-wise menace and pain to make this stuff meaningful instead of corny. It wasn't only beyond-plastered drunk jerks making out at the show during "Sea Talk." Every generation needs their Portishead, right?
10.Biggest Troopers: G-SIDE
10/14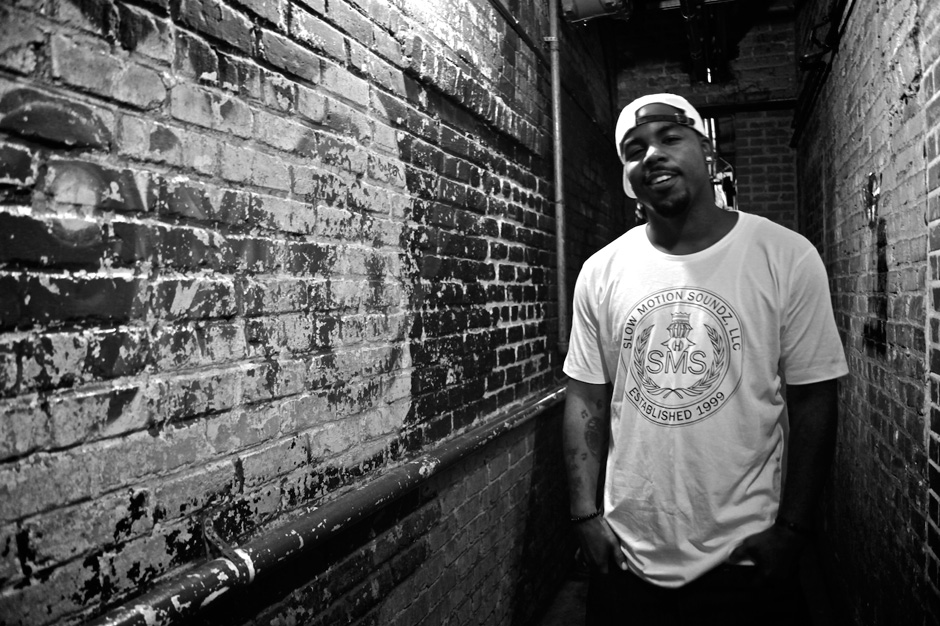 ST 2 Lettaz, one half of G-Side, went at it alone at Hopscotch when the group's other half Yung Clova, didn't make it to the show. Joi Tiffany, the honey-voiced vocalist who stood-out on last year's iSLAND, filled-in as something like a hypewoman for ST, as the Huntsville scrapper ran through an adjusted set that lacked G-Side's usual rough/smooth interplay, but felt energetic nonetheless. After performing a few songs form his upcoming solo project R.E.B.E.L. (a dark EDM-like rap that kept on going Jay-Z's "Who Gon' Stop Me"-style was a highlight), the crowd demanded one more, so he did two more, even taking a request from the crowd. That request was for "Speed Of Sound," off 2008's Starshipz & Rocketz, which shows just how serious the small but dedicated fans who came over to check G-Side out truly were. At the end of his set, ST walked off the front of the stage and into the crowd to hand out hugs and handshakes.
11.Worst Audience: COLIN STETSON
11/14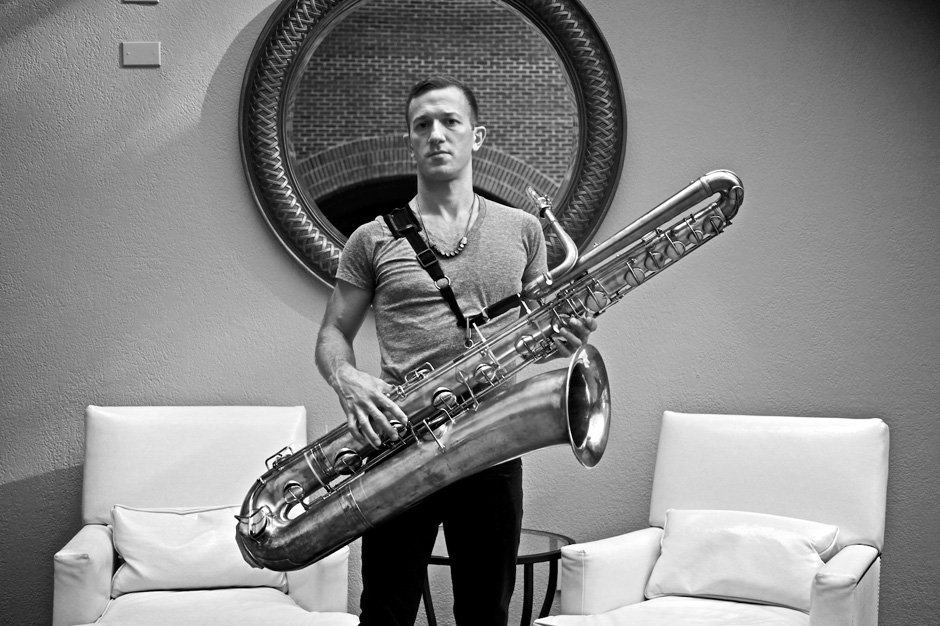 Not really sure why Colin Stetson's set was populated by so many people who weren't there to hear him or his desolate, pained saxophone compositions. Too many people there were not appreciating the fact that this is the kind of guy that deserves a MacArthur "genius" grant for what he's doing. "Make it stop," some drunk lunkhead yelled more than once. Towards the end of a show, a clearly enraptured Stetson fan turned around to two young girls chatting loudly and said something like, "This is the best saxophonist in the world, so you should take your conversation elsewhere." And they stopped talking! As for Stetson? Well shit, man, he's got to be seen and heard to be believed. He pulls sounds out of his saxophone like it's some wild beast he's tamed but not yet made entirely docile, launching haunting, wordless hums, and free jazz freak-outs at the same time, or forcing so much air into his horn that what comes out sounds like Shostakovich strings. One of the most impressive and moving thing of the whole festival, despite the loudmouths.
12.Best Metal Band (Indie Rock Edition): WYE OAK
12/14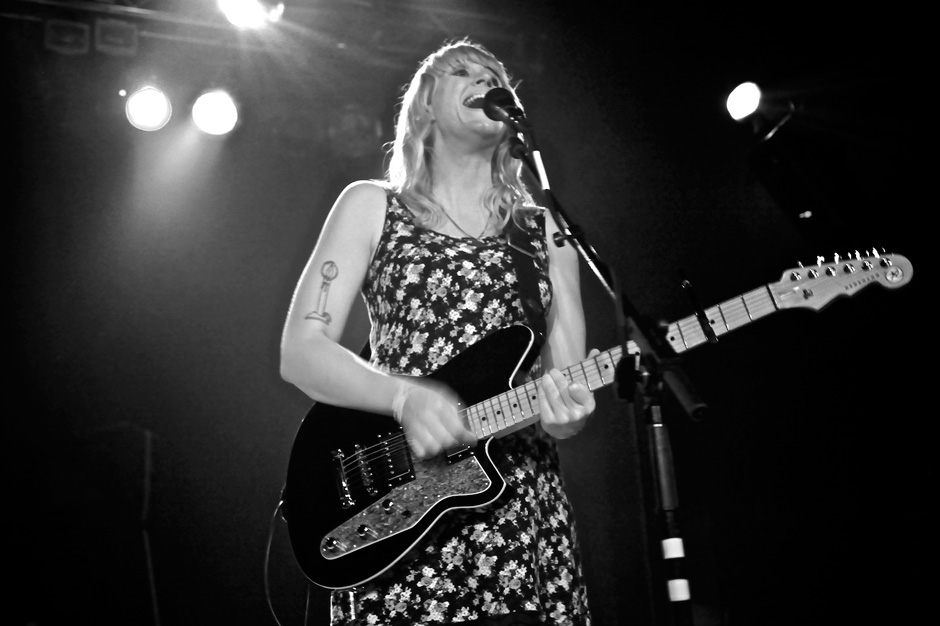 Baltimore duo Wye Oak have mastered a deceptively reserved kind of folk-tinged, indie rock. It all seems pleasant enough, with Jenn Wasner's patient vocals, and Andy Stack's equally patient drumming, but the songs build up and explode, with a violence not usually associated with indie-pop duos. On record, Wye Oak seem to be operating like Yo La Tengo and other indie popsters with a gnarly noisy, edge; but live, the crash after the build-ups felt like Mogwai and easily matched the menace of any of the metal groups at the fest. They're a group playing along to expectations but thrilled to usurp them. A guitarist in a flowered-dress, a bespectacled drummer — it could all seem like something you've heard before. But once Wye Oak started, they sent shockwaves of rage through the pleasantly packed Lincoln Theater.
13.Best Rap As Pigfuck: CITIES AVIV
13/14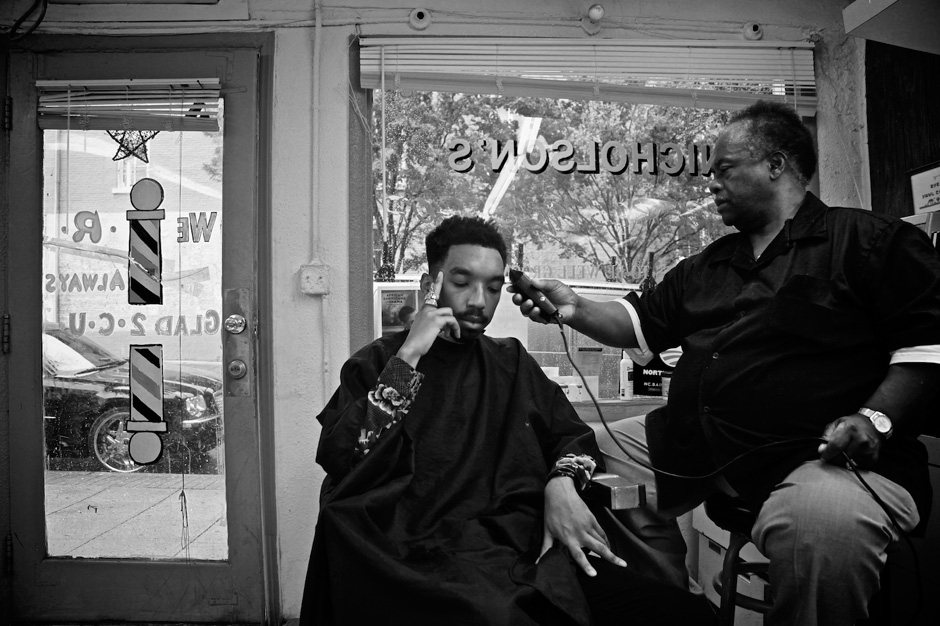 Last year, Memphis rapper Cities Aviv popped up on the Internet with an excellent but very in-the-pocket-of-what's-cool album called Digital Lows. At Hopscotch, walking out to Le1f's "Mind/Body," Cities (real name: Gavin Mays) focused on tracks from Black Pleasure, his soon-to-be-released follow-up. What followed was a confrontational half-hour of looping wails and screams, farty James Ferraro murk, and blasts of noise. Backed up by producer RPLD GHSTS, who stomped, skanked, and shouted like a hypeman from hell, Mays stalked the front of the stage, wandered into the crowd, stared people down, and even got a mini-moshpit going. You know that scene in Wings Of Desire where it's just a whole room of wild-eyed Germans caught up in the hypnotic death-rock storm that is Nick Cave? Well, this was like the rap version of that.
14.Best Etiquette: BOY FRIEND
14/14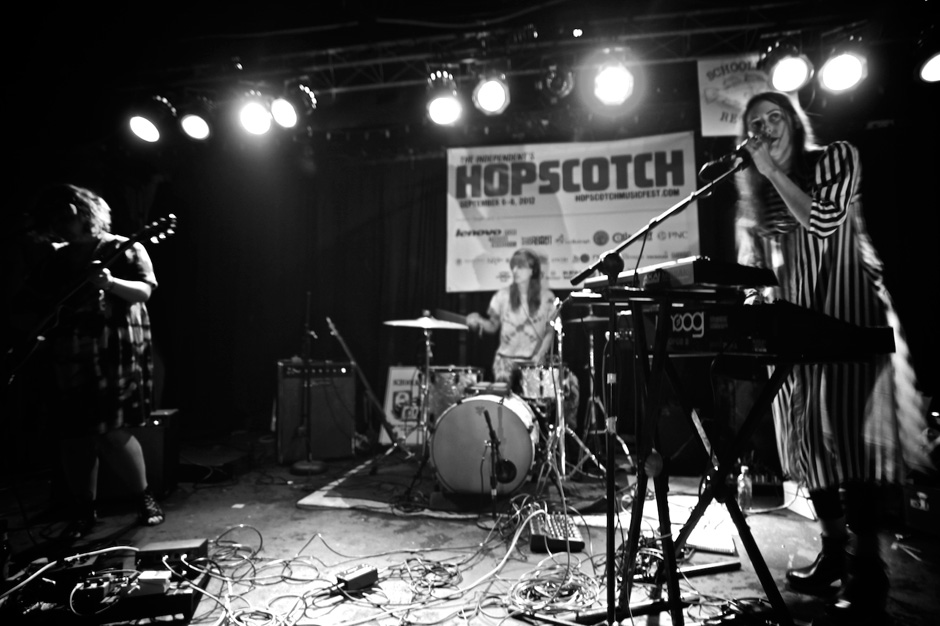 One way to tell if a band's a bunch of jerks or not: Watch how they deal with the sound man while they're setting up. Austin, Texas trio Boy Friend were ridiculously patient as levels were adjusted over and over. They just seemed eager to play, even if it meant it was going to sound a little wonky. It was really charming, particularly for this group, categorized as "dream pop" or whatever and as a result, maybe a bit easy to dismiss (though they're more like Beach House if Beach House knew how to write more than one really good song over and over again). The delay proved to be worth it when radar ping reverb rose out of their amps and musique concrète sounds shot from electronic drums. The guitarist, who isn't either of the official members of the group seemed intent to pull every sound from her instrument other than actual guitar sounds, adding one more mysterious noise into the mix.