The Beastie Boys' 1989 magnum opus Paul's Boutique is widely regarded as one of sampling's highest musical feats — a dense "rap opera," as one critic called it, that even Miles Davis couldn't stop listening to. Many have tried to decode its magic, but until now, no one has attempt to unlock its secrets by re-coding it.
A trio of British turntablists — DJs Food, Cheeba, and Moneyshot &#8212′ spent the last three years creating a re-imagined version of the album from scratch (no pun intended), using "all the original samples plus a cappellas, period interviews and the Beasties' own audio commentary from the reissued release." That comes straight from Food's mouth, via the O.G. wax doctor's website.
Caught In The Middle Of A 3-Way Mix, named after a Boutique B-side, was created in association with seminal U.K. radio show and Ninja Tune mix series Solid Steel. It was inspired by Moneyshot's independent 2009 Beastie Boy Beats project wherein the Bristol beatsmith constructed a "megamixtape … thrash through all the tunes that the Beastie Boys plundered for their Check Your Head album."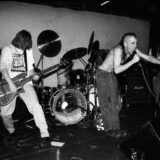 Food's announcement explains that the trio were over halfway done with their hour-long piece when they learned of Adam "MCA" Yauch's untimely death. They've dedicated this labor of love to his memory, and have posted a detailed breakdown of the 150-plus tracks used in the process. Stream and download at will, for free, below (via Boing Boing).