Monday night was the final installment in vitaminwater and Fader's "Uncapped" series, during which the fortified-beverage maker and magazine bring together artists from disparate genres for free shows and social-media-assisted brand awareness boosting. Of all the bills on this mini-tour (Little Dragon/Big Boi in Austin, Matt & Kim/Nas in Detroit), the double bill at New York's Angel Orensanz Center had the most star power: R&B darling Frank Ocean (fresh from the VMAs, SNL, and ATP) and reverb-cloaked Midwesterner Bon Iver (who'd just come off a run at the storied Radio City Music Hall). But are the two acts really all that different? Justin Vernon's band won the Best New Artist trophy at this year's Grammys; Ocean is a lock to at least be nominated for the 2013 edition. More importantly, though, both dip into R&B and the wankier side of prog rock in order to create their lovelorn — and sometimes loathing-tinged — songs. And both employ falsettos as a way to heighten their emotional outpourings, although one does so with a bit more finesse. Both have worked with Kanye West, too, although at this point that fact serves more to underscore their boldfaced-name status than anything else.
Ocean, backed by a line of be-suited musicians, breezed through rebloggable hits like "Novacane" and "Thinkin' 'Bout You"; he also dipped back into the nostalgia, ULTRA. era with a version of that mixtape's Coldplay-interpolating "Strawberry Swing" that nearly glittered. Ocean's major-label debut channel ORANGE can, at times, feel somewhat monochromatic, the songs flowing into one another as something of an afterthought. Monday night, though, Ocean's band was airtight, veering between barely present minimalism and expansive codas in such a way to allow Ocean's supple voice to command the spotlight. He can at times sound deceptively conversational; "Summer Remains," in particular, had the feel of being delivered from the edge of a bed to another person, instead of on a stage in a converted synagogue filled with branded signs and people hanging on Ocean's every utterance. Perhaps this natural-seeming aspect of his music is why his records can, at times, feel flat; the difference between hearing his music on headphones and seeing him in a live setting is not unlike the chasm between punctuation-less, free-flowing Gchats and a face-to-face conversation with hand gestures and intense gazes.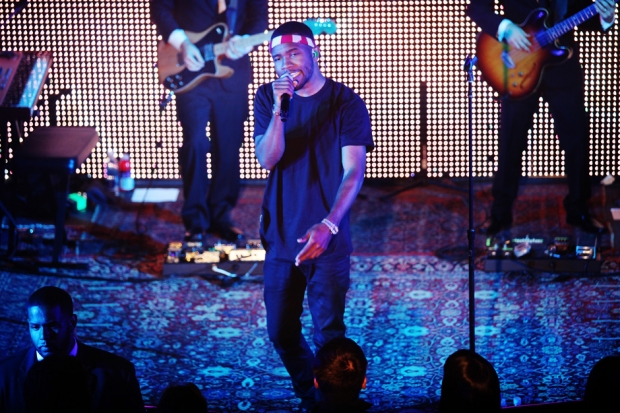 Bon Iver's music has grown from its cabin-in-the-middle-of-nowhere roots into something much larger, yet even more claustrophobia-inducing; it's all climax, falsetto and militaristic drums and cacophonous instrumentation meant to make the listener feel something, anything. (Vernon's prodigious use of the falsetto, which simultaneously blots out his emotion and urges the listener to focus on it with macro-lens intensity, is perhaps the best example of this tendency.) There are moments of beauty to be had — the spindly guitar lines that at first serve as some songs' cores, then bend out from the resulting towers of sound like errant branches, the horn blasts that ripple in such a way to almost resemble the human voice. But for those people who might be on the fence, the constant listen-to-me-feel stimulation can seem overbearing.
Nevertheless, many of the remaining crowd members drank Vernon in, and when he came out to perform one last time they seemed ready to be raptured. "At least a couple of you want to hear this song," he said — ah, that Midwestern humility! — before launching into "The Wolves (Act I & II)" from For Emma, Forever Ago. The lament built steadily if ploddingly until Vernon instructed the crowd to sing along; "What might have been lost," the crowd replied in singsong, over and over, as the band built to a stomping near-climax; with Vernon as leader, once again, capital-e Emotion took over. A sizable chunk of the room continued to follow Vernon's direction to sing through the band's thank yous and exits from the stage, and even through the goodnights offered by the evening's host, Hot 97 doyenne Miss Info. It's understandable; intimate shows might run on tight schedules, but deep-seated feelings rarely do.