Festival Nomads Follow a Not-So-Golden Road
In search of freedom, money, and a healthy dose of EDM, a group of idealistic kids spent their summer criss-crossing America, manning a food stand at music festivals from sea to shining sea. But the life they found wasn't exactly the one they expected.
The 99 Potatoes kids, all in their mid-20s, have spent their summer living a variety of paradoxes. They go to more festivals than most sane music fans ever would — by the time the season ends they will have worked at six festivals across the country — but they rarely see any live music because they're too busy selling and cooking food. They drop off the grid, ridding themselves of bosses and responsibility, but end up chained to a grindstone of festival applications, slim profit margins, and flare-ups over money and privacy. They live as nomads, even calling themselves "gypsters," and yet the romance of life on the road is burdened with gas-station meals, deadening drives, and nights spent in cramped tents.
Still, the work "is a vacation away from mainstream living," 99 Potatoes co-founder Brock Alter tells me in an email. "We work helluv hours and make good money. We meet people who are feeling free from everything. We're lucky to step out, travel our country, and spend our weekends partying with 100,000 of our closest friends."
99 Potatoes — the name a nod to the 99 percent &#8212 was formed by Alter, a lean and disheveled 25-year-old who left his job as a video editor in San Francisco to follow festivals, Tiffany Scalia, a short and bespectacled 23-year-old from Collegeville, Pennsylvania, and Ryan Beaucher, a 25-year-old with close-cropped brown hair who grew up with Alter in Vero Beach, Florida. The three spent previous summers working for Tee's Concessions, a burger stand that Tiffany's father, Tony, had been taking on the festival circuit for years. This year, though, the three wanted to be their own bosses, and launched 99 Potatoes. The idea was "we might as well do the whole thing by our rules," Alter explains. "Basically, it was live by our rules or don't do it. So we did it."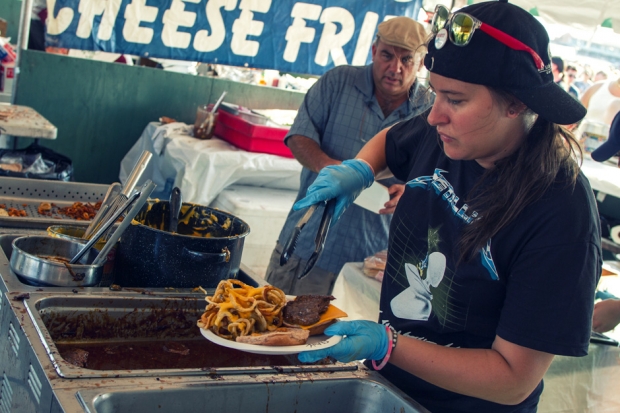 Realizing they had to carve out an identity in the world of festival food vendors, the trio wanted to build a company that could fill a healthy-option niche. The best way to accomplish this? Change the food that was being served from typical festival slop to comestibles made with organic and locally grown supplies. "Source and cook foods local to music festival sites to provide that community with the more nutritious and less environmentally harmful dining" is Scalia's company line. 99 Potatoes also wanted to do away with the hierarchical business model they'd found frustrating in the past. Hourly wages were nice if you just wanted a paycheck, but what if you wanted to be more invested as a worker? What if you actually cared about what you were doing?
Food and gumption wouldn't be enough to guarantee success. 99 Potatoes was entering a competitive and logistically complicated world. The transient nature of festival food vendors and lack of regulations means exact numbers are hard to pin down, but there are in the neighborhood of 100 vendors, ranging from large companies like Best Beverage Catering and Savor Society to mid-size outfits like Spicy Pie pizza, who travel the country from festival-to-festival, and countless more who work only regional gigs. According to Spicy Pie co-founder Chris Parent, for a mid-sized operation like his own to be profitable, he needs to hit 20 festivals per year. "That's enough to make money," he says, "and not have to go looking for other work." He also notes that, "for a small company just starting out, making $20,000 at a festival like Bonnaroo would be just fine. But I'd expect more from one of my stands."