It's 10:30 PM on a Saturday night at Atlantic City's Bader Field and I'm in pain. Metallica are solidly into their headlining set at the Orion Festival, but they're not the problem. Insofar as it's possible to pay any attention to the band, the music sounds fine. But I'm far from the stage, working at a 99 Potatoes' burger stand at the opposite end of this field of trampled dirt, and feeling, deep in my bones, the long hours of slinging burgers and fries beside a sizzling grill in searing summer heat. All my coworkers are hurting, too. But at this moment, it's actually a customer who is looking burnt.
A beefy, sloppy-drunk bro in a sleeveless T-shirt staggers up to our freckled cashier, Heidi Knappenberger. "Things have been kind of rough lately," he sputters, in reference to something of which only he's aware. "But, you, uh, are you into music?" Knappenberger tries to stifle a giggle and shakes her head. Like every woman who works the register when business slows down, she's used to this sort of exchange, and while it's never welcome, she's okay with it. It means things have finally eased up, which may be bad for 99 Potatoes' coffers, but a balm for its collective spirit. Rest is on the way.
Frankly, sleep is more compelling than Metallica after a long day of sweat-soaked, burger-juiced work. That's what happens when, like the seven members of the 99 Potatoes crew, you've spent the last five weeks and 3,000 miles selling food at music festivals, making enough money to get by (despite losing — straight-up — a big bag of cash), traversing the highways and country roads of America in search of a footloose lifestyle, or at least a decent adventure.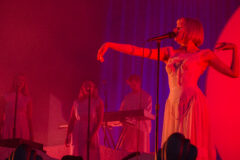 To try and get some taste of the life led by these kids, and others like them, who exist as scraggly, idealistic remora attached to the bottom of the great white shark that is the music-festival business, I'm spending the weekend with the 99 Potatoes crew. And by the time the final barrage of flames shoot up from a faraway stage, signaling the end of Metallica's set, I've been at the festival grounds for nearly seven hours. Over that time, I've helped assemble hundreds of free-range beef burgers, dumped sauce over countless curly fries, and poured gallons of ginger maté lemonade. I'm covered in a thick layer of grease and smoke, and my shoulders feel like I've just spent the day chopping wood, not ladling cheese. If I'd been brought in off Craigslist like the other spot workers who'd worked with the crew this summer, I'd have earned $70 plus tips at this point. And If I were a member of 99 Potatoes collective — a cooperative business launched this year — I would have to wait until the end of the weekend to find out my pay, an equal split of the weekend's gross.
Near midnight, when the concert is over, it's time to break down. Some members of the crew take the chance to eat the food they've been serving all day. Others suck on Marlboros by the U-Haul trailer where they store sacks of potatoes and boxes of Lipton tea bags. And some folks lay down on the grimy asphalt, happy to be off their feet for the first time since morning. Tomorrow isn't going to be any easier, and the campground is 20 miles away.
Then, on the drive back from Orion and Bader Field to the campground, Beaucher, nervously tugging at his hair, gets turned around. This seems strange to me because the group has been staying there for more than a week. But at the same time, everyone's exhausted, and New Jersey's highways are poorly marked.
We stop at a WaWa convenience store to reassess our location and get a snack. In the flickering fluorescent light outside the store, Garske and I lean against our truck and talk about the music he makes when he's not out here on the road. Inside, Scalia and Beaucher make their purchases. "Ummm, it's got an electronic feel to it," says Garske about his songs, "but also some jazz." He trails off. "I actually haven't had much time to work on anything since I've been here."
Back in the car, we finally figure out where we are and set off for the campsite. Tiffany mentions how tired she is. She's been tired all summer.